July 1992 Shirley Meetings

Ettington (in England) and Dublin, Ireland
By Betty Shirley
To all of your who were unable to make the trip to England this summer... I would like to share some of the happenings. You missed a great trip! We had a good trip to many of the places we have visited before. But, as usual, I included a few new stops.
Our group visited Sherwood Forest (Robin Hood country), Oxford, lunched at Charley across from Chartley Castle ruins. Here we met the Earl of Shrewsbury and his son, Viscount Tamworth. This was arranged by out hostess, Sarah, and was a complete surprise to us. We visited Staunton Harold, Breedon on the Hill, Shirley Village and here we had a delicious lunch on the old Shirley farm. Sylvia was our hostess and it was so nice of here to open her home to us. From here we went to Stratford upon Avon.
I must tell you a story about what happened at Stratford upon Avon. I pre-arranged for tickets to the Shakespeare Theater before we went to England. We arrived in Stratford on Friday afternoon just in time for a bit of shopping, a hurried dinner, and then to the Shakespeare Theater. I told the group I wasn't going with them, but I would walk them there as it was across the street and thru the part from our hotel. (I have been there several times). I explained to the group that I really needed to study for the Shirley meeting scheduled for the next day at Ettington. I asked my room-mate to ring me from downstairs when she got back from the play so I would know she was back and would open the door... (there was only one key and I had it).
About 10:30 PM the phone rang and she said "have I got news for you!" What could have happened that was so exciting? She rushed in and said, "you are never going to believe who was there! Prince Charles! and... your niece got to shake hands with him". (For those of you who know my sister-in-law, Evelyn Shirley, it was her daughter, Verla). Unfortunately, I don't think anyone got a picture as they left the cameras in their hotel rooms. I laughingly told the group that when I plan a trip, I include as much as I can to make it exciting, even Prince Charles....HA!
We had a great time at Ettington! We visited and dined with the other Shirleys who came to share the day with us. Major John Shirley had already told me he would not be able to be with us that he would see if Philip, his son, would meet with us. Philip, (who will be the next Lord of the Manor of Ettington), his wife and son, spent most of the day with us. I welcomed the opportunity to meet her and see his son who is next in line after his father to be Lord of the Manor of Ettington. To my surprise, Hugh Shirley, also son of Major John Shirley, came too! I was in shock! (Hugh came a couple of years ago and visited with us in California for two weeks). I wasn't expecting to see him until the following week when I would be visiting him and his parents on Isle of Man.
The following day, Sunday, we departed for along ride to Isfield Village. This was to be a special day for the church. The Bishop was coming to dedicate the new alter in the Shurley Chapel. It was suggested that it would be nice if we could work out our schedule to be there for this special occasion.
On Sunday evening, we dined in a very old former residence of the Shirleys of Wiston. the history of this house is fascinating and I will print it some time in the Shirley NEWS. We had a fantastic mean and our host and hostess were so friendly. It was the first time I had met them.
The following day, Monday, we met our guide, Janet, who showed us around Wiston. We had lunch at Wiston... a first for us,and then we were off to Plymouth where we took the coach on the ferry to Isle of Wight. Janet spent a couple of days with us. I had hired her to go over several weeks ahead of our coming and do some research on the Shirleys and to go with us when we came, so she could show us around. (Sir Thomas Shirley, the younger of Wiston went to the Isle of Wight after he lost Wiston. Some of his children were born on Isle of Wight).
The next day it was back to London, dinner at the Hatfield House for a medieval feast. The following day was a free day for everyone.
I used this free day to meet Henry Shurley. He has been a member of the Shirley Association since 1987. He picked me up at the hotel and took me to the area where his ancestors had lived. What a time we had visiting these places which I had only seen on a map.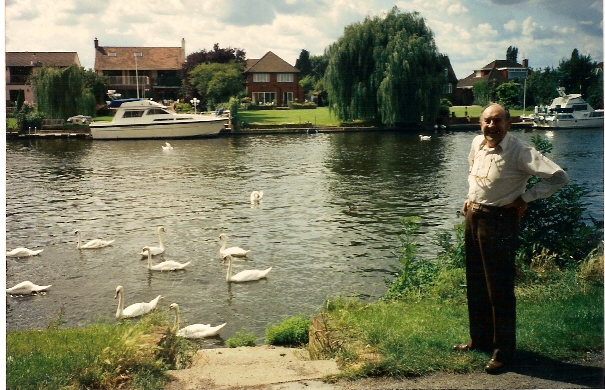 Henry Shurley in his front yard
His house sits on the banks of the Thames River. What a view!
Henry Shurley and I had a most unusual experience that day. He told me he planned to take me to lunch at a pub in the village where his Shirley ancestor was married, Waltham St. Lawrence. He said the pub is usually busy and I want to get there just as it opens. Henry also said that this place was known for buying your drinks by the pound. I laughed and said because you pay for it with the pound... the British pound money. That was not the answer. When we got to the pub, we were a few minutes early. He turned to me and said, "you see this fenced in area in the center of the village? This is the pound where they kept any loose livestock that came into the village in the old days. YOU CAN BUY YOUR DRINKS BY THE POUND!"
I got out of the car, took my video camera to the pound area to take pictures of the village. I spanned the village quickly as there was only the church, the pub, and about five or six houses on the circle. Behind that was farmland, as I recall. I couldn't have taken 30 seconds worth of film. I turned to walk over to Henry who was about 50 feet away, and he was talking to some gentleman. As I approached, I noticed Henry giving this person his drivers license. I didn't think to much of it until the man looked at me and asked why I was taking pictures that no pictures were to be taken in this area. I looked around quickly and said I don't see anything posted that says that. He asked for some identification. I realized this must be an officer. He didn't have a badge on and I had no clue who he was. I offered my passport and he starred at it several minutes. I thought sure he was going to ask for my film. He didn't! Thank goodness! I glanced over towards one of the houses and there was another man dressed in a short sleeve white shirt and dark pants. He was standing at attention and starring over at us. Henry told the man that his ancestors were married in this church and he brought me here to see the church. He explained that I travel to various countries and places documenting the Shirleys. The man said we could carry on, take pictures of the church but could not take pictures in the direction of the two houses behind him...where the other man was standing.
We went into the pub for lunch as it was open by this time. There was no one in there and no one came to eat while we were there. Two men did come in and stand at the bar having a drink. I kept asking Henry what this was all about. He said he didn't know and this was the first time he has had to show identification in his 60 some years. I couldn't get him to ask the waitress about the situation. Henry said it was better not to raise their backs. Just before we left, Henry excused himself to go to the restroom. I asked him if he trusted me to stay there alone. You know I am fighting hard not to go over and ask what this is about. He smiled. I assured him I didn't do that, when he returned to the table.
After we got in the car I asked Henry Shurley if he noticed anything unusual about those two men at the bar. I told him they had a radio or telephone sitting by them. They kept looking our way but sort of out the window that was above our heads. They were looking at the house where the man had been standing earlier. I know they were security or undercover police.
Much later while driving out of the village, Henry said he had been thinking about this situation. He said there was only one thing it could be. Either Princess Di or Fergy was in that house. No one else would merit that kind of security in such an out of the way place. The village pub is always busy and it wasn't that day. (Henry wrote to me that he returned to the village a couple of weeks later and there was no security police and the pub was busy as usual. He said a gardener was at work by the house where the security officers had been standing before).
I spent the following day researching in London. I worked feverishly until I couldn't work anymore that day. I took a cab back to the hotel. The next day I left for the Isle of Man to spend a few days with Major John and Eveyln Shirley and their son, Hugh.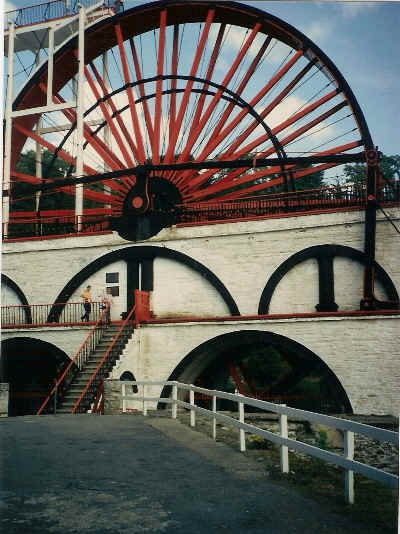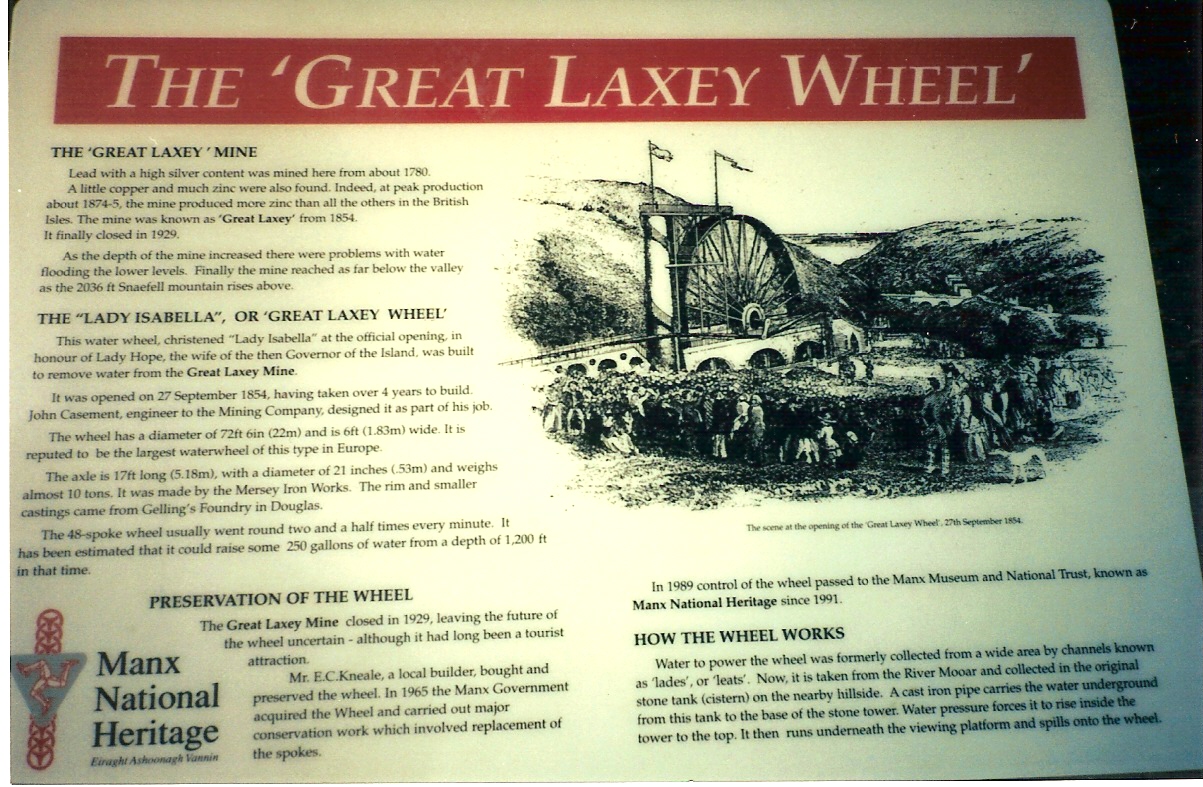 They drove me around the island and showed me many places of interest. We had some good meals together and I enjoyed this very much. I spent some time looking at scrapbooks and other Shirley materials John has at his home. I took pictures of some items and had Hugh copy a few things for me and he sent them to me later.
Ireland Visit and Meeting
I left early Sunday morning, July 26th, and flew to Dublin Ireland where I was to stay with Ivan Shirley and his wife. Unfortunately, Ivan's mother-in-law passed away and the funeral was the day before I arrived. Ivan and his parents and brothers and sisters got together and paid for me a hotel to stay, close to where I wanted to research in Dublin. I really appreciated this as they didn't know how low on funds I was and I would never have told them.
We had our Shirley gathering on Sunday afternoon in Dublin. It was so nice to see everyone. I visited with Anne Nosov's mother and family. (Anne lives in Canada. She had been with us on my previous visit to Ireland). Her family told me Anne's husband had passed away. (He and Anne had attended our June 1991 Shirley Convention in Manassas VA.). Anne's sister, Betty, and I spent some time talking and she said she was going to visit Anne in Canada August 28th. I received a letter from Anne saying that Betty died of liver cancer August 19th, one week after it had been diagnosed. I really like her, she was so friendly. I am still in shock. It happened so suddenly! Poor Anne, what a summer it has been for her and her family. (Betty is pictured below about a month before she died).
Donald Shirley and his friend, Kathy had been with me on the England part of the tour before I came over to Ireland. I had suggested before the trip that he should go over to Ireland since he has never been there. His ancestors came from Ireland to Canada 1858. They were William Shirley and Elizabeth Kidd who married in 1806. Don told me how friendly their cab driver had been. He gave them a tour of the area with commentary. Don said it was a trip of a life time. He also came to the Ireland meeting.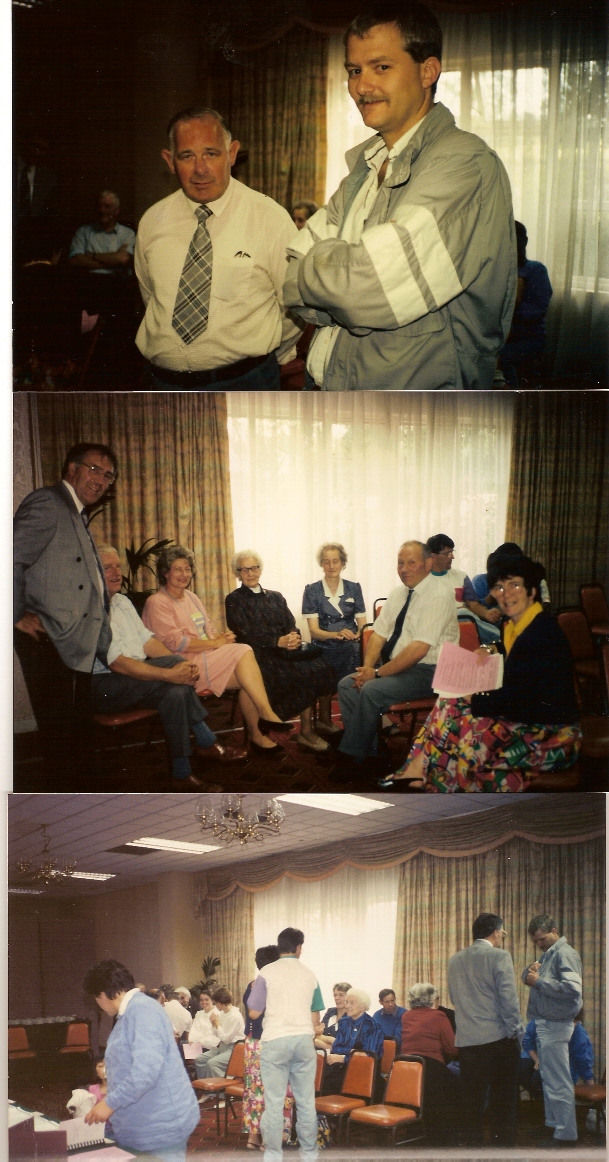 Top photo: On the right is Donald Shirley from Canada
Everyone else in the photo's are the Shirleys who attended the Ireland meeting
(Betty who died about a month after this photo was taken is the 3rd person from left, leaning over in the photo below)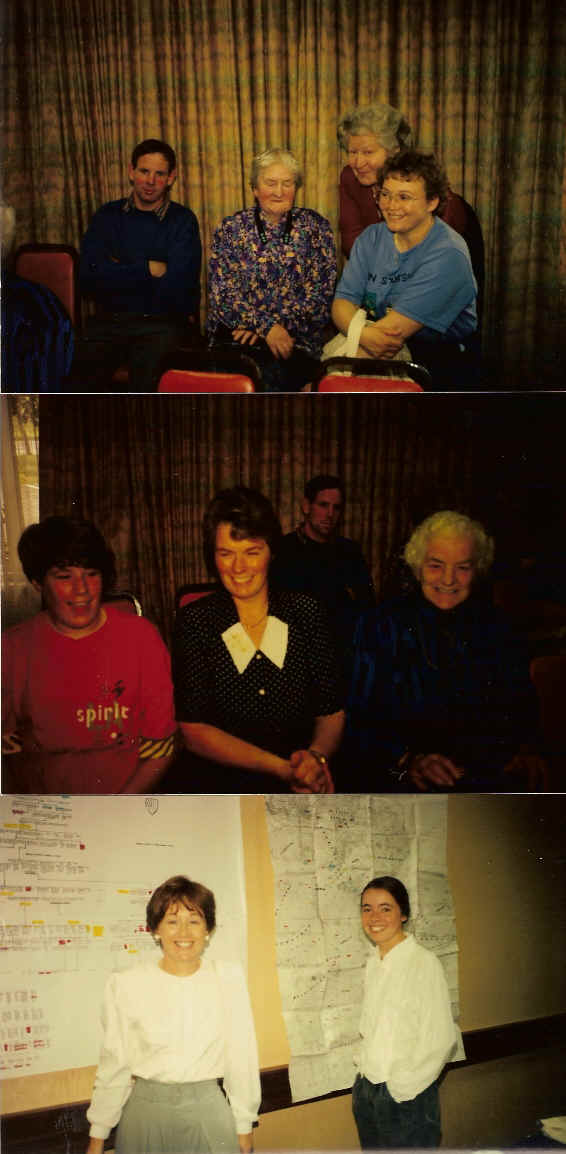 Shirleys at the Ireland Meeting
I spent Monday and Tuesday researching in the records in Dublin and flew back to London Tuesday evening. I stayed in the home of another Shirley family who had attended the meeting at Ettington the week or so before. Jo had offered to pick me up at the airport in London if needed her to. I was a little uncertain of my schedule at that time. I did call her from Ireland to see if she could find a bed and breakfast place for me to stay as I hadn't had time to make those arrangements before I left for Isle of Man. She said I could stay with her if I wanted. I was pleased to accept as I had decided I would sleep in the airport that night. Jo and her husband, Chris Shirley, figured out my schedule for taking the tube into London and where to get off at the Records Office, etc. I did one more day of research just before I came home. Jo took me to the airport the next day for my flight home.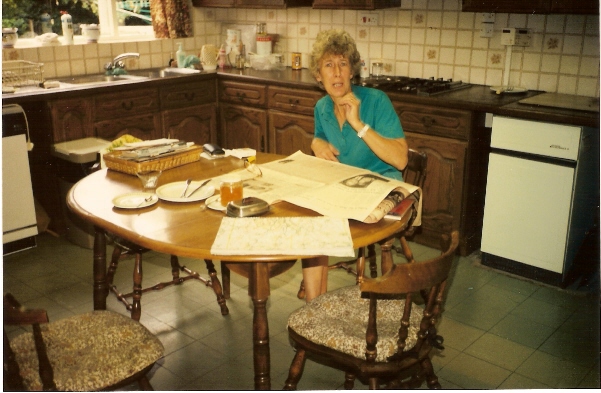 Jo Shirley
I thank all of you who helped me and who came to the meetings in England and Dublin Ireland.
What a trip! I felt a little sad to think it might be my last trip to England. I did bring home quite a bit of Shirley data and associated people who I have been interested to learn more about from England....such as the Wiseman and Norris family, etc....