5th Shirley Convention June 1985
Indianapolis, Indiana

and meetings in Barren Co. KY, Anderson Co. SC, Northport AL, Meridian and Jackson MS
By Betty Shirley
The Shirley Association held their 5th Shirley Convention June 29 & 30th at the Holiday Inn. Walter and Marion Shirley were our hosts. More than 80 people attended from all over the United States representing many family branches of the Shirley family who came to America as early as the 1600's. Many of the guests were attending their first convention while others had attended previous ones in Virginia, California, Kentucky and South Carolina. Betty Shirley had just returned from England 2 weeks earlier from England where she was working on the plans for the 1986 Shirley Celebration. She shared stories and pictures of her trip and told of the proposed places and events for this historic trip in 1986.
On Sunday, Betty was presented with a beautiful document prepared by Gerald Finn of Williamsburg, VA. It says:
A Tribute to Betty Shirley whose talents industry and integrity have made the Shirley Association a successful reality. Her organizational ability is of a superior order. Her interesting Shirley News is well written and put together. Tireless research by her into the past has revealed much that we are justly proud of. The skillful manner with which she established the friendly relationship with the distinguished Shirley family of England was worthy of a diplomat.
In recognition of her unique gifts which we have benefited from. We present to her this statement of our high esteem and appreciation.
Indianapolis, Indiana
June 30, 1985
(signed by 3 rows of signatures)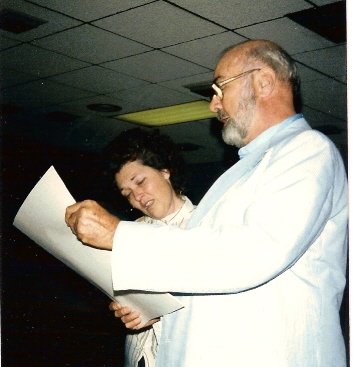 Walter Shirley presenting Tribute to Betty Shirley
(I was a bit emotional and shocked)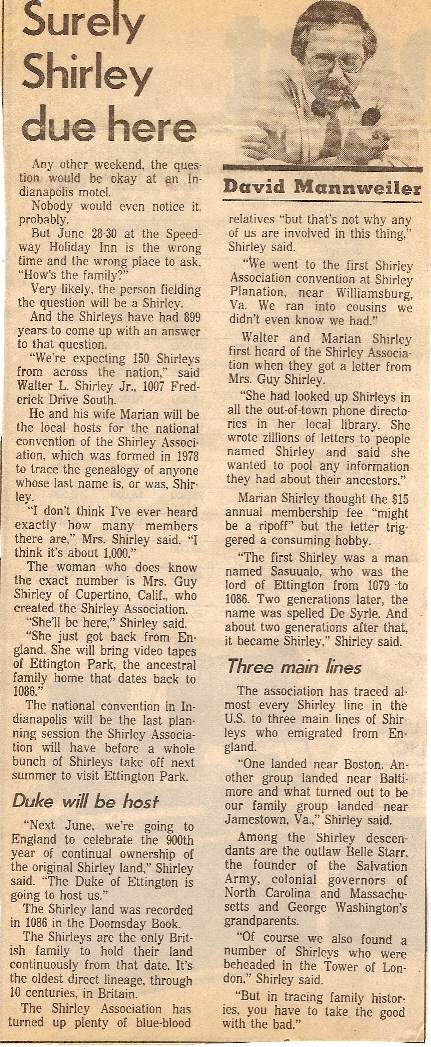 Newspaper Article
There are a few statements not entirely correct, but thought I would post anyway
=======================================================================
JUNE 1985 Shirley Meetings
Barren Co. KY, Anderson South Carolina, Northport Alabama, Meridian Mississippi, Jackson Mississippi, Memphis Tennessee, Hartsburg Illinois
My niece, Barbara Shirley, and myself left the Shirley Convention in Indianapolis, Indiana headed for more meetings and places to visit. We stopped to find Mt. Tabor and White Lick Baptist Churches in the Hendricks -Boone Co. IN area. I took pictures of the cemeteries and headstones. (I will place these in the members area under the state and county when I can)
We visited James Young again in the Barren Co. KY area. James took us to places I didn't have time to go visit on a previous trip. We visited Granny Springs and the old home sites of the Shirleys and Grubbs family.
We visited Anderson South Carolina and had a Shirley meeting. Our thanks to Jean Conelya for her help. We met a lady there who decided not to go with her husband to Philadelphia on a business trip. She said she wanted to attend this meeting in Anderson. After the meeting, she approached me and said she did not know much about her ancestors and wondered if I would know anything about her Shirley branch. In a couple of minutes I was able to take back three generations from the earliest known to her Shirley ancestor. She was thrilled she had stayed in Anderson for the meeting.
We met about 125 Shirleys in Tuscaloosa Alabama. Geneal Black helped organize our visit here. She drove us to three cemeteries, and past old homes of Shirleys. Of course I had my camera out and those photos will also be posted under the county and state in the members area, at a later time. Later we met at the Macedonia United Methodist Church in Northport for pot luck.
In Jackson Mississippi, we met about 75 people. Anna Husbands was the gal who helped organize that meeting. That was super group of Shirleys. A photographer come to take pictures and he brought a cake for the occasion. He said he read in the Jackson newspaper that the Shirleys were having this meeting and called Anna and asked if he could take the groups pictures. Shirleys from Arkansas, Mobile AL, and other areas in MS. came to make this meeting a real success.
We met a small group of Shirleys in Meridian and Memphis Mississippi. There was no one organizing this meetings but it gave me a time to get acquainted with those who did come. I met a charming Shirley in Memphis who had received my letter about the meeting. I liked him right away. He had quite a sense of humor. He told me he had relatives in the Jackson area who received my letter and that would have attended the meeting in Jackson. However they thought the letter and the meetings were a scam. He said he pointed out to them that I said in the letter about the meeting that this was not a scam. He told them he was going to attend and now he will be back to them with the story of what we are seriously doing. He is an attorney and served as a missionary in Africa. ( 2005...He continues to be in touch and did the DNA for us). Another couple who attending the meeting in Memphis was Perry Shirley and his wife from Texas. They were in the area on vacation and arranged to stop in for the meeting. Crazy thing... the next morning we ran into them at the Elvis Presley mansion.
We visited many places, and one of the last ones on this trip before returning home was Hartsburg, Logan Co. Illinois. The group was descended from Argeland Shirley branch #10. When we arrived, the folks were sitting in the church waiting for us. We were running about an hour late. We couldn't find where the group decided to meet for lunch. We went to their homes and no one there. Finally one of the husbands returned home and told us where the meeting was. Everything turned out fine. We have a nice visit with Shirley Payne who took us to the old church, the graveyard and to the old homestead. I can't say how many were at the meeting, and I didn't take any pictures at the meeting (we were late!).
This was our last stop and it was time to fly home.