What a fantastic time we had at the Shirley Convention in Lexington Kentucky, June 27 and 28th. There were 105 people from 22 states attending this great get together. If you were not there, you really missed it.
FRIDAY EVENING June 26th
Many of our early arrivals met to get acquainted and for those of us who have attended other conventions, to get re-acquainted. The room was full of people talking like they had always known each other. You couldn't hear yourself think! I slipped away about 11PM so I might have some time to get my thoughts and notes ready for the next day. I understand some lingered until mid-night.
SATURDAY June 27th
We met at 9AM for registration, and began the meeting at 9:30 following some patriotic music and a poem read by John Wayne entitled AMERICA, why we love her.
Next, we passed out a list of the very earliest Shirley's found in the early records of America. From a chart shown on an overhead projector onto a screen, I explained how I thought some of the families (main early lines), fit together.
After lunch, we heard briefly from each member. They stood to address who they were, where they were from, their lineage and a short story about their Shirley's. Everyone seemed to think this was one of the highlights of our convention.
After dinner, most of us gathered together again for an evening of informal conversation while a few retired early as some arrived only that morning and were tired.
SUNDAY June 28th
We resumed at 10AM. The topic was where the early Shirley's had migrated from. Guy Perry III, Elwood Shirley and James Young shared about their extensive research on many of the earlier Shirley's. James Young told us fascinating stories about his ancestors, Thomas Shirley and his wife, Mollie Grubbs branch #8. The audience then had an opportunity to ask questions of these speakers. That was very interesting to all of us.
We took a break for a group photo, had lunch and then back for a wrap up and conclusion of the convention about 4PM.
It seems everyone is interested in another Convention. I was asked over and over again and have received several letters asking when and where the next one will be. I said I would consider another convention in two years and I thought the Abbeville Co. South Carolina area would be the location of the next one.
Here are some details about the convention and out trip....
Our trip to the convention was fantastic! Everyone kept telling how awful the weather was back there the week or so before. Rain, tornados, floods, etc. A month before, I said it will be fine. It will rain out and when it's time to go, the weather will be good. Then... there was the threatened Air Controllers Strike. I never gave it a thought until the last 4 days and as the time got closer, I decided I'd better call the airlines to see how it would effect our flight. They said the flight would be cancelled. I was told I could get a flight out the following day and it would take me to Washington DC. That would put me 14 hours behind schedule. I was up at 5AM Monday June 23rd. I turned on the news and heard the good news that the strike was called off for 30 days. I burst into tears. Our plans could move forward. What a relief! We flew that very evening to Baltimore MD. We went to Gettysburg PA and visited that area. That evening we traveled on to Bedford Co. PA to visit the area my husband's ancestors had lived in the mid 1700's. From there we drove to Athens Co. Ohio on Thursday, where my husband's grandfather had lived and met some relatives for the first time. We arrived in Lexington on Friday mid-day. After the convention on Sunday, we left about 4PM and drove to the lower part of Kentucky. Monday morning, we visited with James Young at his house. He took us to his grandmother's and showed us items in the old trunk that had belonged to Mollie Grubbs Shirley, etc. What a treat this was. We left about noon and drove on to Nashville and flew into Memphis to catch another plane to Little Rock Arkansas. We drove to Paris Ark and visited the old Shirley homestead of my husband's grandfather and the cemetery, etc. We drove into Ft. Smith Arkansas and visited Judge Parker's Court house where Belle Starr was convicted. The following day we visited her grave. We continued our drive arriving in Clinton OK to visit a cousin of my husband's and there we met more cousins. This was a trip we shall never forget. What a fantastic time we had!
Convention...
Rev Leslie Shirley took pictures of us at each table on Saturday. There are a few people who we haven't been able to identify. I'm printing those pictures in this issue of the NEWS and hope that you would please write and help us with names of those needed.
I was quite surprised at the Convention on Sunday during lunch when Ted Shirley asked for everyone's attention. He proceeded to talk about wanting to do something special for all my work in planning the Shirley convention and the Shirley work. They gave me in excess of $160 and instructed me to spend it on myself, not to put it in the Association expenses, etc. What a shock. I did not suspect a plot was going on. A BIG THANK YOU!
I did spend $16 of it to make a long distance call to Major John Shirley in England. I HOPE that is alright. I told him about the Convention and how many were there. He said he finds it amazing there are that many Shirley descendants in America. I said you've got to be kidding, there are thousands not just a few hundred. It just about blew his mind. Anyway, I told him how everyone was talking about the trip to England in 1986 and they came and asked me to bring it up during Sundays meeting. I told John I asked how many people were seriously considering making the trip and over half of the group raised their hands. Several have written me saying they want to go. I mentioned to him that I wouldn't be surprised if 200 people come over with me. He said for sure he'd plan a big party. So everything is go! I suggested I come over the year before and arrange a tour of other Shirley related places of interest so as to make a tour.
So... I think I will save the rest of the money and start saving for that trip. I will go alone so I can take care of business.
John told me there was a million dollar (pound) fire in the Ettington Park Manor house in March 1980 just before it was to open as a hotel. Of course the outside is of stone so all was interior damage. It is being restored and will be ready to open in May 1982. (That did not happen. It opened in 1984 the year I came over).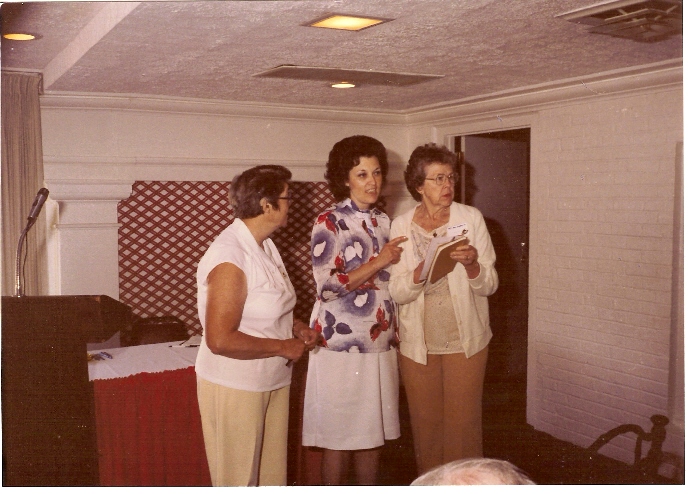 Esther Shirley on left, Betty Shirley and Audrey Fahrer on right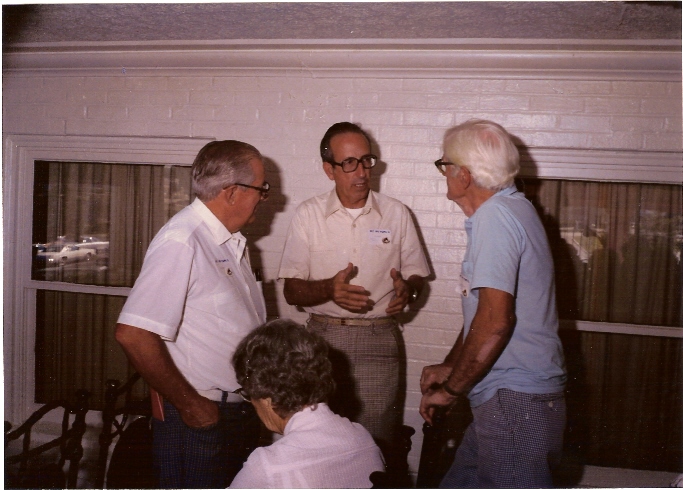 Ted Shirley (branch #12) in the center, and Granville Shirley on the right (branch # 26)