Sunday June 4th, 2006: Today is the meeting in Alton Staffordshire. The weather is again very good. Ceclia is our host and I am staying with her for the next few days. She suggests we go visit the Jesse Shirley Mill this morning as there is a festival there today and tomorrow it will be closed as per my plan. Glad she knew. I enjoyed this visit. It is called SHIRLEY'S ETHRUSCAN BONE AND FLINT MILL. It is now a museum.
Shirley's Mill was built for Jesse Shirley in 1857 to supply ground bone and flint to the pottery industry. This family firm is still in business on the site using modern machinery. However, the original range of buildings alongside the canal ceased to be used in 1972. It has now been restored with most of its original machinery so that visitors can see how bone and flint were ground in the 19th century, and can also see one of the oldest steam engines still in working order. (Just a little description, more will be placed on our website eventually).
The Shirley meeting started at 1pm and about 18 people were in attendance. I enjoyed meeting more Shirleys. The local newspaper was also there for a picture and when we get a copy, we will place it on our website.
Jesse Shirley's old Mill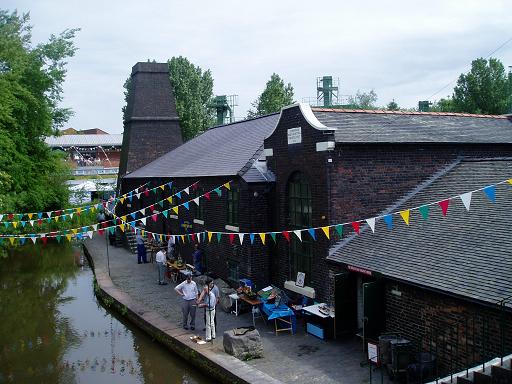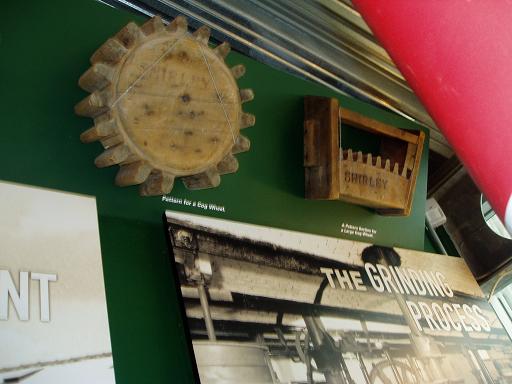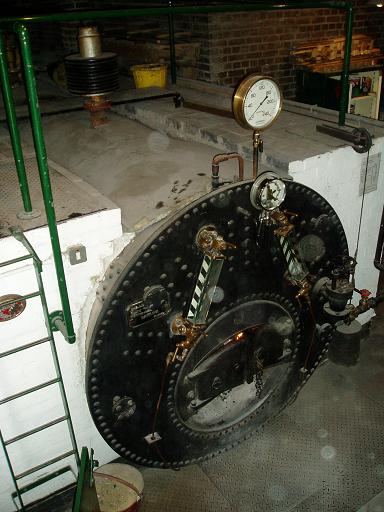 ---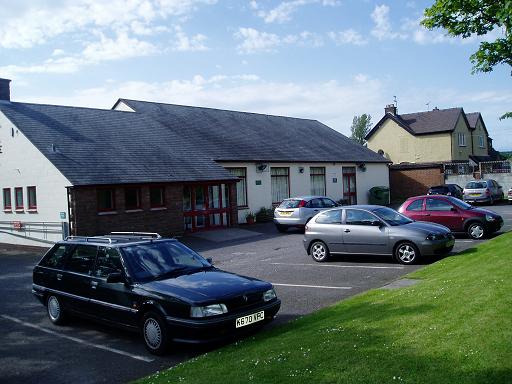 Location of Alton Meeting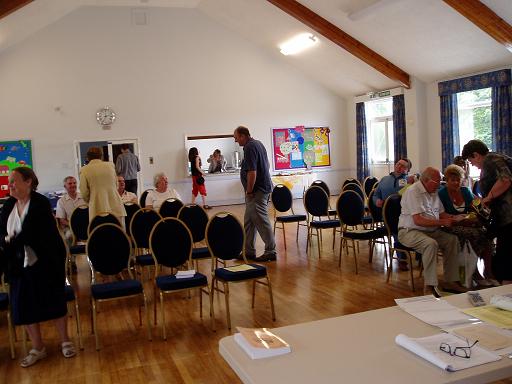 Shirley Meeting in Alton Staffordshire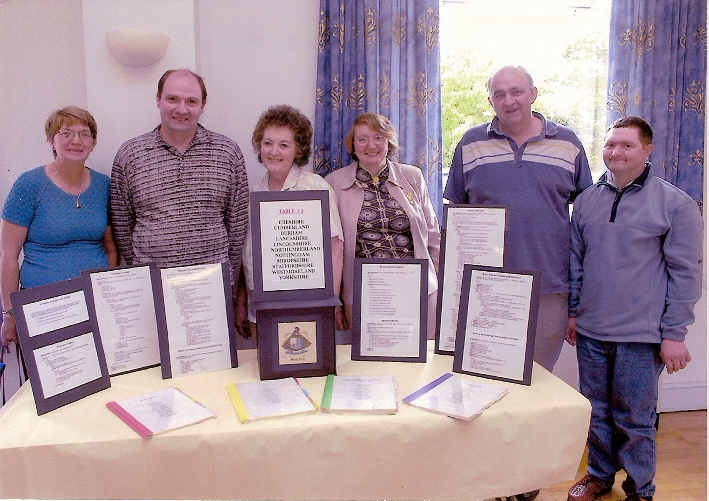 Cecilia on left with her brothers and sister.
(Betty Shirley 3rd from left behind tall poster)
Monday June 5th: Cecilia, Averil and their brother Laurence and I were off early AM today to visit places like Bucknall, Hanley, Bagnal, Longnor, Sheen, Waterfall, Ipstones etc. Teresa Moore, present owner of Marsh House invited me to lunch when I came over and I was more than happy to accept. The lunch was delightful, and our tour around the house and property was most interesting. I have heard about this house for years. I could hardly believe I was actually there. I really enjoyed meeting Teresa Moore. She made us feel at home.
.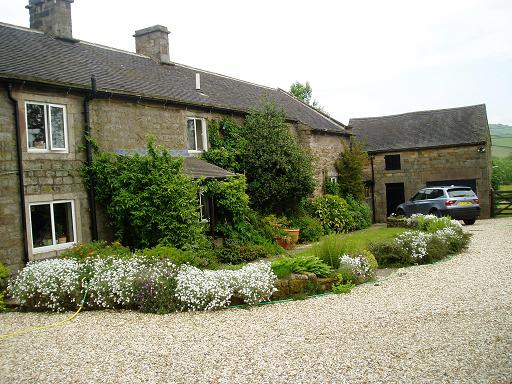 Marsh House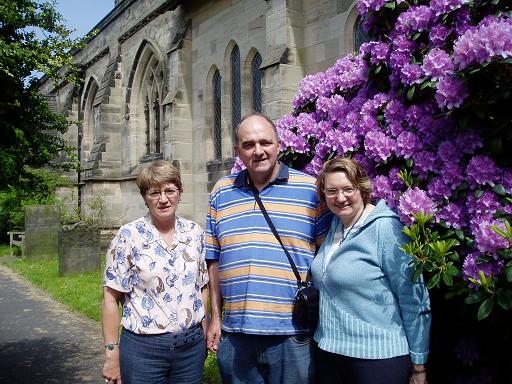 Cecelia, Laurence and Averil
Tuesday June 6th: Today we headed for places like Abbots Bromley, Burton On Trent, Newton Regis, Ashby De La Zouch, Staunton Harold and Breedon on the Hill as well as Shirley Village. Ashby De La Zouch was especially on my list as when we were driving thru this area on one of our past tours (on the coach), I remember looking back and seeing something that said Lady Huntington buried here. So, this was something I wanted to investigate. We stopped and asked questions at a local hotel, and they knew nothing, except there was this old school, and etc. back behind the town. As I walked out of the hotel, I met a person coming towards me and asked him the same question and he directed us back to the parish church in the same vicinity of the old school. We drove back to the parish and looked for something about Lady Huntington. We were almost ready to leave when Arvel read in smaller print on this one monument about Lady Huntington. Sure enough, here was what I had been carrying around in my thoughts for several years. She is here.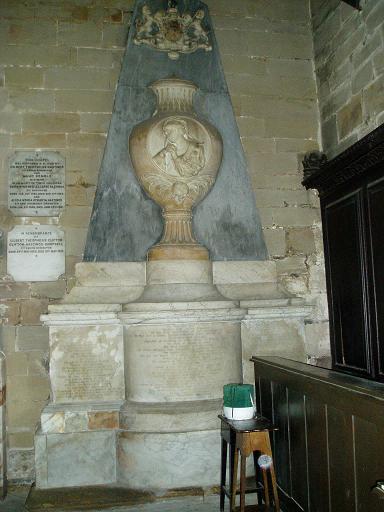 Earl of Huntington and his wife, Lady Selina Huntington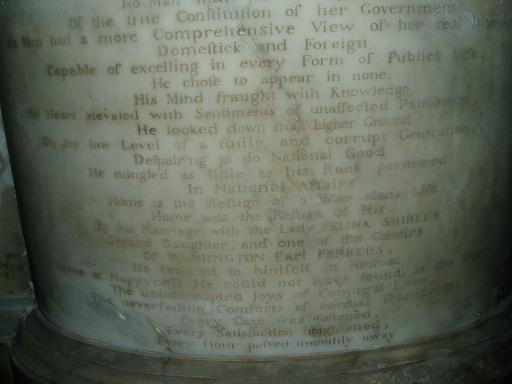 Selina Shirley Huntington can be read 10 lines up from bottom
We drove to Staunton Harold where we met up with Andrew Shirley, son of the Earl Ferrers. As we were walking from the house to where our cars were parked, Andrew stopped to say hello to the present owner of Staunton Harold. He introduced us and we were asked if we'd like to see the inside of the house. It was just one of the chance meetings. We visited almost every room in the house.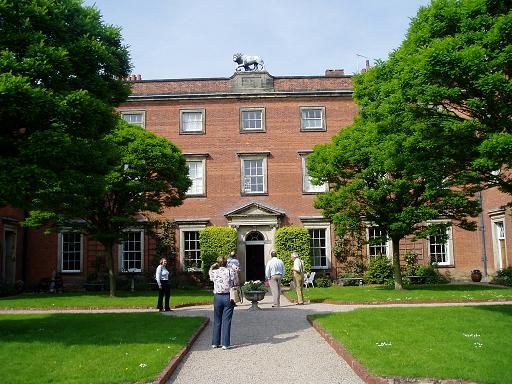 Staunton Harold Manor House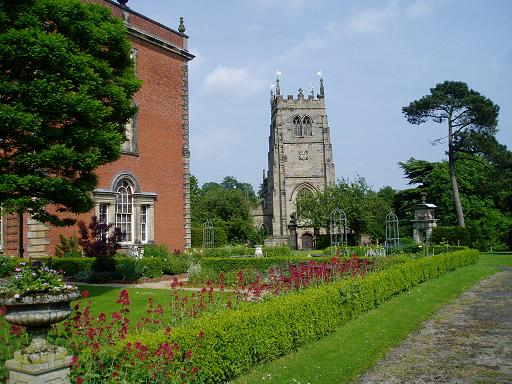 Staunton Harold Church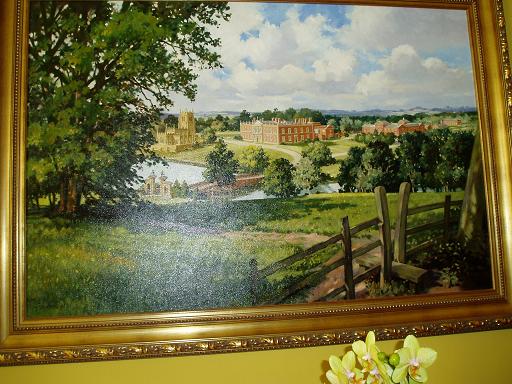 An old painting of Staunton Harold hanging in the Manor House (sorry for the glare)
Our next stop was Breedon on the Hill and Andrew accompanied us. After our visit there, we said good bye and headed to the next stop, and then dinner and home. We had a full day.
Wednesday June 7th: We left early for Lancashire, Cecilia, Laurence and I. (Averil came down with a cold and didn't go with us) Our destination is Ormskirk. Here I am to present a copy of the book, THE SHIRLEY FAMILIES OF JAMAICA, WEST INDIES to the Ormskirk & District Family History Society.
.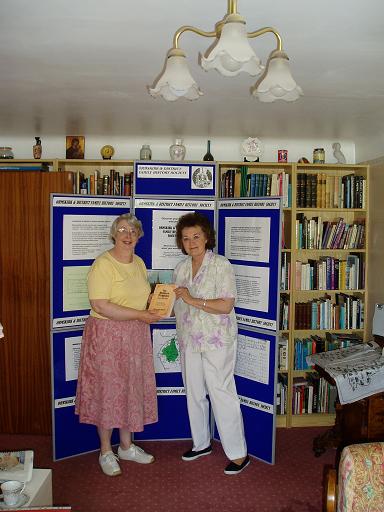 Jean Gidman receiving book from Betty Shirley
After lunch we drove to Wigan to set up for the last Shirley meeting. About 8 of us met at 4pm. and then it was time to pack it up and head to the hotel in Manchester.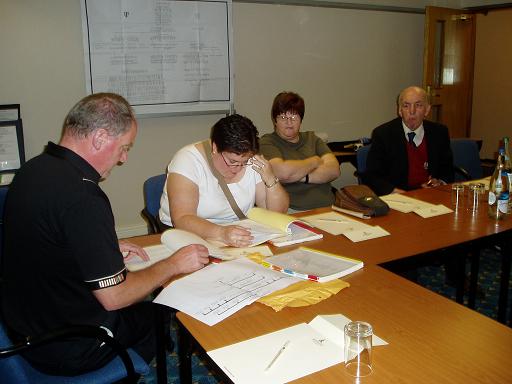 Wigan Lancashire Shirley Meeting
Cecelia and Larence decided to stay at the meeting to drive me to Manchester as it was a distance and would have cost a great deal if I were to have taken a taxi. They seen me to my room and we had tea and coffee in the room and talked a spell about our visits, etc. After they left, it was time to take EVERYTHING out of my suit cases and completely repack for my return home. I had 3 hours sleep this night as I have to be up at 4:30am and a taxi is coming at 5 am to take me to the Manchester airport for a flight to Heathrow in London, arriving at about 7:30. My flight home will be at 11am. In the meantime, I will be meeting up with Patrick Vernon at Heathrow. He is a Jamaican Shirley descendant and he would like to meet me. He treated me to breakfast at the airport and pushed my luggage cart to the next terminal for my flight home. I really appreciated that as I was exhausted.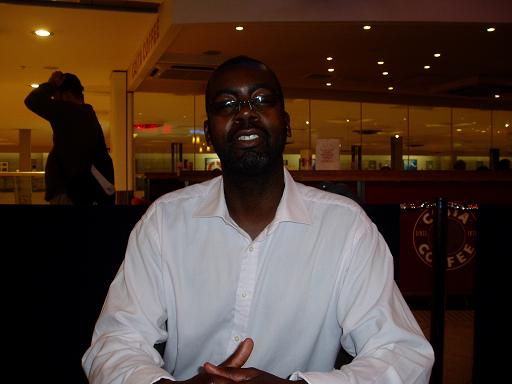 Patrick Vernon
The day before, I started having some back problems but not too bad. I was concerned about sitting so long on the flight home. Would I get so stiff I might have to have assistance to help me off the plane. Well, no one sit in middle seat so I could move around and I made it just fine. Then... I had my challenge. At the airport, I was waiting for my luggage. I waited for several minutes and the luggage was not coming up on to the luggage claim area. I called on the cell and my daughter and husband were waiting outside, but not parking. So they said they would drive around a few times until I came out. Eventually the luggage started going around, and after a few minutes I spotted one of my pieces. Would you believe it was tossed over another suitcase and tilted away from me making it hard to get it up and over the other piece and to drag it off. I held on with all my might hoping someone standing near would help, but they didn't see it and I thought it would carry me away with it... HA! But eventually I kept jerking on it and I did get if off. I was determined not to have to wait for it to go around again. The other piece was just 30 seconds later, and I was off to the car after calling them saying I was coming out. Apparently I really pulled the muscles in the lower back because I have suffered terribly since I have been home. I am just not able to sid and walk with out as much pain. It is tolerable, not gone, but I will live with it and appreciate that I can move around better now. So, that is my story. I had a great trip! I am so glad I went. I did get several who said they would do the DNA and a few who said they would think about it. So, I consider the trip a success! I loved meeting everyone! Thank you to those who came to meet me at each meeting. Thank you to the hosts for taking care of me and helping with the arrangements. Thank you to those who drove me around. It was so helpful to see the countryside where the Shirleys lived. I can judge distances now and if the locations were they lived were in the valley or high up on the hillside, etc. It was a wonderful experience.
If I have promised something to someone at one of the meetings, please email to remind me of any promise to look up something for you etc. If you gave me money to join the Association, please email me. I think I have input some, but I may be overlooking a couple of people.
A big THANK YOU to Edward Shirley of Atlanta Georgia for providing the initial funds to get me motivated to make the trip. I wish he were here to read the report and to know how much I appreciated his generosity. He is truly missed.