September 1993 Shirley Meeting

Syracuse, New York

and visit to Prince Edward Island in Canada to the home of Anne Shirley of Green Gables fame
By Betty Shirley
My daughter Delaine and I flew from San Jose California to Boston Massachusetts September 11, 1993. She had never been to the New England states and there were places I wanted her to see on this trip. One was Plimouth (Plymouth) Colony, the Mayflower and Plymouth Rock. Then we were off for Canada.
The main reason for this trip was to visit Prince Edward Island in Canada to learn more about why Lucy Maud Montgomery chose Anne SHIRLEY as the character for her stories. Lucy Maud Montgomery was born in 1874 Prince Edward Island. Her first book, Anne of Green Gables, was published in 1908. Did she name her character Shirley because she was related to the Shirleys? If not, did she know some Shirleys? That is not a common surname and I am curious to know how she came up with it.
In the early part of the story Anne Shirley says she was born in Bolingbroke, Nova Scotia, Canada. Her father was Walter Shirley and he was a teacher in the Bolingbroke High School. She says her mother's name is Bertha.
I wrote to the Avonlea Traditions Chronicle, a Canadian publication, asking the question of where Lucy got the name SHIRLEY for Anne's surname? I received a letter stating that they did not know if Walter was a member of our clan, but in the Dictionary of Hymology there was a Walter Shirley listed.
While at Prince Edward Island we visited L. M. Museum and talked to George Campbell, a cousin of L. M. Montgomery who owns the museum. He didn't know and called a college professor friend of his and he also didn't know and had never thought about it. I did learn Lucy often wrote about people and places based on her personal experiences. Lucy Maud Montgomery married a minister, so she would certainly be familiar with hymnal books. She loved poetry and read a great many books. It makes sense she took a liking to the Walter Shirley name as suggested by Rea Wilmshurst.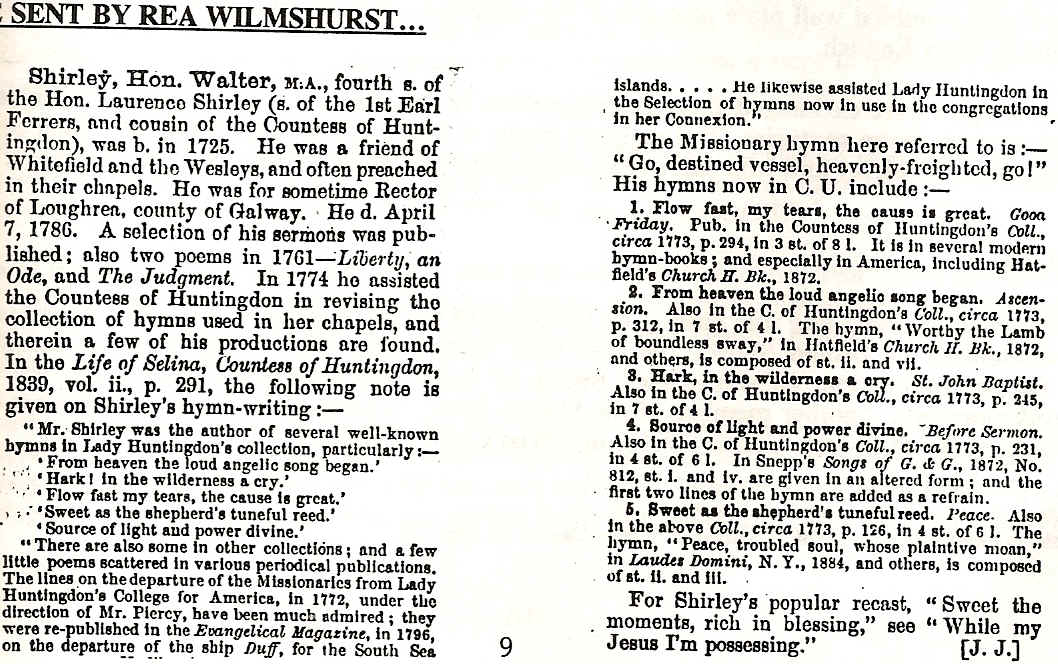 NOTE: Countess Huntington was a Shirley
We visited the house in which the story of Anne Shirley of Green Gables was filmed, attended some events and had a great time on Prince Edward Island.
From there we went to New York and took a tour that included the Statue of Liberty and Wall Street. In the evening we took another tour to Staten Island. The next day we went to Niagara Falls and took another tour as we neither one had been here before. The tour didn't end until 10PM and when we got to our car we had to drive about 2-3 hours to get to Syracuse for the night. Thank goodness we had prepaid reservations at the hotel.
The next morning we met with a small group of Shirleys. I was pleasantly surprised to see our cousins, Paul and Betty Shirley who drove up from Ohio. WE met some new to us Shirleys. It was great to see Shirley Garvin who has been of great help with the New York Shirley research. Paul and Pat Shirley from branch #58 were at the meeting. They showed us a brochure and pictures of Fort Ontario and told us about the connection between Governor William Shirley and this Fort. The old Fort is a tourist attraction and was about 30 miles from where we were. After the meeting we drove to the Fort and from there drove thru Vermont and to Boston Massachusetts to catch a flight home.