| | |
| --- | --- |
| | Elam Bartholomew |
Elam Bartholomew born June 9, 1852 Strasburgh PA d. Nov 18, 1934 Hays, Kansas m. Rachel Isabel Montgomery June 14, 1876 who was born Feb 22, 1855 and died Mar 6, 1941 SEE MORE INFO BELOW ON MONTGOMERY
In 1854 when Elam was about 2 years old, his parents moved to Granville, Ohio. IN 1865 they moved to Farmington, Illinois where he grew up. Elam spent his early life working on the farm thru the summer months and attending the neighboring school during the winter. By supplementing his district school his district school training with assiduous home study, he fitted himself for passing a satisfactory examination in the common school branches and in the elements of the natural sciences. In the fall of 1873 he was engaged to teach a five month term of school in a neighboring county district. With the close of school in the spring, Elam set out for Kansas on March 17, 1874. He reached Hayes City on the 18th. He started by wagon transport on the following day to Stockton. On the 20th he went north from Stockton to beautiful Bow Creek Valley where he settled on a 160 acre government homestead 14 X 22 foot cottonwood structure. He returned to Farmington to marry Rachel Montgomery in 1876 and take her back to his home on Bow Creek. They lived there for fifty-two years.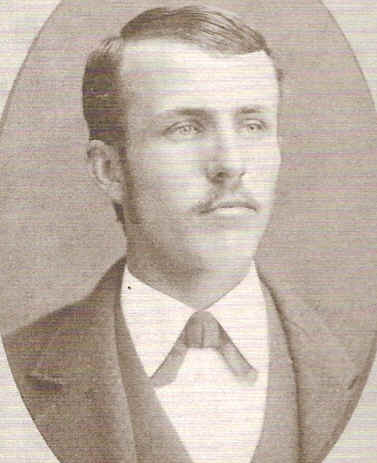 Elam Bartholomew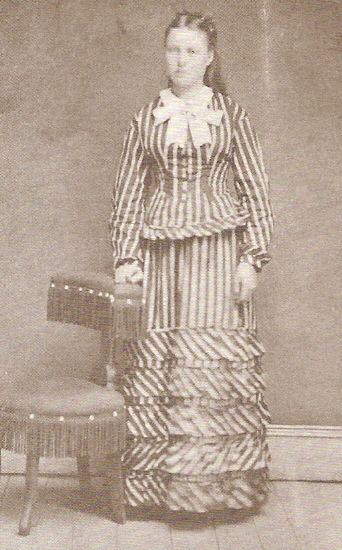 Rachael Montgomery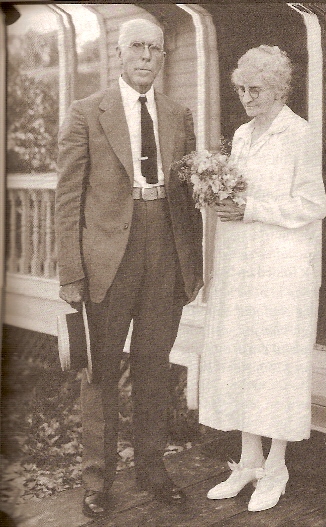 Elam and Rachael Bartholomew
June 14, 1926 50th Wedding Anniversary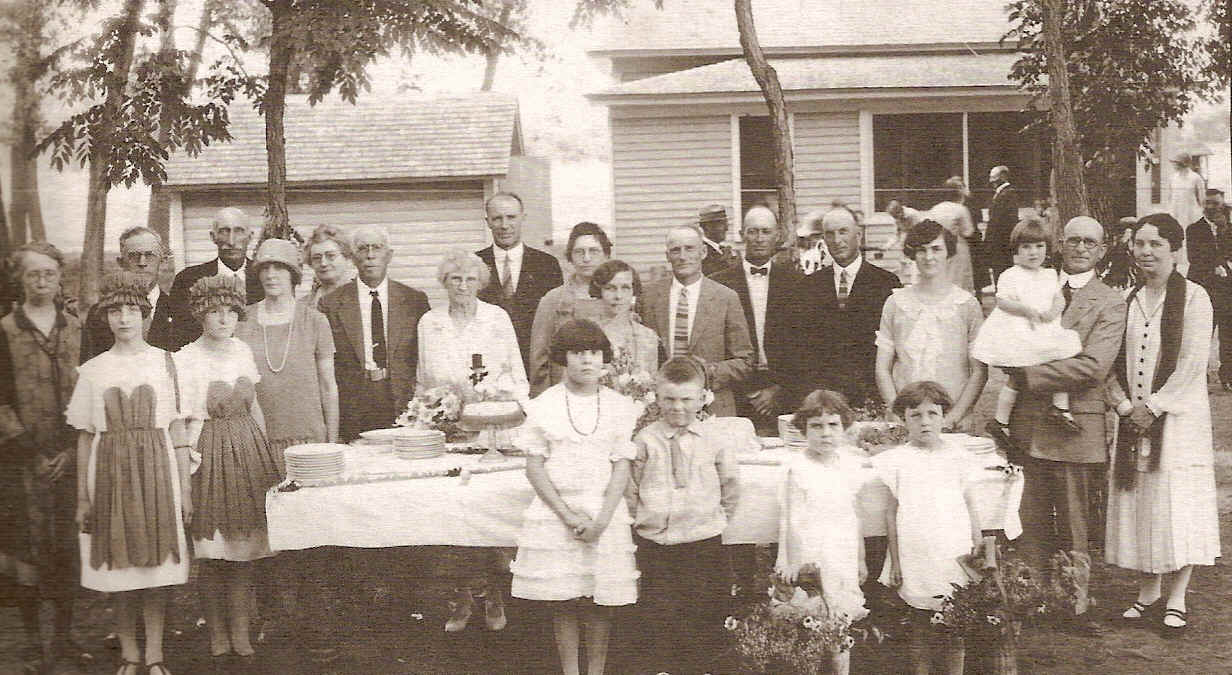 June 14, 1926 50th Wedding Anniversary Party
Elam Bartholomew
Children:
1. George Edgar Bartholomew May 1, 1877 d. Sept 11, 1900 (appendicitis). He died at age 23 just prior to taking the Chair of Science and Mathematics at the Hiawatha Academy of Kansas in Sept 1900. He also studied for the Ministry but died before he was ordained.
2. Elbert Thomas Bartholomew Oct 18, 1878 d. Oct 2, 1967 m. Mary Lucille Keene Aug 5, 1916. He graduated from Emporia and Madison Colleges. He worked as a government investigator.
Children:
(1). Martha Lucille Bartholomew Sept 30, 1921 m. 1st Robert Castle m. 2nd John S. Keene. John was head of the Instructional Research Center, Kern County School District in Bakersfield, California.
(2). Lois Jeanne Bartholomew June 15, 1924 m. David L. Chadwick. They lived in San Diego, California.
3. Elizabeth Fanny Bartholomew Jan 3, 1881 d. Feb 6, 1966 m. Chester R. Ingle Jan 3, 1907. He was born Jan 30, 1911. He was an attorney. He died in Thermopolis, Wyoming
Children:
(1). Chester Bartholomew Ingle Jan 39, 1911 Bremerton, Washington m. Lee Ola Roemer. He was an attorney for 43 years. Ola was head of the Social Service Department of Hot Springs Co. Wyoming for many years.
4. Jesse Elam Bartholomew Mar 21, 1882 d. Dec 12, 1976 Wyoming m. Florence Cook Dec 3, 1919. He was a Minister for many years in Topeka, Kansas.
Children:
(1). Still born
(2). Robert Daniel Bartholomew Aug 16, 1926 m. Janet Adams
(3). David Morris Bartholomew Oct 12, 1928 m. Martha Carolyn Force
5. Earl Robert Bartholomew Aug 17, 1884 d. Dec 5, 1964 Stockton, Kansas m. Alice Fern Hale April 23, 1913
Children:
(1). Elizabeth Alice Bartholomew May 13, 1914 m. Addison Walter. They lived in San Diego, California
(2). Earl Robert Bartholomew, Jr. Feb 5, 1918 d. Nov 15, 1924 (Polio)
(3). Marie Fern Bartholomew Dec 22, 1920 m. Loren Grover
(4). Ethel Roberta Bartholomew Dec 5, 1925 m. Lawrence Mock. They lived Lakewood, Colorado
6. Hubert David Bartholomew June 7, 1886 d. Jan 15, 1887 (Cholora Mobis)

7. Lee Montgomery Bartholomew Mar 8, 1889 d. Feb 13, 1975 (Pneumonia) m. Emma Lillian White June 2, 1912
Children:
(1). Rachel Caroline Bartholomew Mar 31, 1914 d. Dec 28, 1994 m. Homer Theodore Courtney. Lived Quinter, Kansas
(2). Margaret May Bartholomew Feb 6, 1917 m. Wilbur De Young. He was a Presbyterian Minister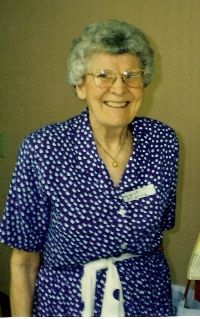 Margaret De Young
We corresponded many times over the years.
(3). Elam Albert Bartholomew Dec 25, 1919 d. Sept 1931 (Lukemia) buried Hayes, Kansas. He never married
Top left to right: Elbert and Earl Bartholomew
Bottom left to right: Jesse and Lee Bartholomew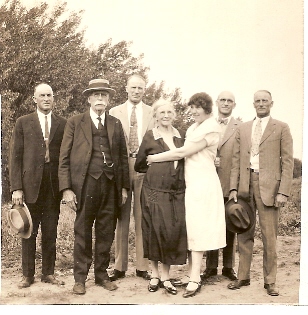 Lee, Elam, Jesse, Beth, Rachel, Elbert and Earl Bartholomew
____________________________________________________________________________________________
Visit to Uncle Elam's Lab
In 1993 I had the opportunity to attend the Bartholomew Reunion. The next day I toured around the Bow Creek area and the following day we were off to Hays Kansas to see the lab at Kansas State where he was well known for his Herbaruim and his collection of various species of plants. You can read more about this below from a small booklet written about him years ago. I have heard all about Uncle Elam and as a child I wrote a report about him for a school report. Visiting his lab was a dream come true. Here are pictures I took of his lab. Since I was there, his lab has been moved to a new building. I am so glad I saw it the way it had been preserved all of those years.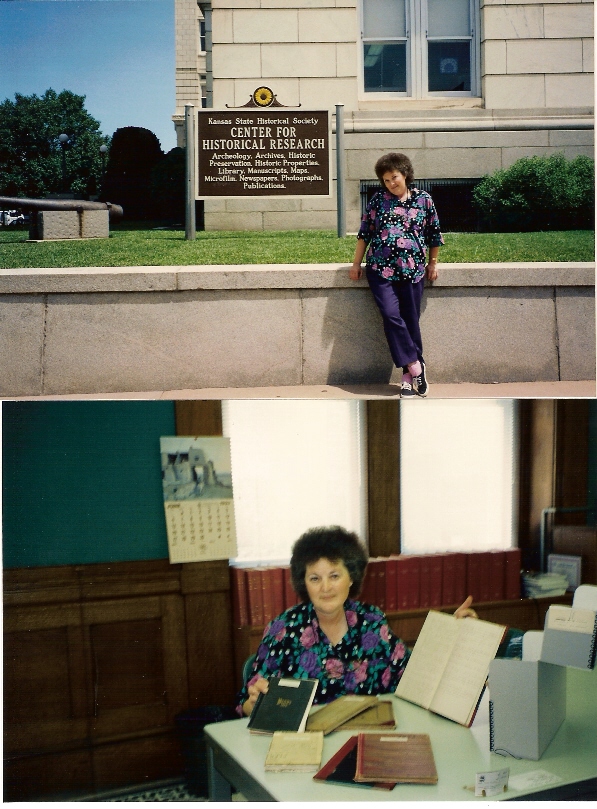 Betty in the Kansas State Historical Society looking at Uncle Elam's Journals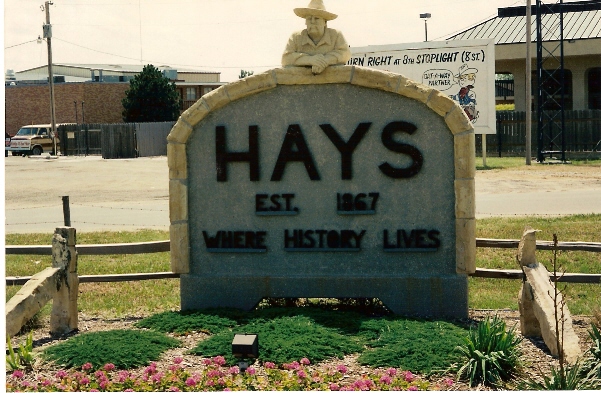 Hays, Kansas Where History Lives Est. 1867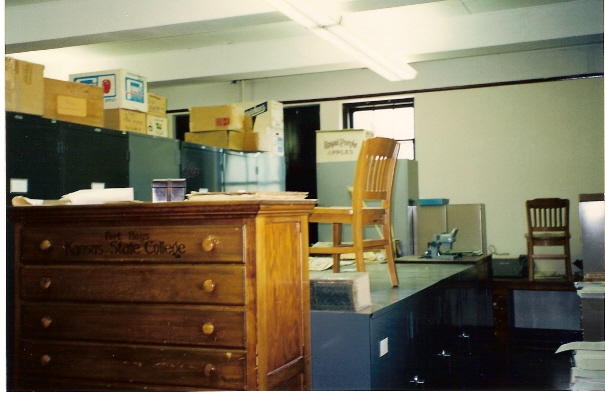 Elam Bartholomew's Lab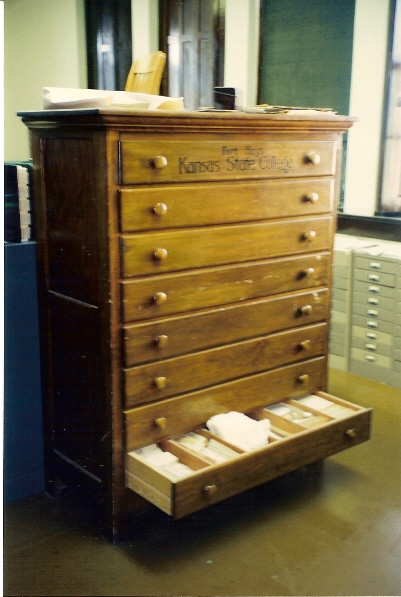 Inside these drawers were thousands of envelopes with speciman's of plants collected over the years by Elam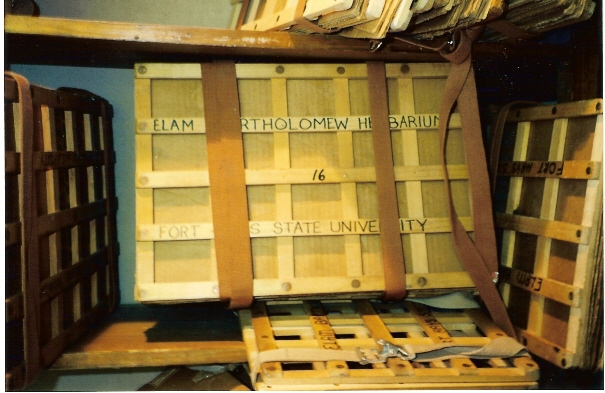 I forgot the story on these
Curator showing us more plant collections.
The room was full of various boxes and files containing additional collections of plants, seed and Fungi.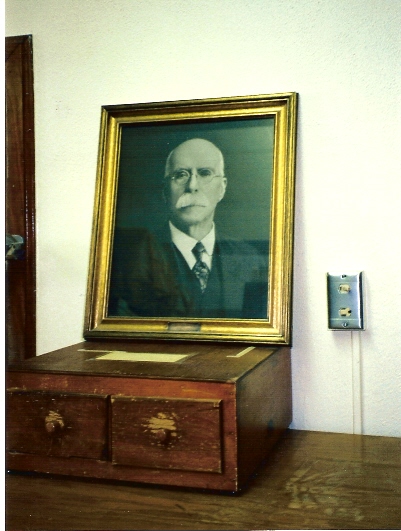 Uncle Elam's picture in his Lab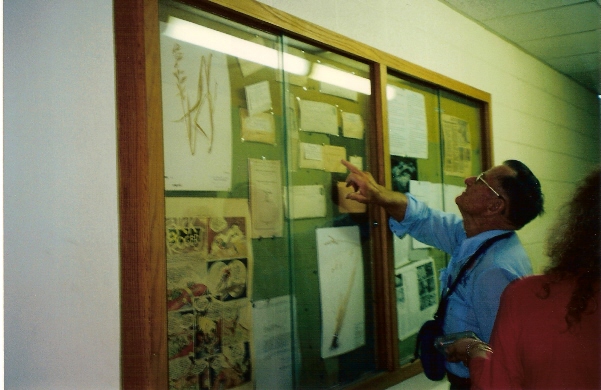 Curator showing us a exhibit in the hall of the college about Elam and some of his plants
The story of Elam Bartholomew from a very old pamphlet I have had for years in my collection