| | |
| --- | --- |
| | Hall surname |
Isaac Hall m. Liza Jane Stone June 8, 1864 Henderson, Illinois. She married 1st. Samuel Hayden, divorced and m. 2nd Isaac Hall and he died Feb 13, 1903 Point Pleasant Township, Warren Co. Illinois,
SEE BELOW FOR MORE 'STONE' INFO
Children:

1. Alvin Richard Hall Mar 19, 1865

2. Sarah Hall Mar 3, 1867

3. Charlie Isaac Hall Oct 9, 1868 IL

4. Elva Hall Feb 2, 1871 Sciota, McDonough Co. IL

5. Alva Hall Feb 2, 1871 Sciota, McDonough Co. IL

6. Ida Hall Oct 22, 1873 Sciota, McDonough Co. IL

7. Daisy H, Hall Feb 8, 1876 Sciota, McDonough Co. IL

8. Lora Eugene Hall April 21, 1878 Sciota, McDonough Co. IL

9. Sherman Wilbur Hall July 16, 1880 Sciota, McDonough Co. IL d. Dec 20, 1972
Macomb, Mcdonough, Illinois m. Jessie Ellen Van Alsine Jan 4, 1905 Warren Co. IL. She was born Oct 30, 1890 d. Aug 20, 1952 Gladstone, Clackamas Co. Oregon

MY GRANDPA (Alfred Bartholomew) was close with this family.

Sherman Hall and family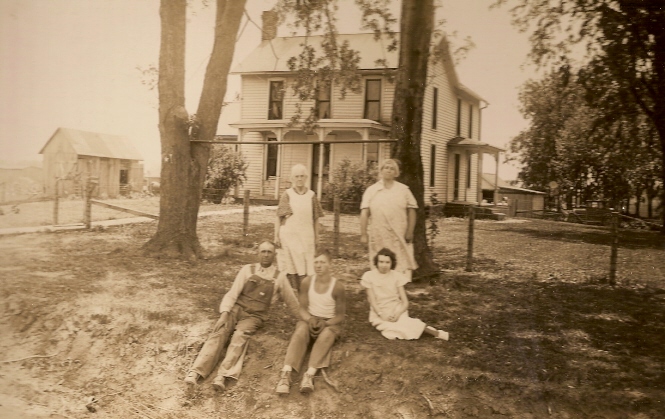 Sitting L-R: Uncle Sherman Hall, son Glen and Delia
Standing: Unknown and Aunt Jessie Sherman
(Taken in Siota, Illinois)

Cleo Hall

(I think he is the son of Sherman)
____________________________________________________________________________________
STONE
Liza Stone's brothers and sisters
1. Patience Stone
2. Simon Stone
3. Jim Stone lived Farmington, Illinois
4. Sarah Stone m. _____ Tuttle
5. Rosina Stone married August Isburg (German)
August tried to kill Rosina one evening. He came knocking at her door and she opened it a crack to see who it was. She slammed the door and he shot through it twice, hitting her in the wrist. He went over to his daughter's house and asked if the police were after him yet. He killed him self there. He has been suspected of killing his first wife.