7th Shirley Convention June 1989

Tulsa, Oklahoma
Shirley Descendants at the 7th Shirley Convention in Tulsa, Oklahoma
The 7th National Shirley Convention was held June 24th and 25th at the Holiday Inn.
Shirley descendants from many states attended this gathering as we commemorated the 100th Anniversary of the death of Belle Starr.
On Saturday evening the group was pleasantly surprised by the appearance of Belle herself. She entered the meeting from the back and walked to the front of the group talking as she went and taking over the microphone. Belle wanted to meet the two evening speakers who have been writing books about her. Phillip Steele said, they killed you again a few weeks ago at the re-enactment of your death. She laughed and said, they keep killing me and I just keep coming back.
Belle spoke to the audience for a couple of minutes about her family and then said she had to get going as we have another engagement and Jim has my saddle ready. The audience applauded as she left with a wave of her hand.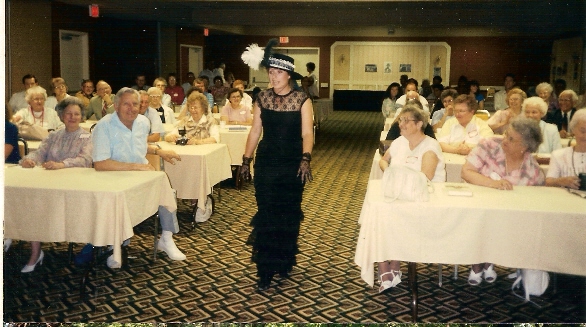 My daughter, Dorene Shirley, as Belle Starr
Glenn Shirley, author of many western books, spoke to the group about his findings when he wrote his book on Belle Starr some years before. The next speaker was Phillip Steele who had just wrote a book about Belle Starr and filmed her story on location in Ft. Smith on the site of her death.
At the conclusion, both speakers came forward to answer questions from the audience. Several stories and jokes were told and everyone seemed to have enjoyed the evening.
I will give a more detailed report of our trip at the bottom of this page.
Here are some photos of people attending the convention.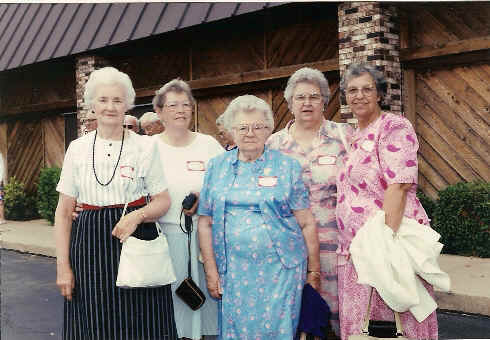 Center: Ruth Dannettelle and her cousins descended from the Walter Shirley branch #19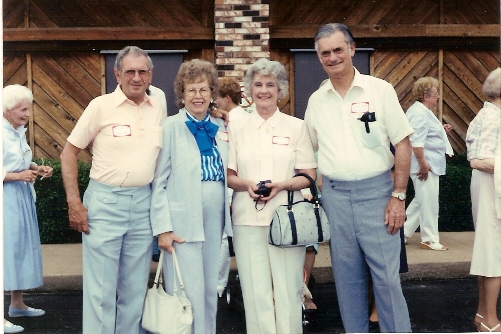 Gladys and Ralph Luck on the right with cousins from the Barren Co. KY Shirleys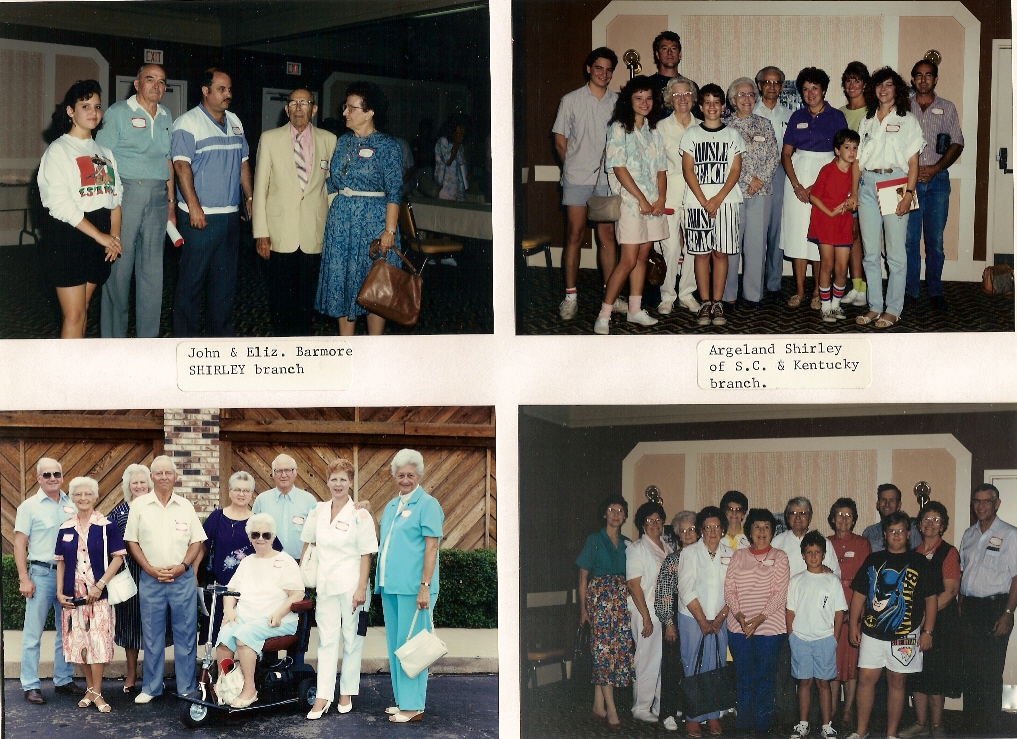 I have forgotten which branch of Shirleys this group is from Anne Bumpus on left and cousins of branch 32
REPORT ON TRIP TO OKLAHOMA
Six of us flew to Tulsa, rented a van and took off for Ft. Smith Arkansas to spend the night. The next morning we hurried around for breakfast and took off for Paris Arkansas.
I should explain. Two of our group were my children, Dale who is 33 years old, and our daughter, Dorene who is 30 years old. This was their first trip to Arkansas.
Paris Arkansas is where my husband's grandfather came to live from Athens Co. Ohio in 1869. We were thrilled to be able to show our kids where their great grandfather had lived, where he was buried, etc. Their grandfather was also from here and served in the Arkansas House of Representatives before moving to Oklahoma and eventually to California. He moved to Oklahoma after his house was burned twice. He had had enough politics.
After our tour around Paris we hurried back to Ft. Smith for lunch and then to Judge Parker's Court across the street. This is the court where Belle Starr had been sentenced. (Remember this trip and convention is centered around the 100th Anniversary of her death). We purchased a floral wreath and went to Porum Oklahoma to put it on her grave.
We arrived in Porum about 3 PM for a walk to Belle's grave that sits back along way from the dirt road. A gentleman I spoke to weeks before was waiting for us and to escort us thru the field. The lady who owns this property the grave is on so kindly cleared a path for our coming. I was quite relieved to see this as the time before I had been to the grave the weeds were as tall as I in some places and I was scared to death I would run into a snake.
My son and daughter placed the wreath on Belle Starr's grave. The color we selected for the wreath was Lavender.
L-R: Evelyn, Dorene, Dale, Barbara, Guy and Betty Shirley
at Belle Starr's grave in Porum, Oklahoma
We arrived back in Tulsa about 6:45PM just in time to check into the hotel, freshen up and get down to the meeting room in time to greet Shirleys at the pre-convention meeting Friday evening. We met previous convention attendees and first timers to our Shirley Conventions. We had a great time! I went to my room later to get some rest for the next day and plan out a few last minute things for the meeting. The Shirleys were busy chatting and didn't realize I left. It was great seeing everyone getting acquainted and having a good time doing so. The convention was for two days, Saturday and Sunday.
Monday morning we got up at 5:30AM and checked out of the hotel, drove for awhile, stopped at the worlds largest McDonalds at Vinta Oklahoma for breakfast. We arrived Carthage Missouri, picked up Ron, a deputy sheriff who works part time in the area and with whom I had been in contact with several times. We headed for Georgia City Missouri to see where Belle Starr's family had lived as she was growing up, etc. Previous to our visit he had been scouting out the places to take us when we got there.
On the old road to John Shirley's property we noticed a small cemetery along the road. We stopped to see if any Shirleys were buried here as this was just a 1/4 of a mile or less from John's property. We didn't see any but did write down the names to check later to see if anyone might be related to John Shirley.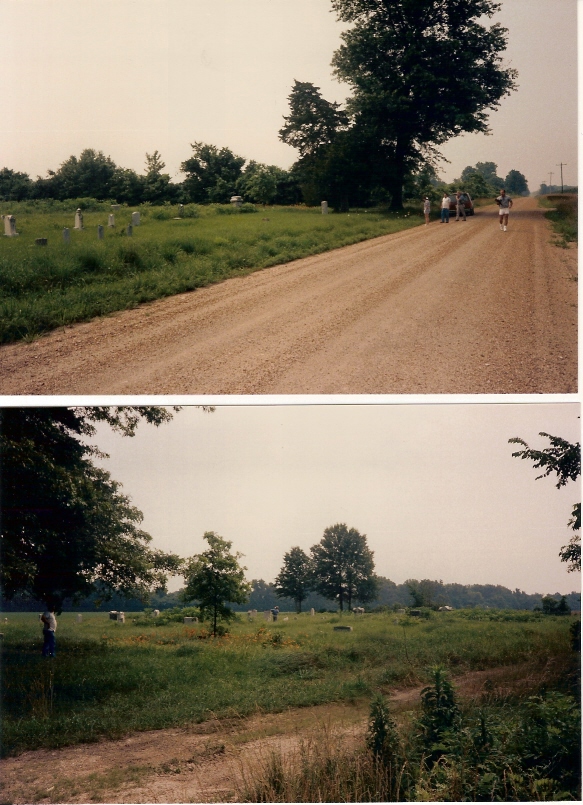 Note: After we returned to California, Ron researched the names. We had found James A. Hunter who was born in 1837 Monroe Co. IN. Ron discovered in the library James' mother was Mary A. Shirley who married Richard Hunter. Ron another source Ron found in the Carthage library said Mary was the aunt of Belle Starr.
We saw John Shirley's old barn, the race track found near the barn, etc. We went into the barn and found very old items and wood etc. stored in this deserted barn. It was fun walking around looking at things and talking about what it was and how old we thought it might be. The old barn is not in good condition inside, but to think it is still standing!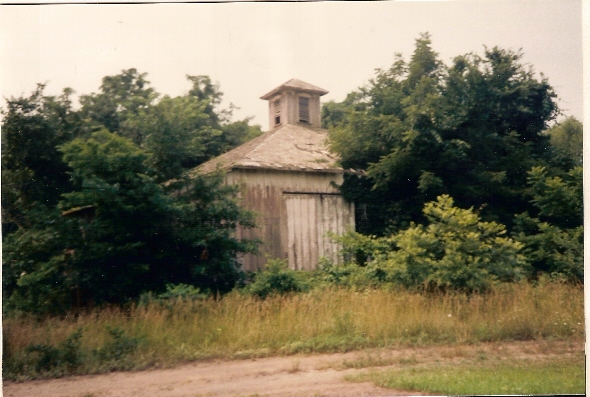 Old barn at John Shirley's, father of Belle Starr in Jasper Co. Missouri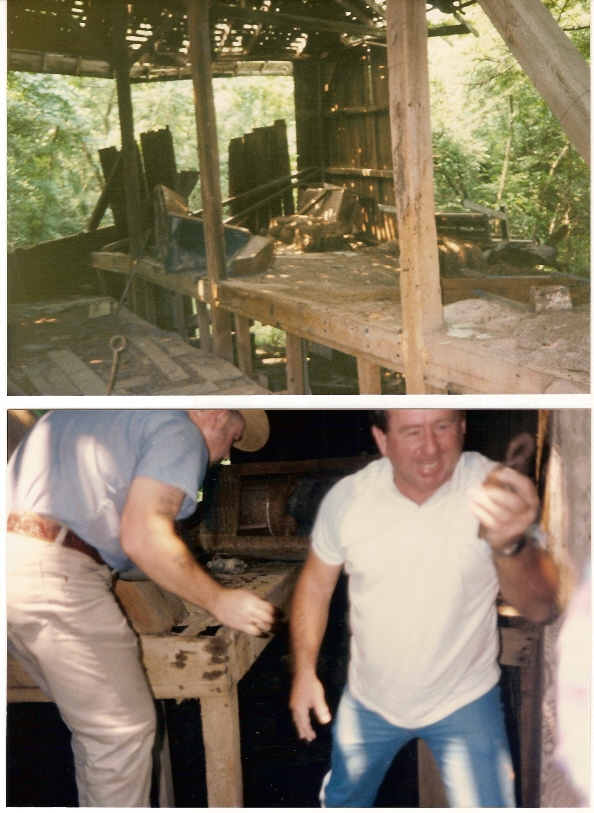 We went on down the road a few hundred feet to where the bridge crosses SHIRLEY FORD.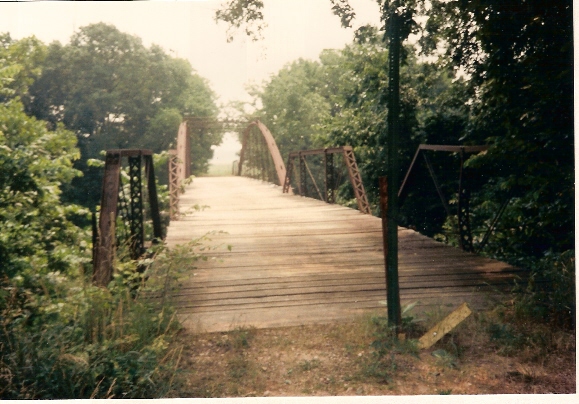 Bridge over Shirley Forge near Belle Starr's father's place in Jasper Co. Missouri
We visited the Carthage Missouri library and learned it sits on land that had been owned by Belle Starr's brother. The purpose for our stop at this library was to present them with a copy of a book I just did for Belle Starr's ancestry, etc. for the 100th Anniversary of the death of Belle Starr.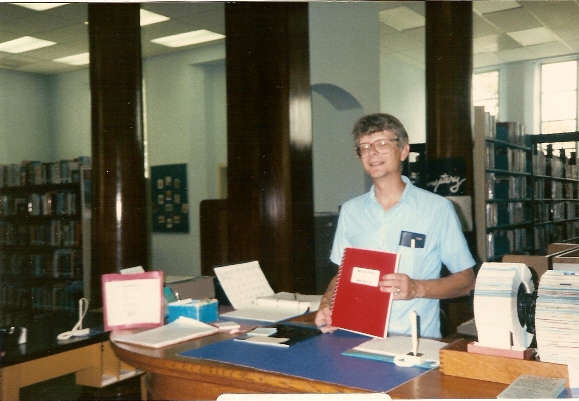 Belle Starr book presentation at the Carthage Missouri Library (red book)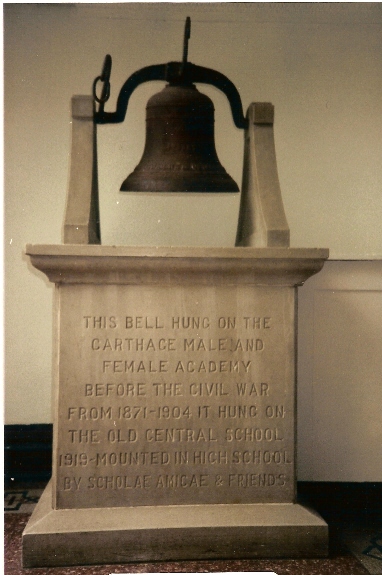 They say this Bell summoned Belle Shirley to classes before the Civil War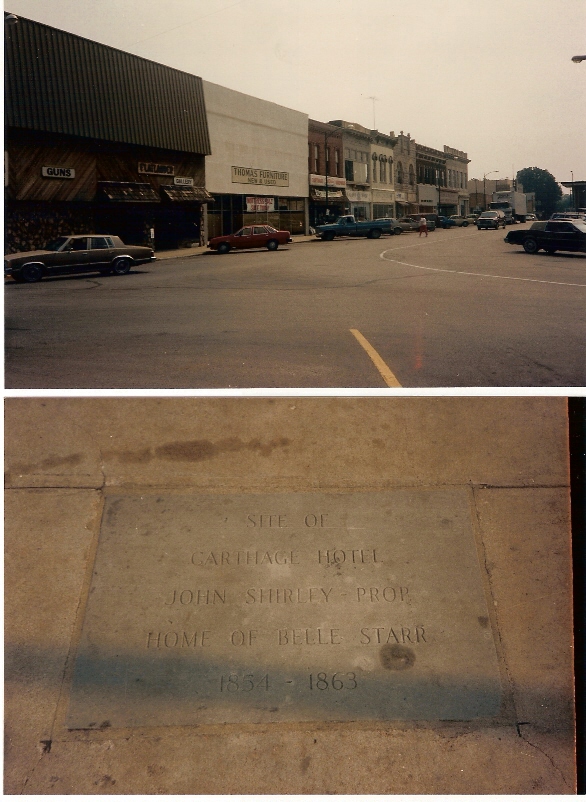 Marker in sidewalk in front of the Thomas Furniture store in above photo. John owned this block of Carthage as shown above.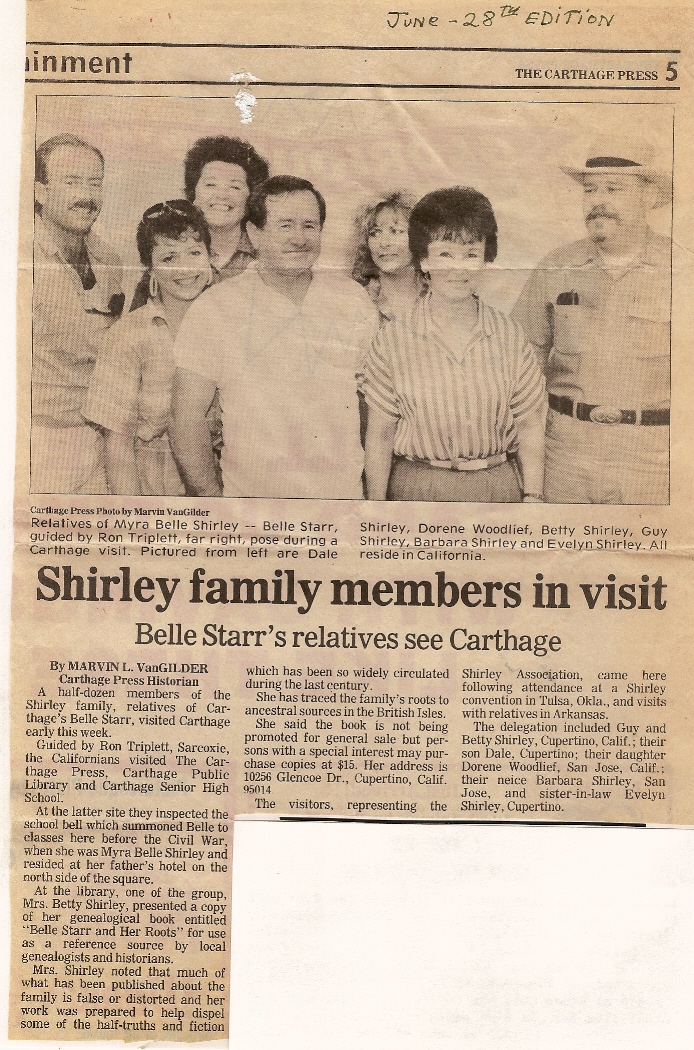 From Carthage we dashed back to Tulsa OK for our flight home to California. What a trip!