June 1992 Shirley Meetings

Seattle, Washington and Portland, Oregon
By Betty Shirley
Wednesday June 3rd I called one of my husband's cousins (we have never met) to let them know I would be coming through their area in Oregon the next day and asked them if it would be alright to stop in for a few minutes to meet them. They said that would be great. In fact they invited us for dinner and to spend the night.
Thursday June 4th I left home early and drove to Redding California to where my niece Barbara lives. After a coke we loaded up her things into the car and we were off in less than 45 minutes. When we arrived at the cousins in the late afternoon we found a houseful of relatives and picnic tables spread with food. This was such a nice experience on such short notice! We spent the evening looking at family photo's and telling family stories. These were my husbands 1st half cousins and their grown children.
The next morning we continued towards Washington, stopping occasionally to call Shirleys who lived near the road we were traveling. Very few were home. We stopped in Roseburg, Oregon and found Bryan Shirley in the phone directory. We went to his house and met him and his son Donald, who was busy doing some carpentry work. We introduced ourselves and asked about their Shirley ancestors. Bryan said his father was Donald Shirley born about 1898 and his grandfather was Leslie Shirley born in Pennsylvania. That is all he knew.
Bryan Shirley and his son Donald
Note: I have looked the info he gave and as far as I can tell his grandfather Leslie was Leslie W. Shirley born in 1870 Illinois. Donald Shirley born Jan 1897 living in his father's household in Cook Co. Illinois in the 1900 census. Bryan is listed as almost 4 years old in the 1930 census and the family (Donald head of house) is living in Portland Oregon. It appears this is also the Ambrose Shirley family, branch #15.
We traveled a couple of hours more and saw several cute antique shops. I said we deserve a break! Let's stop and look around in the shops. We allowed an hour for doing this and how fast the time flies when you are having fun. We were heading for the car and I noticed this other shop and said to Barbara, let's take 5 more minutes to look thru this one and then we will head for the freeway and away from temptation. This shop was the one we were suppose to be visiting as I saw things I didn't know existed. I will explain!
Many of you have heard of the story and saw the video's about Anne Shirley of Green Gables. This shop had a whole section of items for Anne Shirley. Of course I had to purchase some of these products. There was the Anne Shirley doll and various things with the Anne of Green Gables labels on them. I was thrilled with these finds. As the clerk was packaging the items we told her we were Shirleys and that we were on our way to hold some Shirley meetings, etc. She said one of her part time employees was married to a Shirley and wondered if they might be coming to our meeting. I left some info and asked her to encourage them to attend.
Seattle, Washington Shirley Meeting June 6th, 1992
In Seattle Washington we met several new to us Shirleys. I was pleased to find Chuck Shirley who is a descendant of Ambrose Shirley branch #15. I asked him if he knew Captain John Shirley of Annapolis Maryland. He did not know of John who is of the same branch of Shirleys. I insisted he should give John a call. I have learned he did and they have been exchanging information continually ever since.
Another person we met in Seattle was Jack Shirley. After talking to him about his family, I realized he was the same family as Newlin Shirley of Alabama. (Newlin went to England with our tour in 1986 and has attended several Shirley gatherings). A few weeks later I received a nice letter from Jack that said.... Your recommendation that I get in touch with Newlin was a first rate suggestion.
I (Jack) called Newlin to let him know that Young Jack (son) and I were making plans to be in Georgia and Alabama in July. Newlin became enthused when we talked and plans were made to meet in Rome Georgia. The day we spent together was a highlight of the trip.
NOTE: Jack and Newlin are branch #2 John and Elizabeth Barmore Shirley. Jack was closely related to Newlins relatives which made this really special as they had close relatives in common.
Jack Shirley passed way a couple of years later.
Chuck Shirley attended our St. Louis MO convention and I had the privilege of introducing Captain John Shirley to Chuck Shirley.
Another person attending the Seattle meeting was Donald Shirley. He provided material about his Shirley ancestry who came from Ireland to Canada in about 1858.
Note: Donald Shirley and a friend joined us another time for a tour in England and met up with me afterward at our meeting in Ireland.
Portland, Oregon Shirley Meeting June 7th, 1992
This was also a good meeting. We met several new to us Shirleys here also and a couple who we have met before at other meetings or on Shirley trips.
We met Orie Shirley who brought Peter Van Shirley's Medal of Honor for his service in the Civil War. We were able to share with him that he descends from Daniel Shirley born in 1792 in Pennsylvania and died in 1872 in Jackson County Iowa and his wife, Anna Flynn branch #28.
Remember the story above about the Antique shop with the Anne of Green Gables merchandise and a part-employee who was married to a Shirley? This couple came up to me and introduced themselves as that couple and told me how they had heard of the meeting. As incredible as that was, we learned he was the brother of Bryan we had just met in Roseburg, Oregon. We couldn't get over this coincidence! Top photo below is the couple.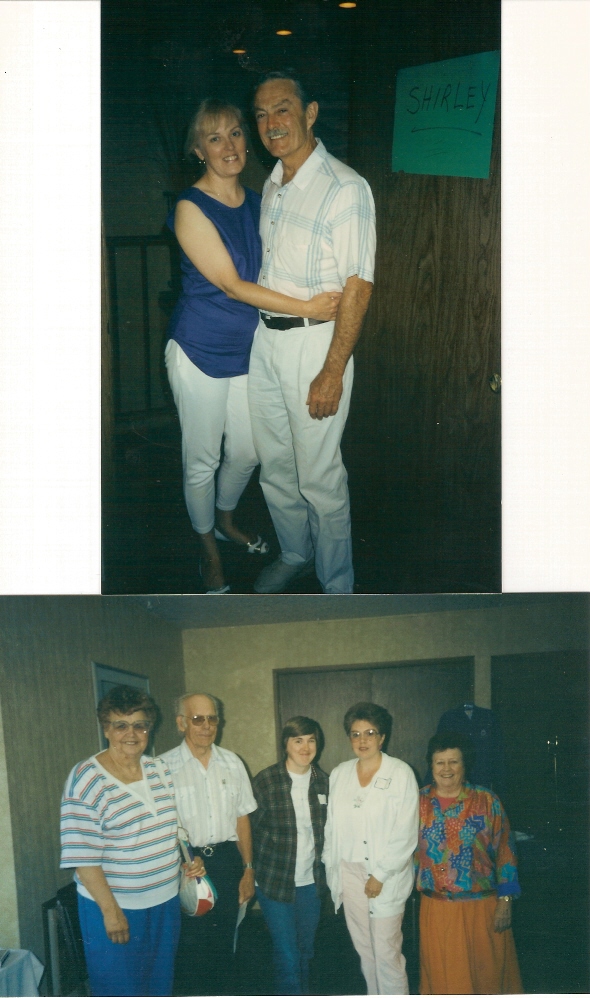 2nd from left is Orie Shirley who brought the Medal of Honor of his ancestor.
The gal on the right is Joy Bixby who has attended many Shirley Conventions, meetings and been on our tours. She appears to descend from branch #34, Ferrers Shirley
WE thank everyone who came to the meetings and those who took time to let us visit them along the way.