| | |
| --- | --- |
| | May 1989 Ireland Visit & Shirley Meeting |
By Betty Shirley
I had the opportunity to go to Ireland for four days and meet a few of the Shirleys I had been in correspondence with over the years. It was my first visit to Ireland. What hospitality and what a great time I had!
Ivan, Susan and Sophie (Ivan's sister) Shirley picked me up at the Dublin airport and drove me to the home of their parents, John and Betty Shirley, for a lovely lunch. It was a full house as many of their family had come to join us on this occasion.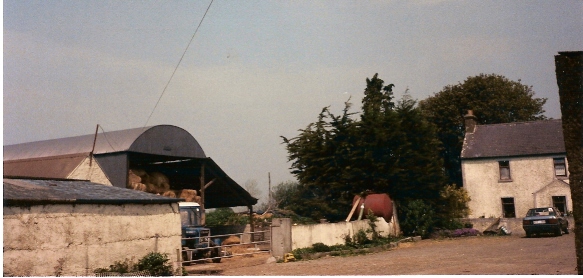 John and Betty Shirley's Farm
Following lunch we left immediately so we could arrive on time in Kilkenny where we held the Ireland Shirley meeting. Several had arrived early. I dashed around getting my display set up. When that was done, I began chatting with those who were already there. Soon it was time to give the meeting. As most of you know, we always give time for each to stand and tell us where they are from and who was the earliest Shirley ancestor they know of. This is one of the highlights of our Shirley gatherings! There were cousins there who did not know one another and what fun it was to be involved in the introductions to other families who were related to one another also. The meeting for the Shirleys of Ireland was a great success! We had expected about 35 and more than 60 people came to the meeting.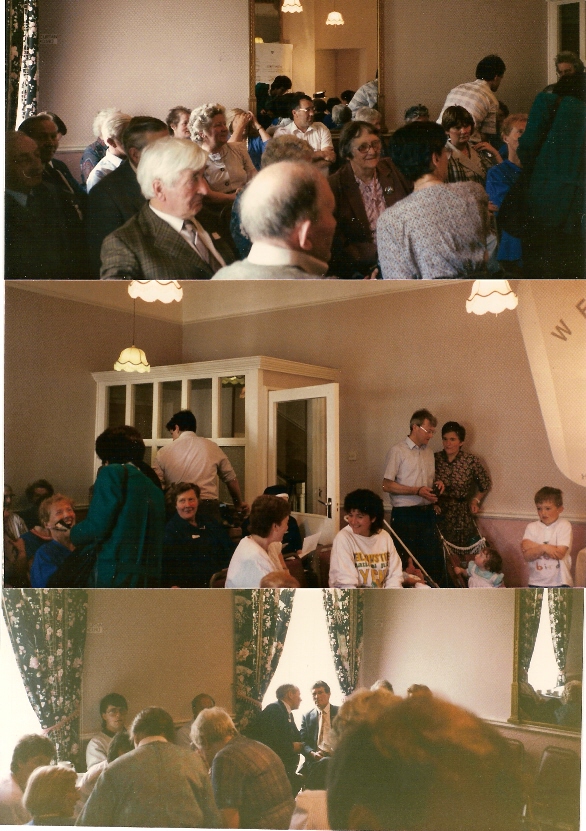 Shirley Meeting Kilkenny, Ireland
I stayed on in a hotel in Kilkenny and that night we had a horrible thunder storm. The next morning the rain was gone and it was overcast. I took this opportunity to go walking alone through the town and then back to the hotel for breakfast. Soon I was picked up by Mary Shirley and her niece Susan Smith who had attended the meeting the day before. They escorted me to various places such as Burnchurch, etc. to see where Shirleys had lived and to old churches to see where Shirleys were buried.
One stop we made was to the home of a gentleman who works in one of the Societies. He knew I was only going to be in the area on Saturday and Sunday so he very thoughtfully brought home some Shirley items to show me. One of the items is this sign for Thomas Shirley.
Thomas Shirley of Garrynaman, Kilkenny County and John Shirley of Kilkenny grocer were shop keepers on High Street. They leased the property and Paul Shirley was a witness to their document. (In 1838).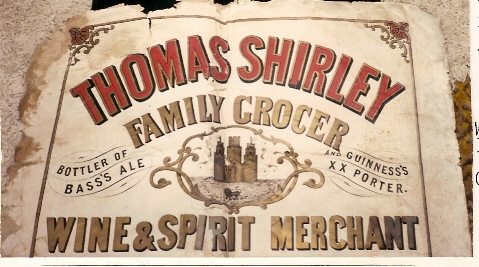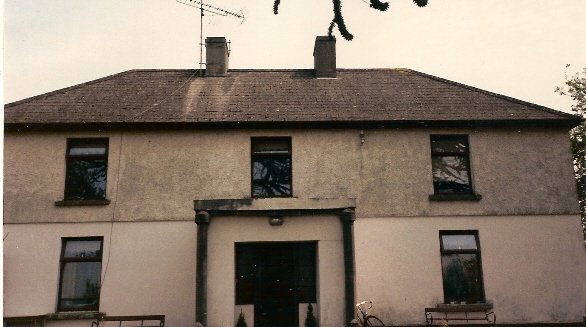 Garnamon House, Kells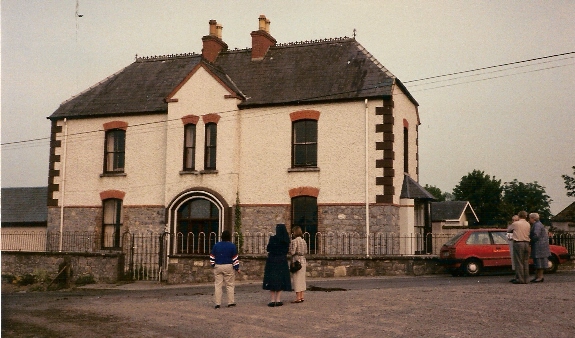 John and Mary Rice Shirley's house in Burnchurch, Kilkenny
(parents of Elizabeth Shirley who married James Shirley, the coroner)
James Shirley 1816-1888

The Coronor

Elizabeth Shirley

(wife of James Shirley, a cousin)

I learned John Shirley of Burnchurch was a Protestant who married Mary Rice of Newland who was a Catholic. They had 3 sons and 5 daughters. The boys were baptised Protestants and the girls Catholic. Due to the influence of the mother, Mary, the father and sons became Catholics and were then evicted by their landlord, Lord Farmley. They resisted and James and Richard Shirley were sentenced to 21 years transportation to Van Dieman's. Elizabeth and Catherine were also sentenced to transportation but while waiting ship were imprisoned on Spike Island in Cork Harbour. The house above is where they lived when this happened.

After 2 years they were released. Elizabeth married a cousin, James Shirley the coroner from Kilkenny on July 25, 1855 Burnchurch.

More info: http://www.shirleyassociation.com/NewShirleySite/NonMembers/Ireland/Lineages/pedigrees_john_kilkenny.html
That afternoon Ivan and his wife, Susan, Betty, his mother and Sophie, his sister met up with us at a church and we continued to visit the area of his ancestors. We met an interesting Shirley l(below) iving in an old back farm in the country. I didn't get his name but he was interesting.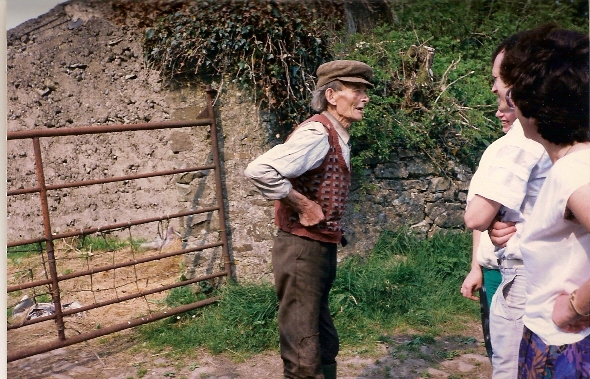 Susan, Ivan and Sophie talking to a Shirley on a farm in the back country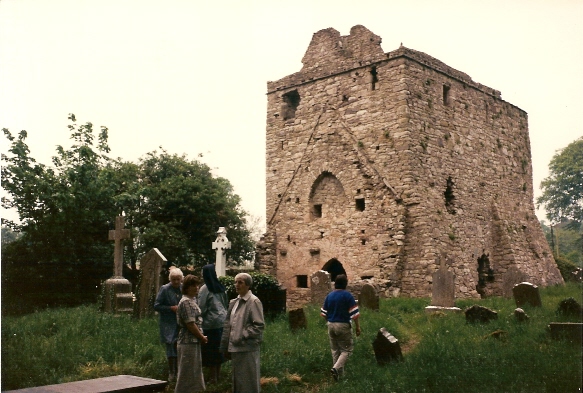 Shirley descendants visiting very old church in Ireland where Shirleys are buried
(I cannot find the name of this church. Will post when I come across it)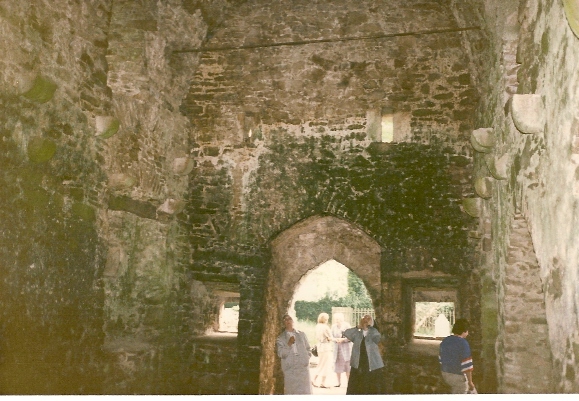 View inside old Church in Ireland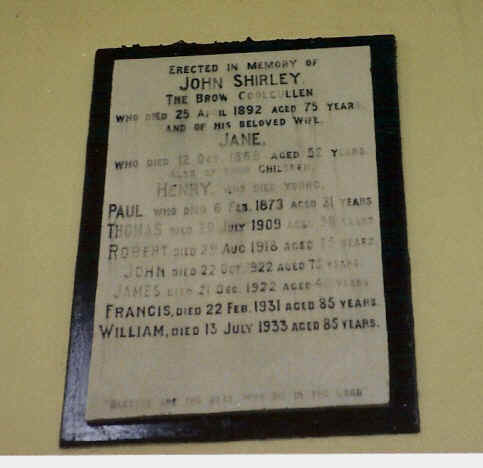 Plaque on Church Wall
http://www.shirleyassociation.com/NewShirleySite/NonMembers/Ireland/Lineages/pedigrees_john_carlow.html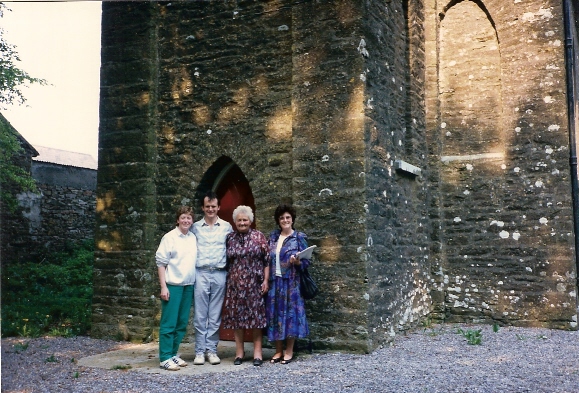 L-R: Susan, Ivan, Betty and Sophie Shirley
Mothel Parish near Castlecomer and Leighlinbridge
We had dinner back at Mr. and Mrs. John Shirleys (Ivan and Sophie's parents). That night Ivan, Susan and I left for Dublin and I stayed in their home overnight.
The next morning Ivan took me to the bus and I rode an hour to Carrickmacross. Here I was met by Judith Shirley, wife of Major John Shirley who are the present owners of Ettington Park. She drove me to the Ireland Shirley estate, Lough Fea where I was a guest for the next couple of days.
We entered thru a gate in a long rock wall that fences off the property from the road. The driveway goes back about a mile to the house and is a combo of dirt and rock. Beautiful trees, shrubs and greenery line the drive as far as you can see. It is site to behold, at least in the summer.
I can't describe the feeling of driving up to the front door of Lough Fea. It was like a dream. Judith took me up to my room and invited me to come down for tea after I freshened up and caught my breathe. Major John at that moment was out working with some of his employees on the farm.
Judith and I had a nice talk about the estate and it's past and the Shirleys. In a little while, John came in to greet me. After a chat, he told me to make myself at home. I asked about taking some pictures and he said I could take as many as I wished and look at anything I would like to look at. Feel free to go wherever you want to explore.
I asked how many rooms were in the house. They said they did not know as they never had counted them. I thought... I will do this as I browse around. I was not able to count them as it was a bigger task than I thought.
I understand 950 acres make up Lough Fea. The main street on one side in Carrickmacross is Shirley property, the other side was inherited by the Essex family many generations ago. The businesses on main street on the Shirley side pay rent to the Shirleys.
We went for a walk back behind the house. Several hundred yards away is a tall cross built to the memory of one of the the Shirleys a few generations back. We went thru an iron gate and fence to get to it. The gate had the Shirley coat of arms on the top.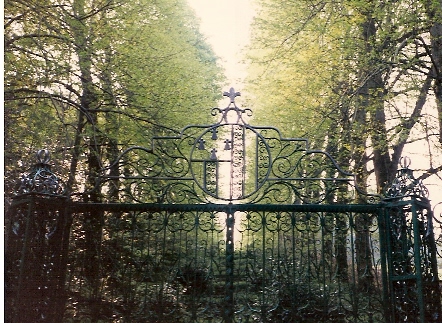 Shirley Coat of Arms on Fence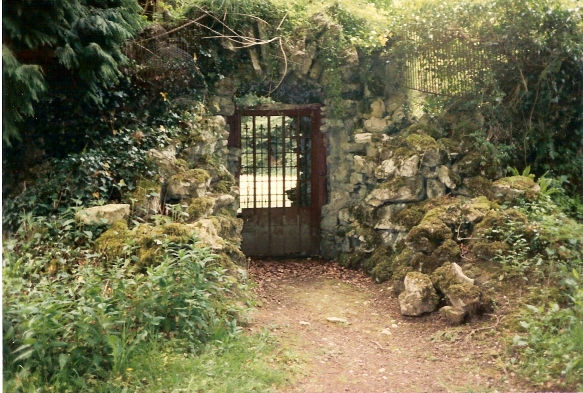 Gate to another area of the Estate
We walked across a field in another direction and came upon a herd of about 60 deer. We sat for awhile under a tree a distance from the house, looking at the view before walking back to the house.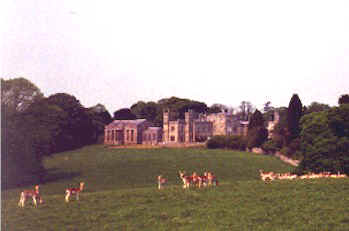 Herd of deer at Lough Fea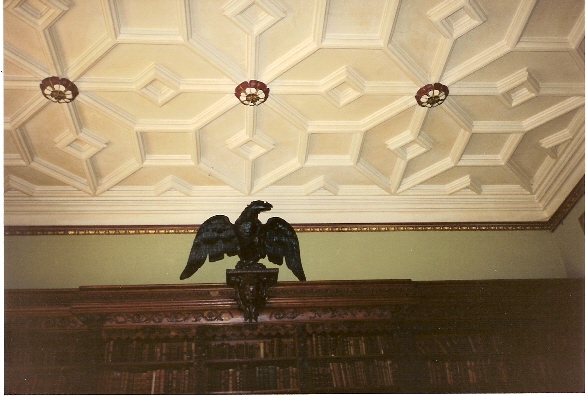 Ceiling in Library at Lough Fae came from Wiston Manor House in Sussex Co. England
(Wiston was another Shirley Manor House)
http://www.shirleyassociation.com/NewShirleySite/NonMembers/England/wiston.html
I also learned John and Judith had lived at Lough Fea for about 20 years and this is where they raised their children.
That evening Judith prepared a meal and guests were invited. After dinner we sat in the library talking about many things. Something I learned while we were chatting was the ceiling in the library (the room we were sitting in), had originally come from Wiston is Sussex England. That was most interesting.
The evening was winding down and I was very tired. As soon as we said goodnight and the guests were walking to their car with John and Judith behind them, I headed up the stairs, shown below, to go to my room. I thought that would be simple to do. But when I got to the top of the stairs it was dark down the hallway and I couldn't see a thing. I was sure if I just followed the wall, I would get to my room at the end of the hall without any problem and turn on the light in the room. Well, it didn't work out that way. As I walked down the hall feeling my way along the the left side of the wall as I walked, I felt a door jam and was sure it must be the one at the end of the hall and to my room. I found the light switch and it was one room short of mine but across the hall on the right from where I had been feeling my way. How I came to be feeling my way along the opposite wall I have no idea. It was a bit scary to me at the time.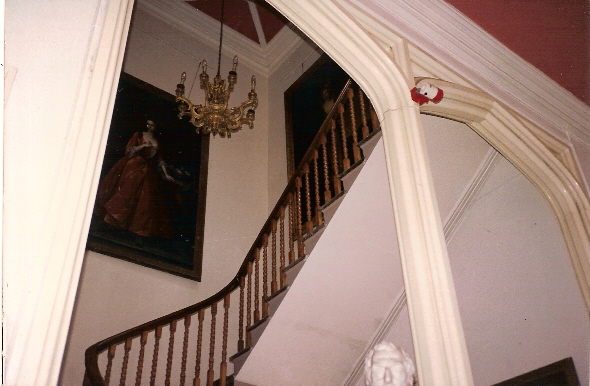 Stairs to Bedrooms at Lough Fea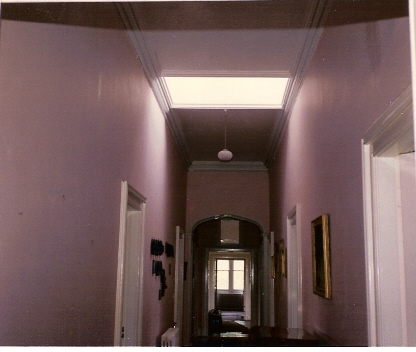 Upstairs Hallway, my room at the end straight ahead
The next morning I strolled the grounds alone and took pictures. I found the old Shirley Chapel and everything was covered with dust. There were big books, small books, Shirley Coat of Arms on everything including labels in the books. I saw old Shirley furniture no longer usable and sitting in cobwebs. It was a Shirley paradise and a Shirley moment! An experience I shall never forget!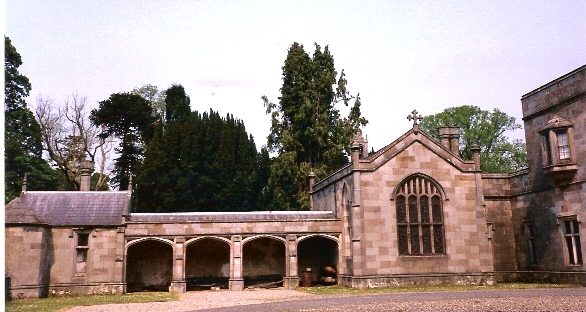 Small Chapel at Lough Fea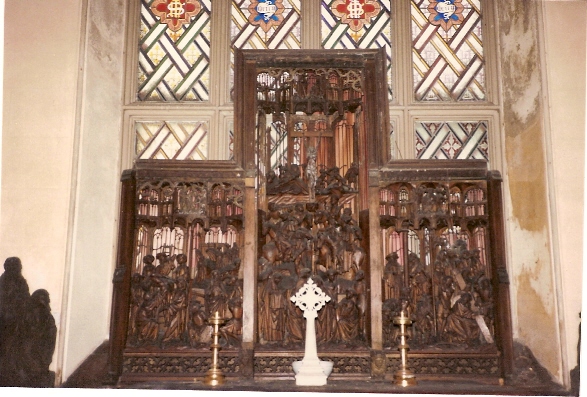 In small Chapel at Lough Fea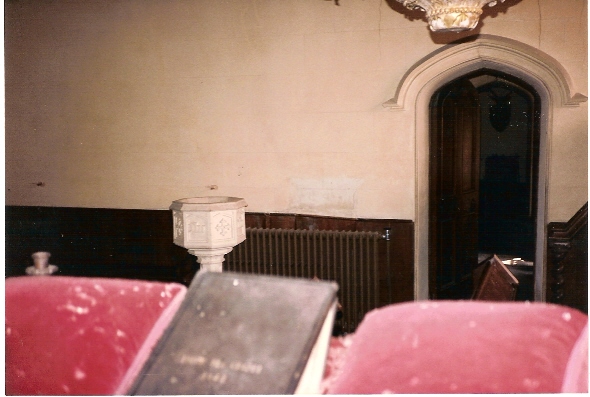 Inside Chapel at Lough Fea

Front of Manor House at Lough Fea in Ireland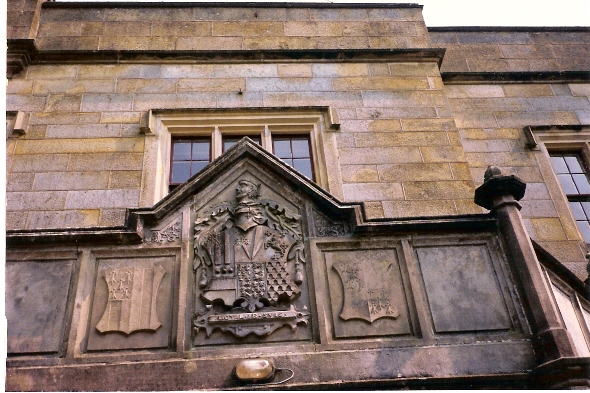 Over Front Entance to Lough Fea Manor House

Right side view of Manor House at Lough Fea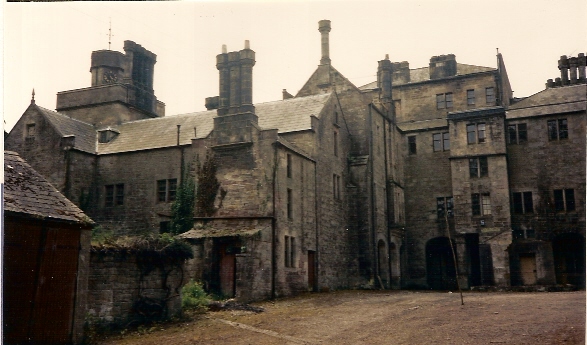 Back view on left side of the Manor House at Lough Fea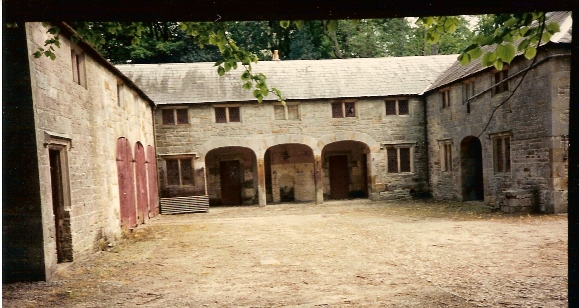 More buildings behind the Manor House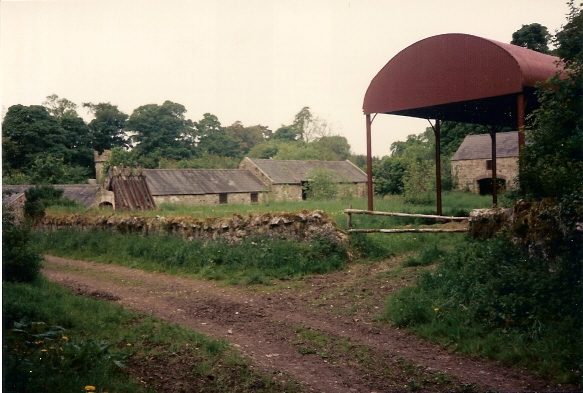 Following a road back further behind the house you come to the farming and work area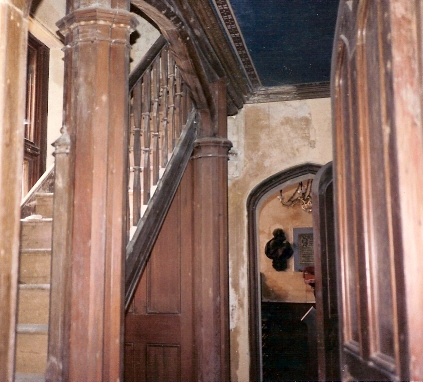 Inside Manor House at Lough Fea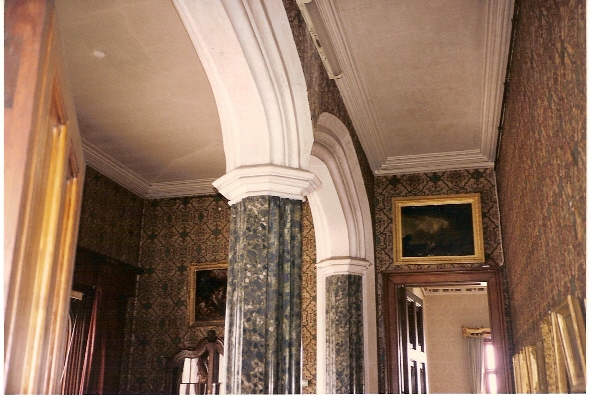 Inside Manor House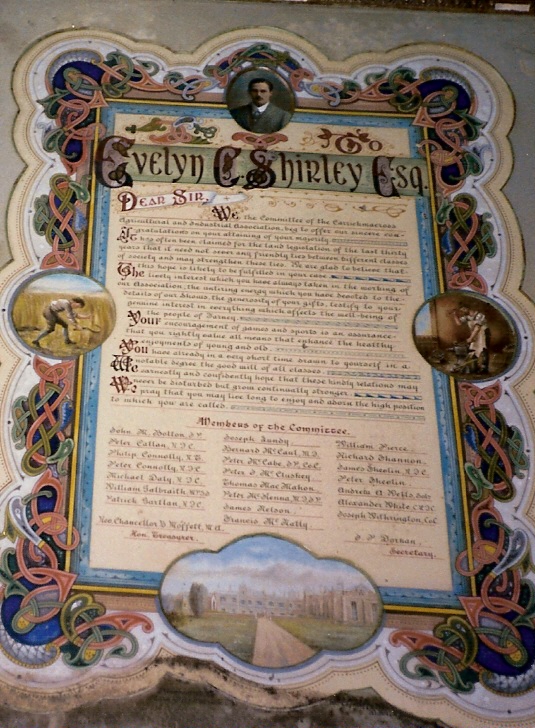 On day two, we had breakfast in the kitchen and prepared to leave for a days outing and picnic. We left for a place called Flagstaff. It is a hill that sits high overlooking a river that comes in from the ocean. We watched a ship pulling in to dock while we had our picnic. What a view! We drove on to Newry and across the border and circled our way back to Lough Fea. Ireland is a land of beauty.
When we returned home and rested, John Shirley brought in some scrap books and other things to look at. They were very old and the photo's and newspaper clippings were from the 1800 era. I snapped a few pictures to add to my collection of things from Lough Fea.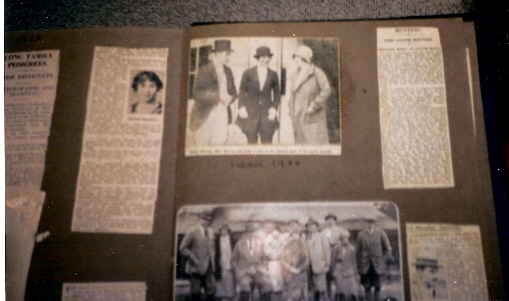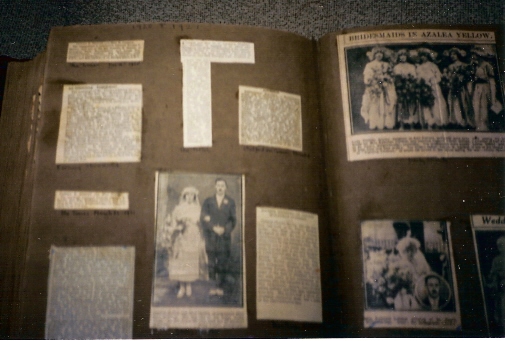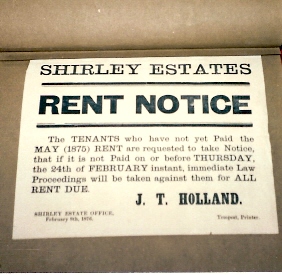 This was a fantastic experience for me. I am happy to share a few of the things I experienced on the trip to Ireland.