October 1989 Shirley Meetings

Australia and New Zealand
By Betty Shirley
The trip to meet Shirleys in Australia and New Zealand was fantastic! I am happy to report an everlasting bond was made between us and the Shirley's downunder!
There are so many things to tell. The most impressive place I visited while in Sydney was a Sphinx cut from a solid rock by an inmate of a nearby hospital in 1915 and 1918. Mr. W. T. Shirley had been gassed during the war in Egypt. He walked thru the woods about 1/4 mile from the hospital to this site back in the woods to work on the stone, carving this Sphinx.
The original Sphinx in Egypt is THE GREAT SPHINX OF GIZEHd is 65 feet high and 177 feet in length. Mr. Shirley's is a smaller relica.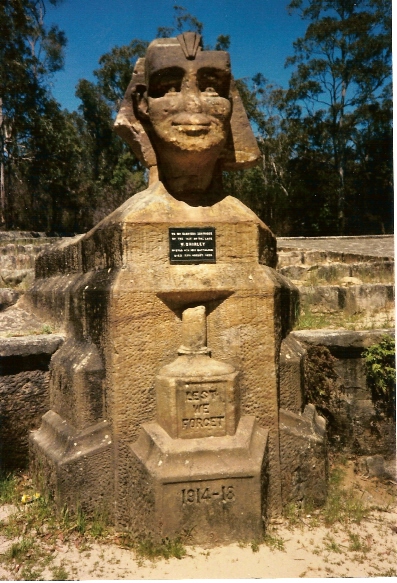 Our trip Report
Captain John and Evelyn Shirley came from Maryland to California to fly with my sister-in-law, Evelyn Shirley and myself to Australia and New Zealand. We flew to Los Angeles to a connecting flight to Auckland, New Zealand. That plane was delayed by three hours as they searched for a small part for the plane. They announced we would be departing the plane for the night when suddenly in the middle of the announcement the part was found. We sat back down in our seats and very soon we were on our way.
We arrived in Auckland in the afternoon and we were tired as it is a very long flight. We walked around the town for a short time and then back to the hotel for a nap. Later, we took a taxi to a local restaurant for dinner. We ordered lamb and it was delicious! We took a taxi back to the hotel as we had to be up early the next morning to board a coach. As soon as I was in my room, I went into the bathroom to wash up for bed. As I began washing I noticed I was beginning to itch, really itch. Then my throat seemed to be closing. I began to panic. I said to myself I must be allergic to their soap. I rinsed it off quickly but it didn't change anything. It was how fast my throat was closing that I began to really panic. I stepped out of the bathroom and said to my sister-in-law who was sharing the room with me, call the hotel doctor at once. Don't ask me any questions, please. She got them on the line and told them I needed medical attention at once. The doctor said I should go to their local hospital and he would order an ambulance. I insisted no ambulance, just have the hotel car take me to the nearest one. So, they drove me over and my sister in law went with me. Of course I am also thinking in my panic about how much this is going to cost me. We got to the hospital and they wheeled me right into emergency. Paper work was left to my sister in law and they rushed me back to a room and put me on a table where they connected me to several things. There must have been about 6 people if not more working on me. I was thinking... am I going to die? In a few minutes my throat was better and the itching had stopped. They moved me to a recovery room and told me I had had an allergic reaction to something I ate. I was concerned about being released so I could go with the others on the rest of the trip. I didn't want to spend the night in the hospital. In a couple hours they let me leave. When I went to the counter to take care of the charges, I learned there was no charge for my visit. I couldn't believe it! They gave me a prescription to have filled the next morning. We had to be on the coach early for a tour and the coach driver was so nice to stop at a pharmacy to get it filled. I was fine the rest of the trip.
We visited many places on our tour. We visited a Kiwi farm where they served us lunch, visited a deep underground cave with bats, attended a performance of dancers with dinner and many other tourist attractions.
The next day we met up with Poppy Ward who took us to visit other Shirley's and Shirley related places. The following day was our Shirley meeting in Auckland where we met about 85 Shirleys.
One of the Shirleys attending our meeting had not attended a family reunion for his own family a few years ago. The organizer of that family reunion was also at ours and came to me to tell me about this gentleman. She was very happy he was at our meeting. I learned he was a well known radio personality in New Zealand. It seems his parents had split when he was about seven years old and it was a difficult divorce, etc. I learned that he came at the insistence of his wife and they came a long distance to be there. When this gal pointed out the gentleman she was referring to it surprised me as I had talked with him earlier. He not only became interested in the Shirleys during the course of the day but purchased one of everything I brought with me. I have since received a letter from his wife and he is busy reading and studying about his family. She said they were delighted they came to the meeting.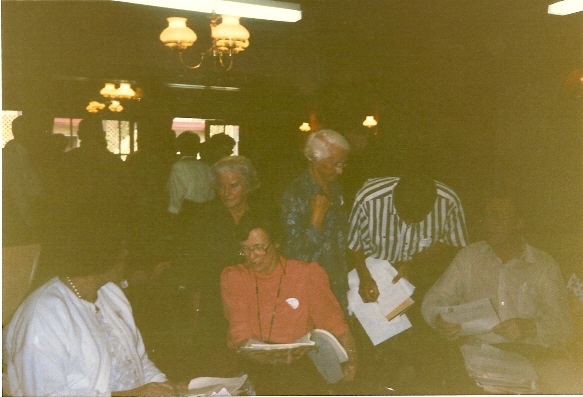 Shirley's during break time at Auckland New Zealand Shirley Meeting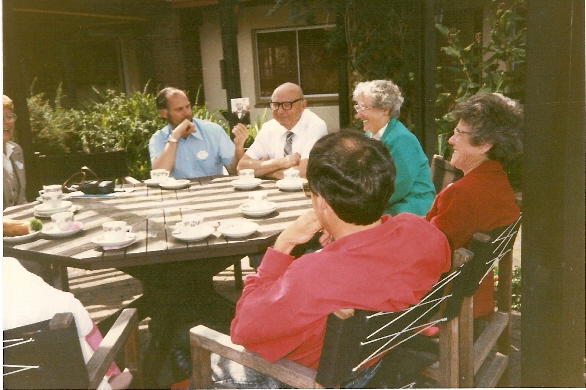 Captain John and Evelyn Shirley having lunch with local Shirley's who attended Auckland Shirley Meeting
(John with glasses and Evelyn with green-blue jacket)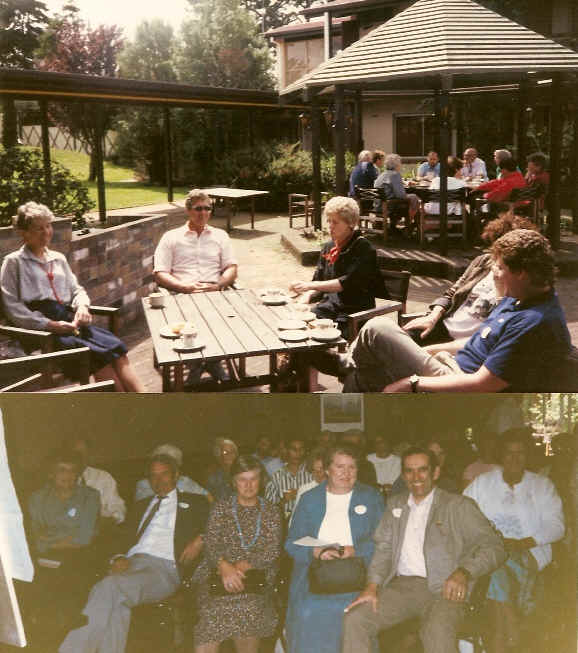 Auckland NZ Shirley Meeting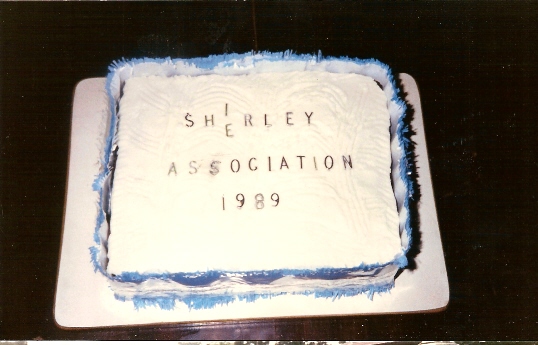 This cake was baked by Mrs. Shirley and brought to Auckland from Wellington NZ. What a surprise!
After the meeting in Auckland we flew to Wellington and met a few Shirleys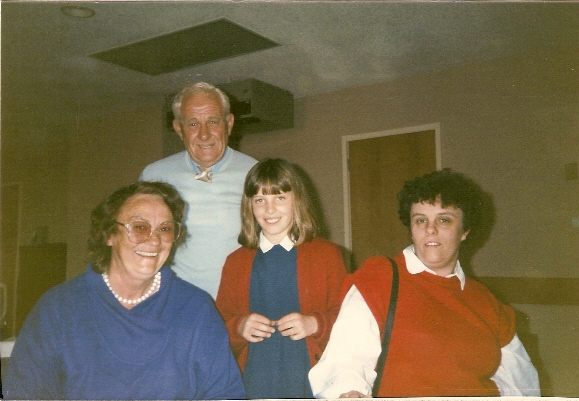 Shirleys who came to meet us in Wellington New Zealand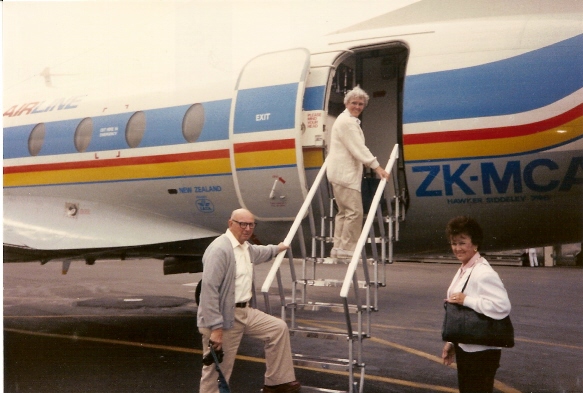 The next day we flew from Wellington to Queenstown New Zealand
View from plane flying over New Zealand on our way to Queenstown from Wellington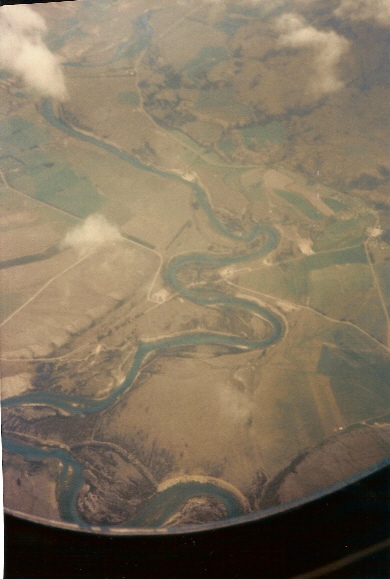 Another view on the flight to Queenstown NZ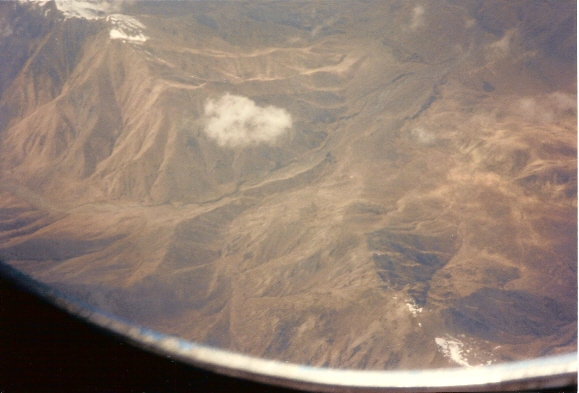 Rugged mountains viewed from the plane flying from Wellington to Queenstown NZ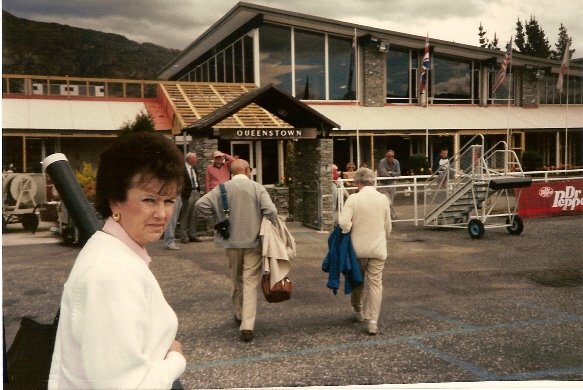 Arriving at Queenstown New Zealand
Evelyn, my sister in law, and walking toward the airport are Captain John and Evelyn Shirley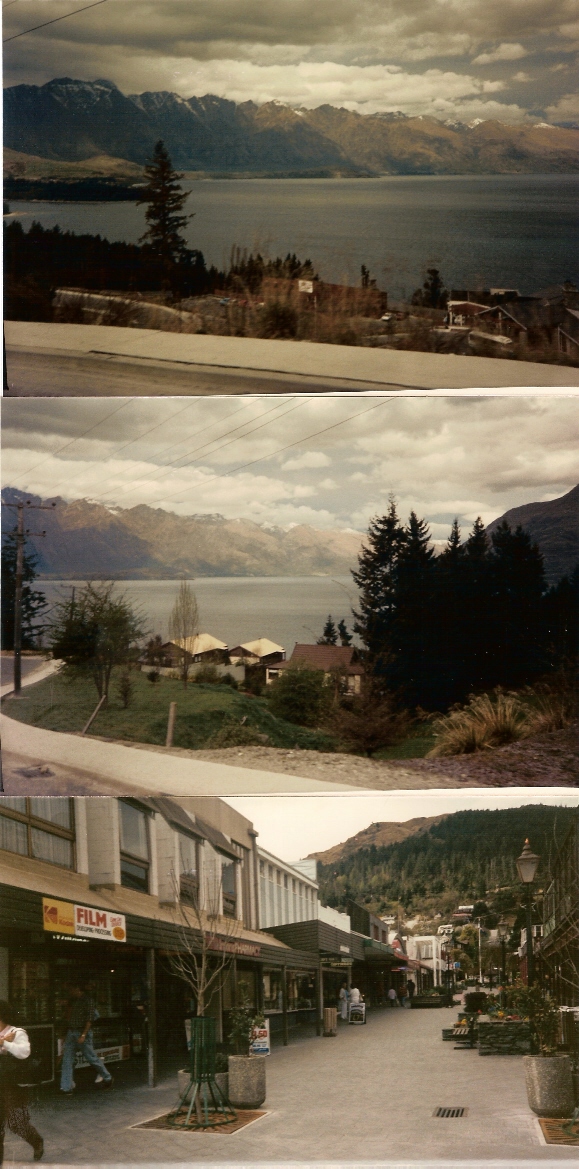 Views of Queenstown New Zealand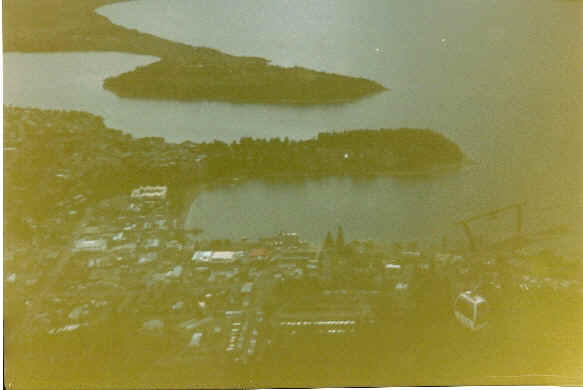 The view looking down at Queenstown New Zealand from the Restaurant on top of the mountain
Note the Gondola at lower right. Evelyn and I rode that almost straight up to a restaurant at the top of a mountain. This is the only way to get to the restaurant. As we sat eating, I could see some mountain goats just a few feet down from the window. I don't see how they can keep their balance. It was quite an experience for us.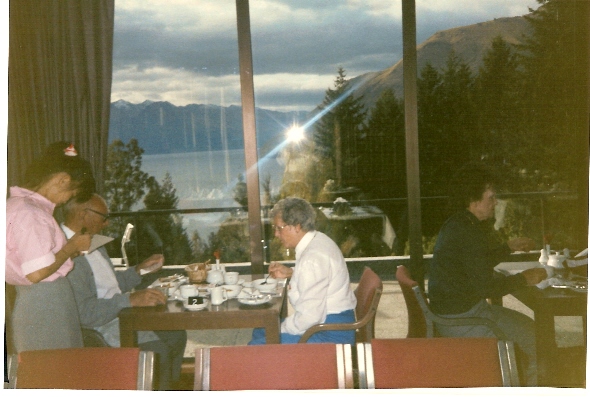 In restaurant at top of mountain overlooking Queenstown, New Zealnd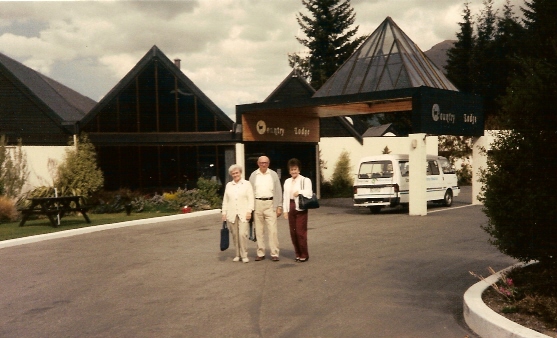 Our Hotel in Queenstown New Zealand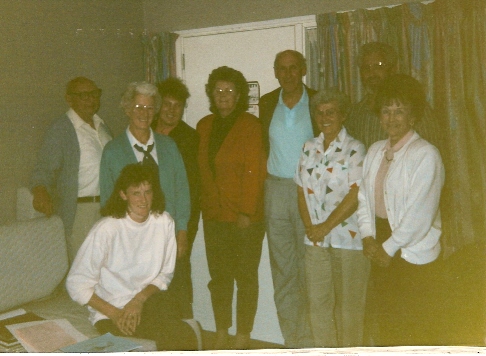 Shirley's we met in Queenstown NZ
We left from Queenstown for Cairns Australia. The airlines were on strike and we were lucky to get to our destination.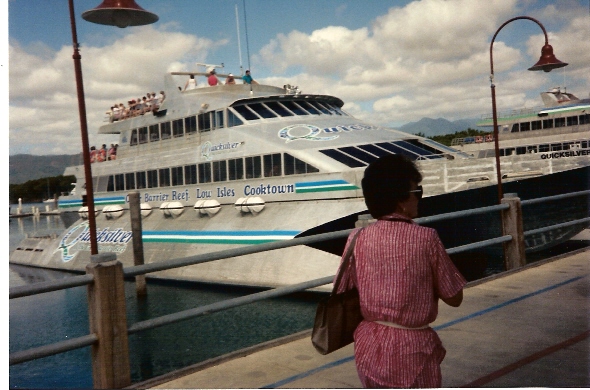 We boarded Quicksilver and went out to the Barrier Reef several miles out.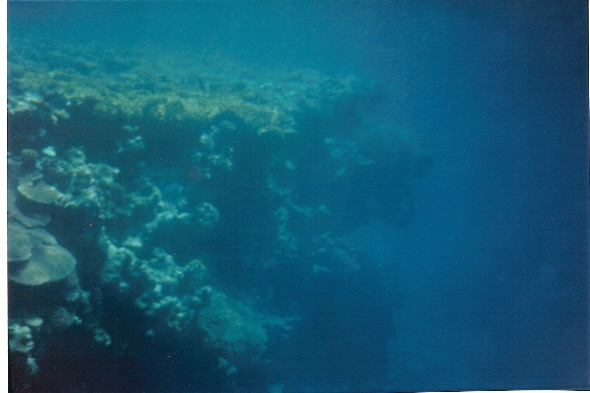 Great Barrier Reef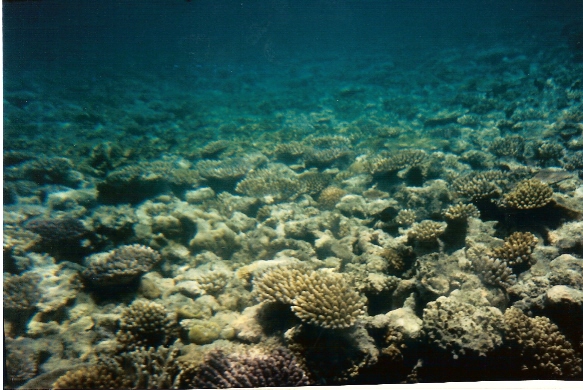 Another view of the Barrier Reef
We all took a submarine ride to view the beautiful scenery in the ocean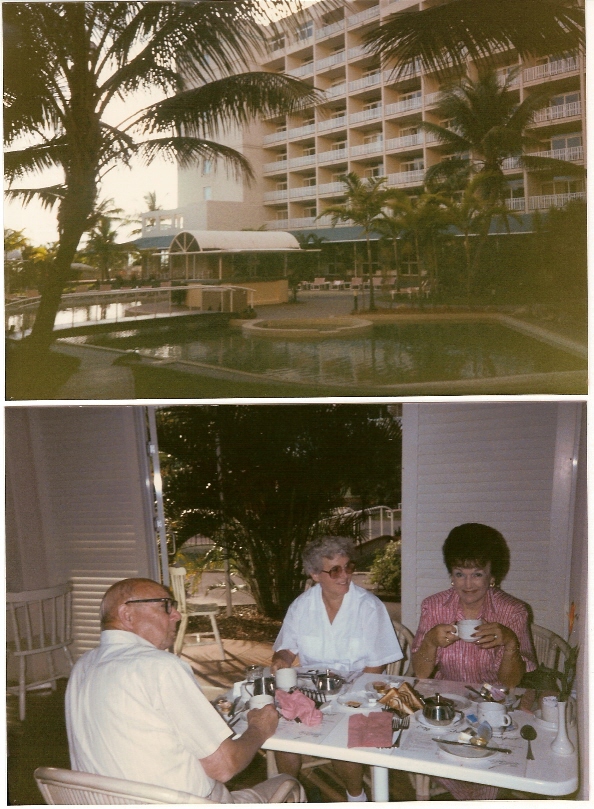 At our Hotel in Cairns Australia
From Cairns Australia we went to Sydney and were guests of Helen who let us stay at her house. Helen, George and Graham Shirley were our hosts while we were in Sydney. (Helen is a sister of George and Graham is his son).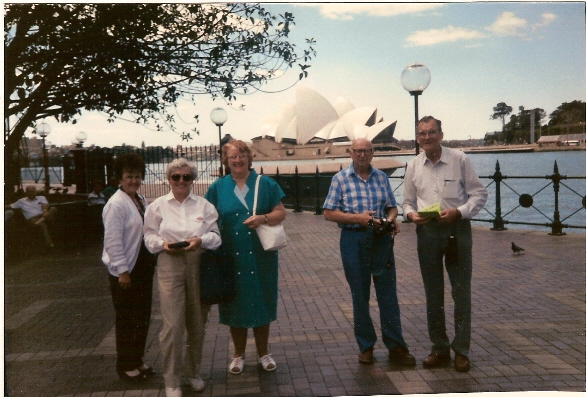 Evelyn, Evelyn, Helen, Captain John and George Shirley in Sydney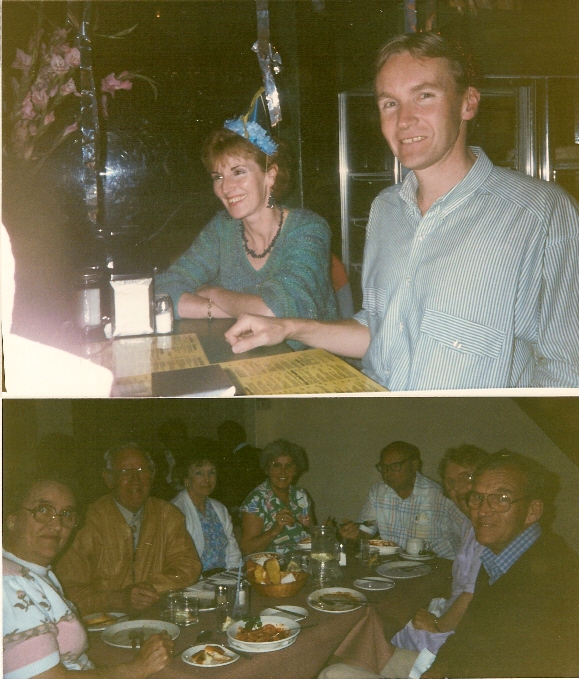 Top photo: Graham Shirley and his wife
Lower photo: Betty, her husband, 2 Evelyn's, Captain John, Helen and George Shirley
Betty, Helen and George Shirley are the children of Graham Ferrer Shirley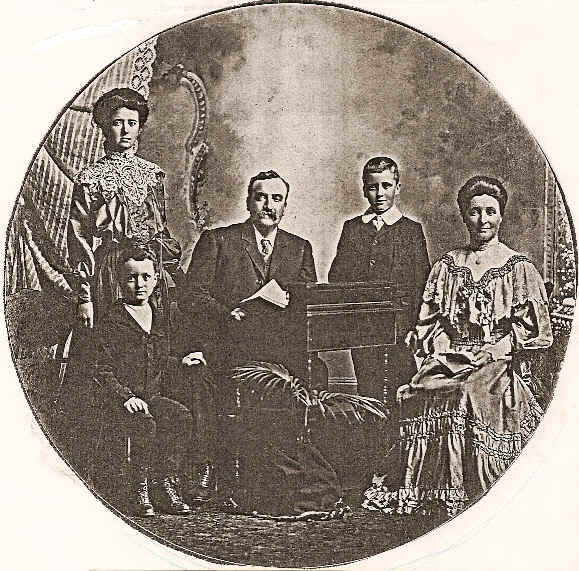 George Shirley and his wife Anna
children are: Kathleen, Graham Ferrers and John Keith Shirley
To learn more of their family, visit this website: http://www.shirleyassociation.com/NewShirleySite/NonMembers/Australia/John%20George%20Shirley%20New%20South%20Wales.html
The Shirley Meeting in Sydney Australia
Our host family organized the Shirley meeting in Sydney and about 65 people attended.
As at all of our meetings, there is a time when we ask each one to stand and introduce themselves and tell us briefly about their Shirley ancestors. Many said they were cousins of those who had helped organize the meeting. What I did not know until after the meeting was that these cousins who were in their 60-70's had not seen one another or had a family gathering since they were children. They now plan on holding family reunions.
One of the gentleman who attended the meeting in Sydney was Philip Shirley who went to London in 1936. He worked as an accountant for several years. Later he became Vice Chairman of the British Railways and then Deputy Chairman of Gunard Steamship Company in London. This is the company that owns the cruise ship, Queen Elizabeth II (QE II). After his wife died he returned to Australia in 1972. Another Shirley who was related to Philip told me he designs silos and asked me if I had seen the blue ones in the states. He was working on a project of several million dollars where we were there. He said he would be going to Chicago next month for a business meeting.
After the Shirley meeting, we had a few more days to stay in Australia before we had to leave for home. Betty, Helen and George organized a trip down the coast. They brought a picnic lunch and we had a great time.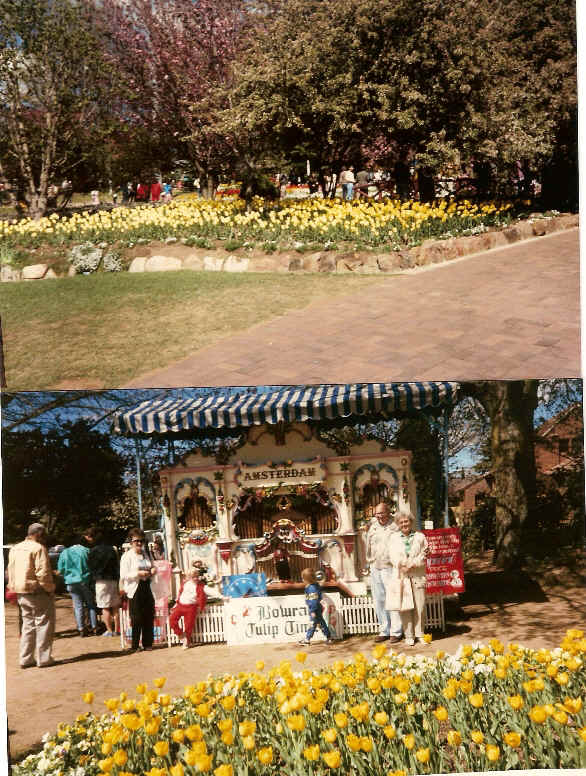 Beautiful Tulip Garden and Pipe Organ Music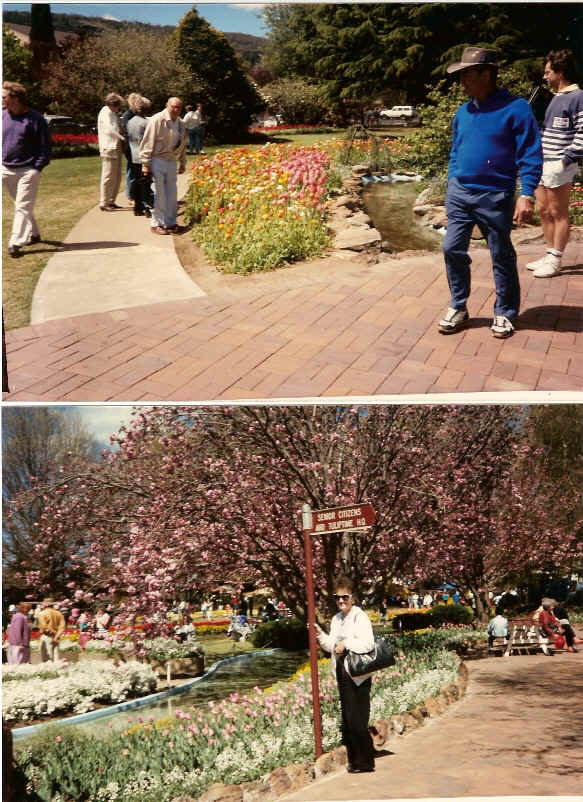 More Tulip Gardens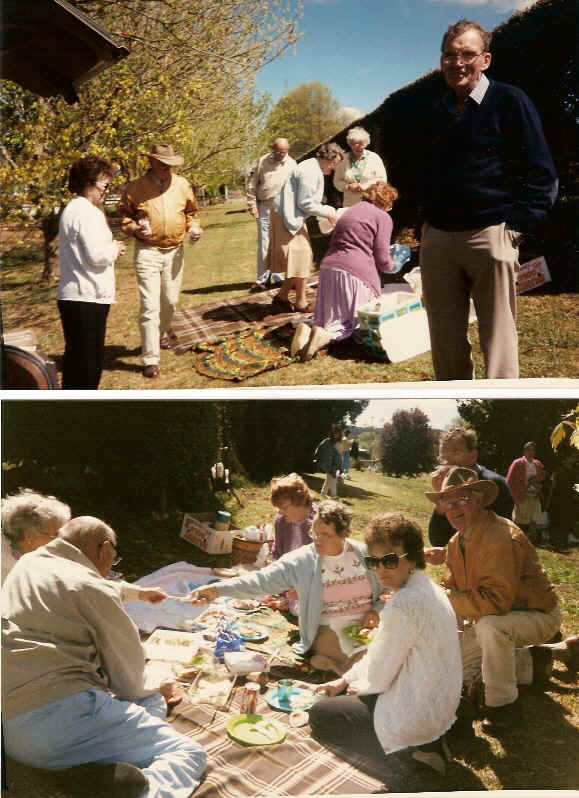 Picnic Time!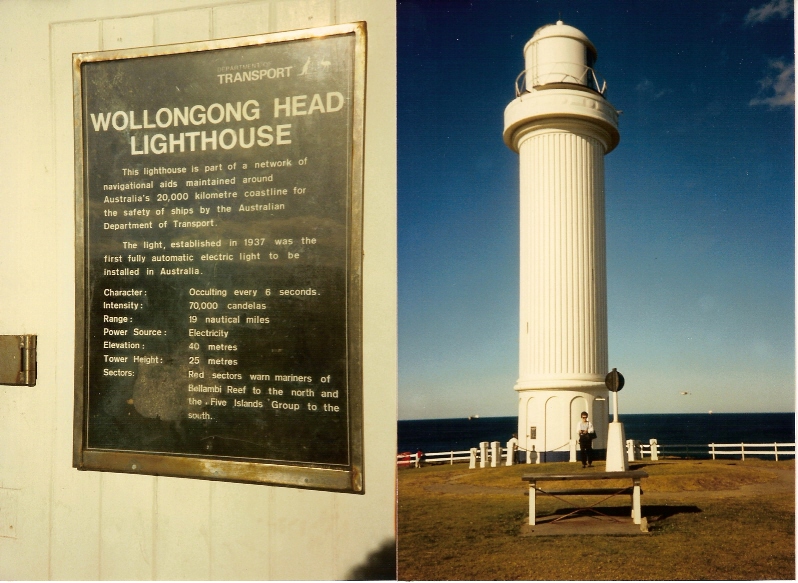 Evelyn Shirley, my sister in law in front of lighthouse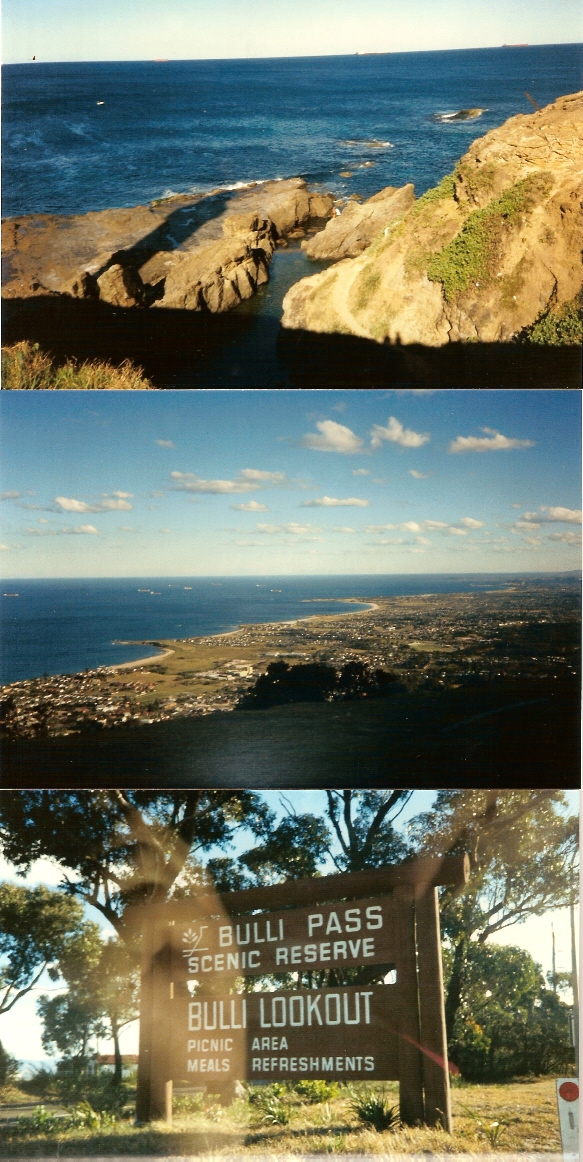 A few scenic views of Australia on our day trip near the coast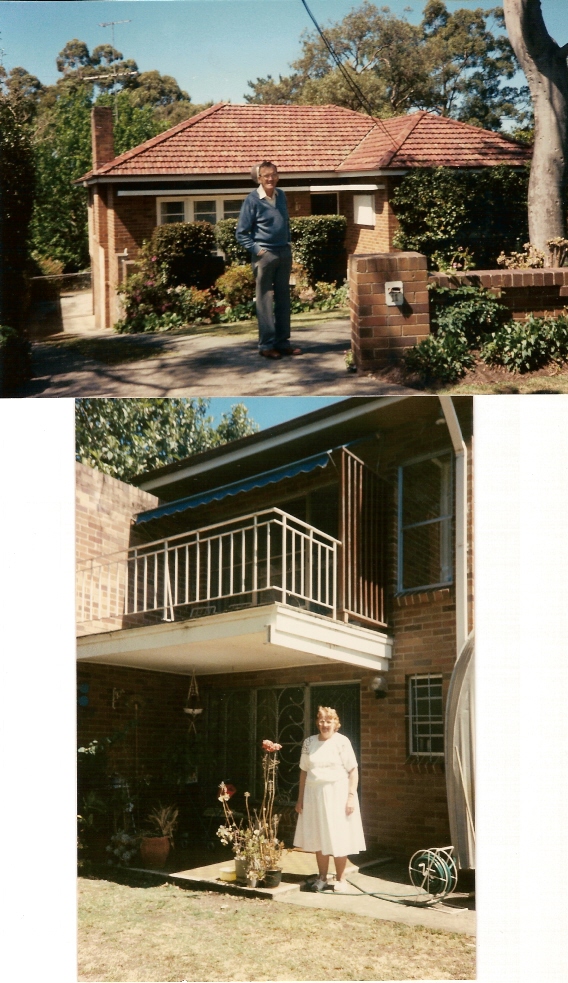 Top: George Shirley in front of his house
Lower photo: Helen, sister of George, in front of her house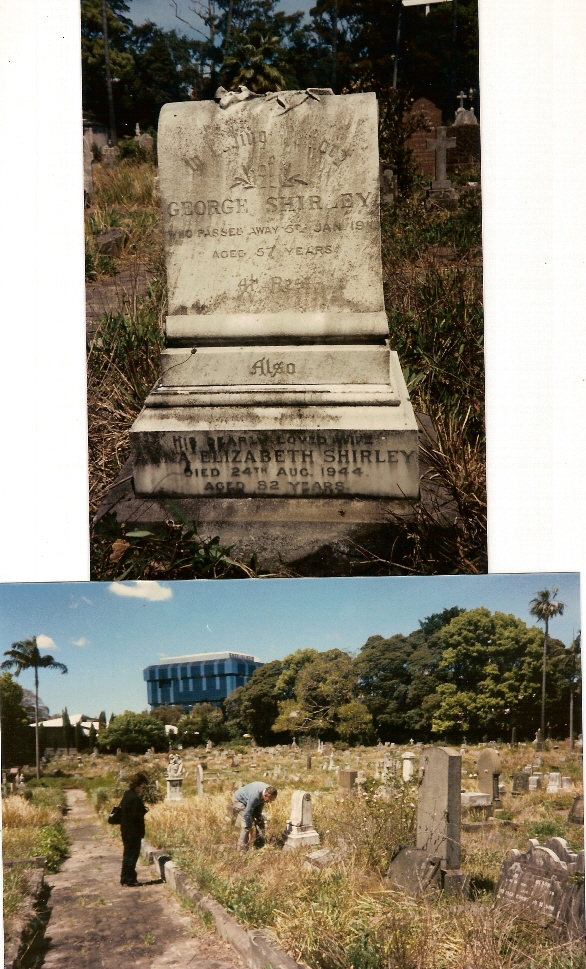 George Shirley showing us where his Shirley's are buried
Our trip came to an end and we flew home. We had a great time! Thanks to everyone who participated to make it a memorable experience!
.