| | |
| --- | --- |
| | Owen Parmer Shirley |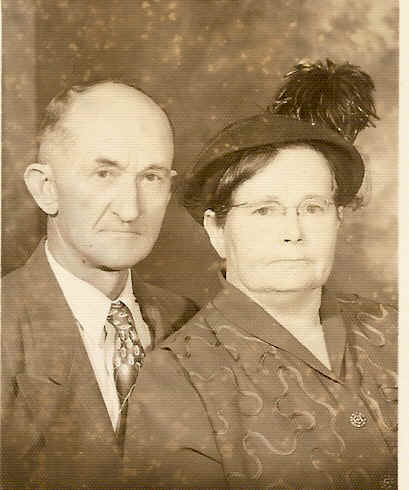 Owen Parmer and Millie Shirley
Owen Parmer Mar 2, 1884 AR d. Feb 15, 1956 Tranquillity, CA buried Washington Colony Cemetery in Fresno, m. Millie Johnson Haley Dec 16, 1908 Logan Co. AR, died in a car accident June 8, 1959 Gilroy, CA. She was the daughter of James M. Haley and Nancy Harville of Logan Co. AR.
Owen Parmer "O.P." Shirley was 7 months old when his parents, Silas and Letha, divorced. His father remarried before O.P. was a year old. When he was about 2 years old O.P. reached his hand inside a pot of boiling coffee and burned his hand. It was bandaged in a semi-clasp position and because he lacked proper medical attention his fingers grew practically together. This disability he carried throughout his life and limited the type of work he could do.
As a young man, he loved gospel singing conventions and singing schools.
In 1925 O.P. was elected and served in the Arkansas State Legislature House of Representatives from Logan County. While in politics his house burned and there was heavy suspicion that it was arson caused by a political foe. He left politics and moved to Oklahoma in 1927.
The family lived in Watonga, Oklahoma for 9 years.
In 1936 the family moved to California in a Model A Ford truck with everything they had on this truck like in the movie, Grapes of Wrath. The family did seasonal work for along the way until they reached San Joaquin Valley. They located in Tranquillity working in the cotton fields and any other agricultural kind of work they could find.
In 1939 O.P. and Millie bought 40 acres and moved a house onto the property. The family lived here until 1954 when they sold and bought a small house in town. This was their last move as this is where they lived when O.P. died. A perforated ulcer was listed on the death certificate as cause of his death. In 1959 Millie died in a car accident.
O.P. and Millie were born again Christians and belonged to the Tranquillity Assembly of God Church.
Owen Parmer Shirley and Millie 'Kate' Johnson Haley

Children:

1. Lois Ollene Shirley Nov 22, 1909 Driggs, Logan Co. AR d. Feb 19, 1939 in Los Angeles, CA (leakage of the heart). Funeral services were held at the Eaton Funeral Home in Fresno. She never married.

2. Lynn Haley Shirley June 6, 1912 AR d. Aug 17, 1993 Fresno, CA m. Alpha McQuilliams

3. Loyd Parmer Shirley July 23, 1914 d. Aug 24, 1993 Clovis, CA m. Betty Anderson

4. Lera Maxine Shirley Mar 2, 1917 d. May 2, 1971 (cancer) m. Harold McQuilliams

5. Lillian Opal Shirley July 28, 1919 d. Dec 16, 2004 Richmond, CA m. James Orval Kenney Dec 1937

6. Winford Blan Shirley Nov 17, 1921 d. April 30, 2002 Modesto, CA m. 1st. Modena Keeney, m. 2nd Ronna Barber, m. 3rd Mary Lyn Duggan

7. Mildred Gertrude Shirley April 19, 1924 d. Dec 13, 2003 Richmond, CA m. James Massey

8. Ila Edwina Shirley July 15, 1926 New Blaine, Logan Co. AR d. June 8, 1975 Manteca, CA (cancer), m. Robert 'Bob' Kaster Sept 15, 1951

9. Vernon Curtis Shirley Jan 3, 1929 d. Mar 2, 1985 m. Evelyn Henderson

10. Guy Murray Shirley (my husband) m. 1st Melba Foreman (died 1952 auto accident), m. 2nd Betty Moore

Back row L-R: Loyd, Lynn, Winford (Pete), Vernon

Middle row: Opal, Mildred, Ila, Maxine, Guy

Sitting: Owen Parmer and Millie Shirley

___________________________________________________________________________