| | |
| --- | --- |
| | Moore surname |
The Search for My Father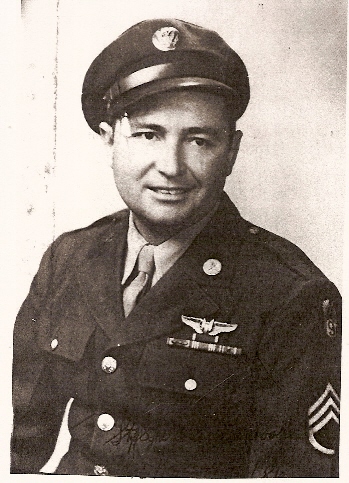 Delbert 'Jack' Moore
My dad's name legally was Delbert but he preferred to go by 'Jack'
1956
In 1956 my husband convinced me I should try to find my dad. I traced him thru his California drivers license not knowing he had one. The address was for Farmington, California. We drove there one Saturday morning to see him. I was a bit nervous as I had not seen my father since a fleeting glimpse of him when I was about 6 years old as I was walking home from school. The address was a rural one so we stopped at the post office to get directions. My husband went in to inquire where the house was and I stayed in the car as I was holding a sleeping baby in my lap. This was before we had car seat requirements for children. About twenty minutes later, my husband came out and informed me we had missed him. My dad had returned to Kansas City, Kansas the year before (1955). The post mistress gave my husband an ear full. She said he was lazy, had several children and wasn't very nice to his wife. Her folks sent her money to come home (Kansas) and my dad intercepted the money. They then sent their daughter tickets in care of the post mistress and she went home with her children. About a week or a month later, I forget the time given, he followed her back to Kansas. That is the last I knew of him at t his time.
1992
It all began because I decided to write a book for my children about my childhood to give to each of them for Christmas in 1992. While looking for old pictures and copies of old letters that I wanted to include in the book, I came across an old thin wallet that had belonged to my dad, Delbert Leroy Moore. In it was Delbert's military identification numbers.
I wrote to the military records to see if I could find out if Delbert was living and his address since I am his child. No such luck They asked me to send a letter, unsealed, and they would forward to him. If he got it, it would be up to him to contact me. So, I gave this up.
The second thing that caused me to pursue this further was when I did a book for my brother, Jerry, for his birthday on Feb 10, 1993. My brother had been adopted by a family in our church when our parents divorced. They requested we keep our distance so as not to confuse Jerry. He knew very little about our family and I thought he might enjoy learning about his real family roots. At this point I could only write about our mother's side of the family, my sister's and my own. After I gave it to him he called the following day to say thank you.
The following day I was talking to Barbara Shirley, a niece, and I was expressing how happy I was that he enjoyed the book. She made a comment to me that made real sense. She said to bad you didn't have info about your father to put in the book. I said it was and then thought about it for a few minutes. I mad a comment to Barbara I might call back to Welch, Oklahoma and see if any of my dad's relatives lived there. I said, yes that is a good idea. It worked when I began looking for my husband's family and it just might work now too!
I looked up the area code for Welch OK and asked for information for the MOORE name. There were three families listed.
I placed a call to Bill Moore first. The date was Feb 14th, 1993. I asked if his MOORE'S had lived in the area for very long? He said for about 86 years. I said that sounds good! I asked if he had known a Benjamin Moore? He said he had had an uncle by the name of Benjamin. I then asked if knew a Delbert Moore. He said yes, that was uncle Benjamin's boy. I said Delbert was my dad. After talking to him for a few minutes I learned the family had come from Tennessee to Springfield Missouri and then to Mt. Vernon Missouri. Bill Moore's family came from Mt. Vernon MO to Welch OK in 1886 by covered wagon followed soon by the rest of the family. He said his grandfather Bill (William) Moore wore a white beard.
Next I placed a call to Harold Moore who was one of the three families listed. Harold said Delbert tried farming a little. I said I heard he didn't like to work and Harold confirmed this. He knew my dad had been in the Army. At first Harold said he didn't think he had heard that Delbert got married. Later he said he thought he DID hear something about him marrying but didn't know anything about Delbert for years. He never heard anything about Delbert having children. I gave Harold the run down on what I knew about my father in some detail. I told him I have been hesitant for years to really find my father. I've always been curious about his family. I can't judge them by his faults. I kiddingly asked Harold if the Moore's were worth claiming? What kind of people are they? Are they family people or how would you describe them? He said he thinks they are pretty good people. I said I would like to meet the Moore's. I told Harold that I look like my mother and they will not see much likeness to my father, at least I don't think they will. I have dark hair like my mother and my sister and brother were blondes.
Harold gave me his sister, Georgia Ann Armstrong's, phone number and I called her. She said she thought the Moore's had come from Kentucky. She said many of the family are buried in the old Walker cemetery on the N.W. side of Welch Oklahoma. She said the Moore's had some Indian blood in them from Kentucky. Georgia Ann said my dad, Delbert, had sold sewing machines and farmed a little after he came back from the Army. She did not know he got married or that he had any children.
Wouldn't this be strange meeting my father's people? I could hardly sleep last night wondering about them. I'd like to see where my father was raised, where he went to school, meet his cousins, etc. I'd like to understand his outlook on life. Did he had a hard life or what made him leave and rarely come back to visit his own family? I'm very interested to learn about my grandparents, their parents and their ancestors. I want to see old pictures of these people, take pictures to share with my family.
My children are so excited that at last I have made contact with my own father's family. We'd like to know if he is a live and where he is or where he was when he died. Who are his other children? They would be my half brothers and sisters.
I am going to plan a Moore get together for June 1993 in Welch, Oklahoma as I am going to be in Missouri in June anyway. I will be looking forward to it!
Wednesday, February 24th, 1993
Today is a day of mixed emotion. I have finally solved the mystery if my father is living or deceased.
Yesterday I went to the Mormon Church (about 6 miles from me), to do some research. While I was there I overheard another patron asking about death records in California. I decided to ask if they have death records for Kansas to see if my father is deceased. The librarian if I had checked their Social Security file on the computer in the back of the library? I hadn't known there was such a thing and she took me back to explain how to search. The computer wasn't working properly and she suggested I sign up to use other one later when it wasn't being used.
Last night I went back to the library and the lady assisted me in my search. We put my father's name and his birth date into the computer. Several Delbert Leroy Moore's appeared on the screen of the general time line we were looking for. None gave the a middle name, initial or birth date. What it listed was the social security number, state the card was issued, town, county, state, date of death and the birth date.
There was a Delbert Moore who died July 9, 1986 Reno Nevada. His birth date was correct. What I needed to be able to confirm this was my father's middle name or state of birth.
This morning I called the Social Security office to see if I could get any information about this person. After giving my social security number and my father's name and mother's name including her maiden name, I was told they showed a middle initial of "L". The state of birth was unknown.
There is little doubt left that this is my father. I am, however, pursuing this matter to learn more information.
I have just called the Reno newspaper to get a copy of the death notice that must have appeared in their paper. They do not have issues dating that far back and said the periodical section in their local library would have it on micro film. I placed a call there and they will send it to me. I asked if they might read it to me first and I am to call them this morning.
All kinds of questions are racing around in my head. I hope to find the answer to these:
1. What was he doing in Reno and how long had he lived there?
2. I have to find his address at time of death. I want to talk to the people who lived near him or a neighbor, etc.
3. I want a copy of his death certificate so I can find out who signed it, who gave out the info for his death certificate, what was the cause of death. There must be a next of kin listed or a doctor if he was under medical care.
4. If he had no family living around him, what happened to his personal things?
5. I should talk to the Mortuary.
6. I need to find where he is buried and visit the grave.
7. Where did he work? Social Security is sending a form and it will take about 6 weeks to get his earning history.
I sit here deep in thought as I realize how close he was and I had no idea. I thought he probably lived in Kansas since this is where he went when he left California in 1955. To think he was in Reno! This is very puzzling to me. WHY was he in the Reno area? Did he live there for very long? What brought him there? Did he have grown children living in Reno area?
How can I find his children? If he were alive I could ask him these questions. Now that he is deceased it makes it more difficult to find the answers unless he does have family in the Reno area.
At least I have found the answer to the questions...Where is your father?
Thursday, February 25th, 1993
This morning I placed a call to the library in Reno, Nevada. Randy in the periodical section read the death notice to me and said he will mail it to me.
I learned the name of the mortuary and placed a call to it. They looked in their records and gave me the name of my father's next of kin, a sister, Rachel Williamson, in Tulsa, Oklahoma. They said my father had been a resident of Nevada for about 20 years and worked at the Armory. They gave me Rachel's phone number. My thoughts are that she has probably moved as the address looked like an apartment complex.
I quickly picked up the phone and dialed the number. I asked if this was Rachel Williamson and she said it is. I was in shock for a brief instant. Then thinking of how she might feel on the other end I cautioned her to find a chair and sit down. She asked who was calling and I said a relative I think. I asked her if she was Delbert's sister? She said she was. I said I am his oldest child. She asked if I was Betty? I said I am! I couldn't believe she knew my name! I didn't know my dad had a sister until 10 minutes before I called her.
We talked for an hour and a half. We chatted away as though we had always known one another. I felt very comfortable talking to her. She is 78 years of age. The following is what I learned from her about my father and their family.
Family Background:
My great grandparents were James Marian Scott and his wife, Nancy Jane Allen. She went by Jane. Nancy Jane's parents were Rev and Rachel Jane Allen. (I don't know his first name or her maiden name). They built the Christian Church in Greenup, Illinois.
James and Nancy Scott lived in Kinnison, Oklahoma near Welch OK where my father was born. They had a little grocery store. My grandfather Benjamin Moore married their daughter, Clara Scott.
It seems Benjamin needed someone who could help care for his elderly mother who was living with him. He married Clara Scott and treated her as a servant. She was expected to do the plowing as well. He made her do this even when she was expecting a child, Delbert, my father. One day when she was about seven months pregnant with Delbert, she left the house and plow in the field and took off walking across the field to her parents place some 6 or 7 miles away. She refused to go back to Benjamin. He came after her and was met by a shot gun held by her father.
Clara continued to live with her parents after Delbert was born. One day she noticed a fellow who worked for the railroad. She thought he was real cute. He was older than she and eventually Clara moved in with him. They moved to Springfield, Missouri. Clara gave birth to two children by this man, Edward Lentz. The children were Rachel and Marion. Clara, their mother, was not married to their father, Edward Lentz, as Benjamin Moore would not give her a divorce.
One day Benjamin Moore decided to go to Springfield and get his son, Delbert, when he was about seven years old. Benjamin Moore got a court order and brought Delbert back to Welch Oklahoma to live. It is thought Benjamin wanted Delbert to help around the place.
It appears Delbert had a hard life with his father. He apparently was beat from time to time and on more than one occasion came to school with blood dried in his hair. The teacher would shampoo his hair.
Delbert was considered very athletic. He played baseball at school. He was a pitcher.
At age 16, Delbert ran away from home. He arrived at his grandmother's and she couldn't take care of him as she had Clara and the other children living with her so he hitch hiked to California. No info is known about his life for the next few years. I do know he met my mother at church in Stockton California about 6 months before they married in 1936.
Rachel said when Delbert came back for a family visit he told her that his wife and two of his children had been killed in an automobile accident. He said his oldest child was being raised by her grandparents. That would be me, Betty.
Delbert joined the Army. He was injured over Germany and lost some fingers. Rachel said he always wore a black glove. He received the Purple Heart and a few other pins for his service in World War II.
The last twenty years of his life he worked as a watchman at the Armory Depot in Reno, Nevada. He lived in a little vacation type trailer he had won in a Keno game. Eventually he rented a larger trailer about 14x70 that sat behind the bait shop in Fallon Nevada where he retired about 2 years before his death. His close friend, A.D. Aaron and his wife told me my dad loved to hunt and fish. They were good buddies. Rachel said she gave him Delbert's gun. My dad also liked shrimp and liked to gamble. He was a man of few words and kept things to himself.
Another friend who I talked to was Betty Kersey of Fallon Nevada. She said Delbert received $55 per month for disability.
Rachel flew out to see Delbert in the hospital the first time with her daughter, Betty. She flew to Reno the second time with her son Larry, when he died. Delbert is buried in the Veteran Cemetery in Fallon, Nevada.
Rachel says her brother lives in Spokane Washington and she hasn't seen him in 30 years. She mentions that she has my father's Purple Heart and his military picture and a few pictures of my brother, sister and me as little kids. She offered them to me if I would like to have them.
I asked about his other wives and children. Rachel said she doesn't know of any other children or wives. She does know he lived with a woman who had children, but they were not his.
I can't believe how everything has turned out! I feel more of those emotions again. They are difficult to explain. I am delighted to finally be hearing information about my father. It would appear he didn't have a very happy childhood. It does shed some light on why he acted like he did, at least in some ways.
Tonight I will call the two friends in Fallon Nevada and try to find Rachel's brother in Spokane Washington.
PHONE CALLS:
I tried to find Rachel's brother but he isn't listed in the phone directory.
I called and talked to Dovie Aaron, wife of Delbert's friend. She said her husband's nickname is Buddy. She referred to him when ever I asked a question. She said her husband wasn't much at talking on the phone but was a good talker in person.
Dovie told me that she and her husband met my dad when he came to work at the Sierra Army Depot in Reno. She said they came to work there in 1966-67 and he came not long after. She said he liked to come over to eat with them and she was concerned what to fix for him. I asked why and she said he was a diabetic. I asked what kind of food he liked and she said cornbread, beans and fried potatoes or anything you put in front of him. Buddy and Delbert liked to fish in the surrounding lakes. They'd go places like Sidwill Reservoir near Susanville California. Delbert had some kind of Ridgeback dogs that he cared a great deal about.
I asked Dovie if my dad drank and she said yes, a little, but not much. I asked if he smoked and she said yes. I said, Cigar? and she said yes! (I had heard he liked to smoke cigars before). I asked if he wore a black glove and she said not around them. I asked if he spoke of his family or having children, etc. She said he told them they were killed in an accident.
Dovie says they have a couple of keepsakes that was Delbert's.
I learned Delbert passed out in his yard and lay in the hot sun for about 3 or 4 hours before he was found. He suffered burns over his lower body because he was wearing pants made of nylon material. He was taken to the hospital in Fallon and transferred to Reno Veteran's Hospital. He suffered a stroke.
According to Betty Kersey he was hospitalized for 2 months. She would visit him every Monday as this was her day off. She runs the bait shop and Delbert lived in the trailer behind it. She says he was a loner. He would come in to the shop and sit around with several of the other guys chit chatting. He never talked about anything very personal. She said she told him the dogs were doing fine the last time she saw him at the hospital. She said he couldn't talk but his facial expression changed like he was relieved to hear they were OK. (I wonder what happened to the dogs).
Dovie and Buddy asked me to come by when we come to Fallon. I assured her we would come as soon as the weather and road conditions permit.
WHAT A DAY! MY HEAD IS WHIRLING AND A BIT NUMB. I LEARNED QUITE A BIT FOR ONE DAY. I NEED TIME TO ABSORB IT ALL.
I called my mother to let her know my dad was deceased. She didn't have much to say, as usual! She never like to talk to me about him. I guess it was to painful for her???
Sunday, February 27, 1993
I called my brother today to see if he could spare about an hour of his time to talk. I explained I had learned quite a bit of information about our father and wanted to share this in person with him. There is no one else this really concerns but he and I as our sister is deceased.
Jerry came over mid afternoon and I was so pleased to be able to sit and have this conversation with him. Words do not express the feeling and the emotion I felt. who would have dreamed this moment would ever have come about? Now, we both know about our "Moore Roots" on our father's side of the family!
I am looking forward to my trip to Fallon Nevada in the near future. The Aaron's have offered to show me where my dad worked, lived and is buried. I am anxious to what her husband and others have to say about my dad.
I am excited to have the opportunity to visit the Moore's in Welch OK this summer and for the chance to meet Rachel, my dad's half-sister. (She is not a Moore). I will have the opportunity to where many of the relatives on both sides of my father's family lived and are buried. It is overwhelming and is like a dream. Think how fast this has all surfaced once the ball started rolling. I guess the timing was right! I don't know how else to describe it. The story has unfolded very quickly since Feb 14th. This is only the 27th of February. That is less than 2 weeks.
March 4, 1993
Today I received a letter from Rachel in Tulsa OK. What a SURPRISE to find old family photo's tucked inside.
I spent the next hour sitting on the couch and walking around from room to room in total shock. One of the pictures was of my father in his 50's. My first look at the pictures was.... THIS IS MY FATHER? NO! THIS CAN'T BE! He didn't look anything like I visualized he would look. I just kept looking back at the picture every little while. I compared it to the few early pictures I have seen of him. I could see resemblances of him but he looked so different from the visual picture I have always had of him.
I was very pleased to see the pictures of my grandfather and grandmother, Delbert's parents. The newspaper clipping reveals that I have been correct all along about my father remarrying. I knew this and didn't know why I knew it. I also knew he had children with this wife. After reading the clipping, I called my mother's sister, Esther. I asked her where Dibble Hospital was in Northern California. She said it was in Palo Alto and then they built the Veteran's Hospital by Stanford.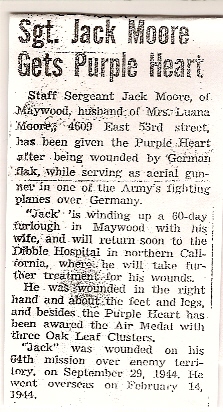 Interesting to me is he is listed as Jack Moore in this article. Was he not using Delbert Moore in the Army?
Now it all falls into place. This is how the whole thing makes sense, the part about me always knowing my father remarried and had other children. If you read the clipping carefully, you will see he was home on furlough recovering from his wounds. Home was in Maywood down in Southern California and his wife's name was given as Luana. It says he will continue treatments at Dibble Hospital (in Palo Alto). This has to be when he came to Sunnyvale and the last time I saw him. I was about 7 years old. I was walking home from Elementary School and was about a block and a half from home. I looked up and saw a man walking towards me and I thought I recognized him as my father. I just knew it was him. (It had been about 4 years since I had seen him). I had been warned not to have anything to do with him should he come looking for me as he might try to kidnap me or something. My immediate reaction was to look down at the sidewalk and just keep walking. It worked, he walked right past me not knowing I was his daughter. As soon as I was past him a safe distance, I took off running for home. I didn't want him to look back and give me a second thought. When I got home I said I just saw my dad and asked if he had been there visiting. They said no and didn't know anything about him in the area. Later when my grandfather came home, we drove up town to see if we could see him. Sure enough he had found my mother and they were walking to her home with groceries. They were on needle and pins. She had no phone. So now this explains his being in our area and his visit to my mom's. This would explain why I knew about his being married again and having other children. He must have told mom this on his visit and I heard it when she shared the info with her parents and her sister. This solves the mystery in my mind about how I knew this. Little by little these things are coming together!
Saturday March 6, 1993
I called Rachel to say thank you for the pictures and her letter. I learned more during this conversation.
My father was wearing polyester pants the day he passed out in the yard where he lay about 4 hours before being found and taken to the hospital. The doctor said he had 3rd degree burns and they think it was because he was wearing polyester. The temperature was 101 degrees that day.
Another item Rachel mentioned is that my dad use to look up the Clevenger's when he came to twon. She asked her mother why? Clara always said that was his business.
I decided to call Carl Clevenger today. The Moore's said he is my father's half brother. He is 92 years old and said he hasn't heard from Delbert in years. The last time he was in the area other's saw him but Delbert never called or came to visit him.
I asked how it was possible for him to be a half brother of my father if Benjamin is suppose to be 19 when he married Clara? He doesn't know anything about it. He knows he was born in 1901! I am puzzled! I asked the name of his mother and it was Anna Stout. She married a Clevenger and he adopted Carl. He didn't know he was adopted or that Benjamin Moore was his father until he was about 13 or 14 years old. I asked how old he was when he met Benjamin. Carl said he was about 18 years old. He thinks Benjamin Moore was a nice person. He said Benjamin Moore was 89 years old when he died.
Sunday, March 7, 1993
I called Carl back today. If Benjamin was 89 in 1867 when he died, that means Benjamin was born about 1878. Delbert was born in 1912. that would mean Clara and Benjamin married about 1911. Benjamin would have been more like 33 years old when he married Clara Scott. Benjamin would have been about 23 years old when he fathered Carl.
Carl said Delbert came and lived with him for about a year when he was about 17 years old. Carl said he could really throw a ball straight as an arrow and hard. Carl played ball with Delbert a lot during his stay. He commented that Delbert was different. He was kind of hard to get along with and he did have a temper.
Carl said the Moore's were thin people and lived to their '90's. I asked him if he knew where my father lived when he lived in Kansas. He said Bartlett Kansas in the 1950's with a woman who had several kids. I asked if she went to California with him to live. He said he didn't think so but if she did she came back. I told him I thought she did and shared with Carl the story of what we learned when we first looked for my dad in 1956 in Farmington California.
Monday, March 8, 1993
Rachel called me this morning and we had a nice talk about some more things. She was leaving for the day when I called her yesterday. We could only talk a few minutes.
I have clarified more things. I asked her for her father's first name as I keep calling him Mr. Foust. I learned he was not her father, but a step-father. Here is what I learned. The man working on the railroad that Clara was attracted to was Edward Lentz. Rachel looked him up after she was grown. He was living in Parson Kansas and that was years and ago. I don't think Rachel kept in touch with him.
Clara later married James Foust and they and a son. The marriage didn't last and the baby, James Franklin Foust, was adopted out. Rachel said she was 8 years old at the time. She said the adoption was arranged through a Wichita agency and missionaries adopted him. She doesn't know anything more about him.
Clara married Charlie Storey. They lived in Wichita and were married 20 years, When he died, Clara moved to Coffeeville where Rachel was living. Rachel owned three restaurants at that time.
When Clara suffered a stroke and needed care, Rachel was going to have her put in a new senior home. Rahcel was working and living in a home for boys. Clara decided she would rather live with her son in Spokane Washington. They came and moved her with all of her possessions to Spokane. A few months went by and Clara felt she wanted to go back to where Rachel was. There were some problems that caused a rift between Rachel and her brother. Rachel called and told her brother to send her back. He refused! Rachel made arrangements for a ticket to be waiting for her mother at the airport. Instructions were given not to let anyone have that ticket but Clara! Rachel then called her brother back and told him he had better have their mother on the plane at 8 o'clock or there would be a policeman at their house soon after. Clara was on the plane. She carried a small box with a very few pieces of clothes. Rachel bought a mobile home and Clara lived with her for six months before she died.
Clara had diabetes and took pills for it, no shots. I asked if my dad who also had diabetes took pills or shots. Rachel said he went to the Veteran's Hospital for shots. She thinks in later years he began giving the shots to himself as they found the apparatus in his belongings.
I told Rachel that I would probably let this rest for awhile as I let some of my work go and needed to catch up. She asked me to stay in touch and I assured her I would. I said I would be in touch as we get closer to the time of my coming to Oklahoma for our visit.
Reunion with my New Found Relatives June 1993
I was already scheduled to be in Missouri and Kansas before I had made contact with the Moore family. This made my visit possible to the area were my new to me family lived.
My first stop was on Wed. June 16th in Wichita Kansas at the home of Minnie Immich. I was there about 30 minutes because of our schedule.
The following day I arrived in Chetopah Kansas for a visit with my half uncle Carl Clevenger. Some of his daughters were there and we had a nice visit. Carl had just had some growths removed from his face and this was still black and blue. Carl was 92 years old. I took some video and asked a lot of questions. He gave me two old photographs and said he didn't remember who they were but they were MOORE's. We soon departed for Mt. Vernon, Missouri to do research the next day and to find the Summit Cemetery where my great grandfather, William Moore, was buried.
As we researched in the Court House at Mt. Vernon we found various documents. One was about William and Ibby's property that was about to be auctioned at a Trustee Sale. (Copies can be found on this site for the Moore's).
We visited the Summit Cemetery and sun was shi8nning beautifully. As we rushed around trying to find the grave of William Moore we didn't realize the sun had vanished and a wind came up. We had been lost for half an hour trying to locate the grave. Then suddenly it began to rain. Luckily we had videoed all of the Moore's headstones and taken the still photo's by then. We rushed to our car and drove to the library to see what else we could find. While at the library, a woman was busy working in the same area we were, the genealogy section. Eventually we talked about the Moor's and exchanged addresses. Since this time, she has written to me and sent additional info on the Ibby family and I have added that to the Moore genealogy.
One item I found particularly of interest was an old item in the card file referencing a death notice in their local newspaper, Lawrence County Record of June 2, 1910. Funeral of Uncle William Moore at Summit last Thursday. It says he died in Kinnison OK age 78.
This confirms there were brothers and/or sisters of William Moore living in the Mt. Vernon area of Missouri. William was brought back to Mt. Vernon for burial in the Summit Cemetery. His wife, Ibby, lived another 20 years after her husband. She is buried in the Walker Cemetery in the Kinnison OK area.
On Friday June 18th we drove to Tulsa Oklahoma to meet Rachel. she lives in a nice retirement home and has her own apartment. We had lunch with her. One of her son came just in time for lunch and he very kindly drove me, (my family followed us) and Rachel to visit the graves of her mother, Clara and Nancy Jane, her grandmother, in Coffeyville Kansas. Rachel's daughter and her husband met us at the cemetery. Later we stopped at a restaurant for dinner and continued on to Miami Oklahoma to stay the night. On the way I recognized the road that went to my uncle Carl Clevenger's. I insisted we swing by and let the rest of my family meet him as they were not with me when I visited a few days earlier. I should mention my family (my husband, our daughter and her husband and 2 children) flew into Tulsa Oklahoma this day and we had gone direct to Rachel's place.
Carl and his daughter were surprised to see me again. We tried to keep the meeting brief as we had a schedule to keep.
The next morning, Saturday June 19th, we arrived in Welch Oklahoma. Harold Moore took us to visit the Walker cemetery and show me where the old farm had been as well as the old school house. We stopped in for a visit with Leslie McNelis and his wife who are in their 90's.. Then we went to see Bill Moore who is in his 90's too and is the one I first spoke to when I called Welch Oklahoma on Feb 14, 1993.
Later we went to the park and has a picnic with a few of the Moore family. Those attending were: Leslie and Rena McNelis, Georgia Ann Armstrong, Harold and Rosie Moore, Thelma Webster, Merle and Phyllis Neil, Irma Polinasky, Mary, Steven, Lindsay, Gabriel and Jacqueline Moore, my family...Guy, Delaine, Chris, Michael, Jessica and my niece Barbara Shirley. Note: Barbara and I had been traveling in Missouri visiting old Shirley places and we came to Kansas where I had attended my one and only Bartholomew family reunion on my mother's, father's side of the family. That is why going on to Tulsa OK to meet Rachel worked out so great and meeting up with the Moore's and my father's side of the family, etc.
I left the picnic at one point to go visit Grace, Irma Polinasky's mother. Irma lives in Texas and was visiting her mom who lives in Welch. There were a couple of drawings displayed in picture frames on the wall of Grace's house. One was the old Rogers School house where my father went to school as well as some of the other Moore's. The other was of the old store and home of the Scotts who were the parents of my grandmother Clara who married Benjamin Moore.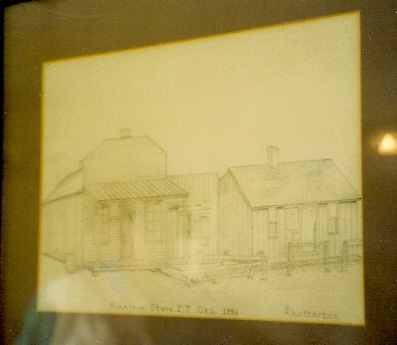 Drawing of Old store and home Clara Scott and her parents in Kinnison, OK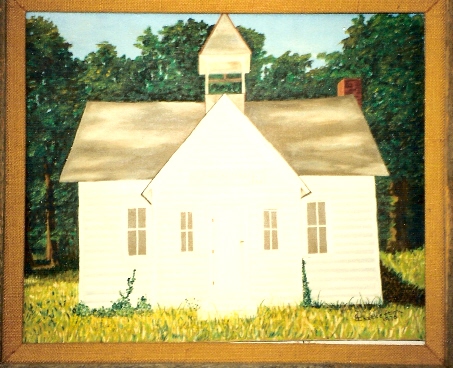 Old Rogers School House my dad attended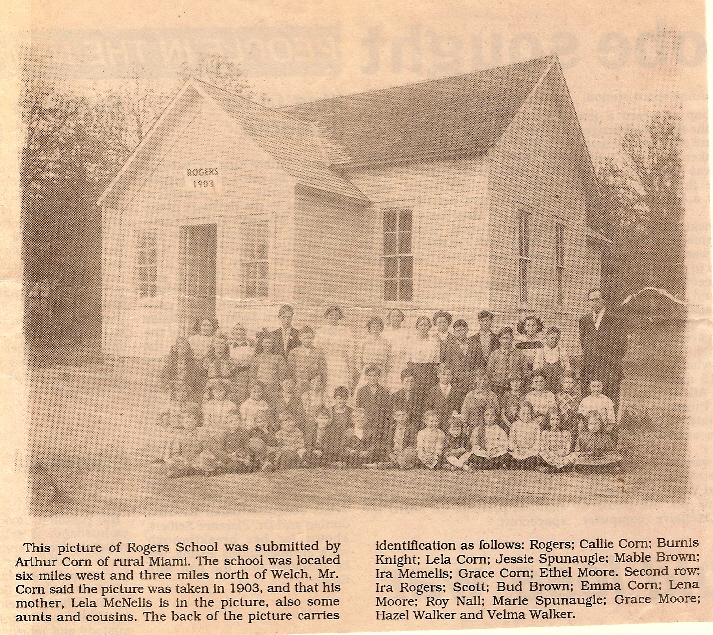 I returned to the picnic area and we soon left for Branson Missouri. No one will know will ever know just how I felt about being in Welch Oklahoma. I had seen this written on my birth certificate for years and years. That is how I knew where my father was born.
What an experience this was, my search for my father. Am I glad I did it? You bet I am. I would encourage anyone to look for their missing parent. Am I going to look further for the Moore ancestry? NO! I began looking for Moore's in Tennessee and there are so many William Moore's that I lost all interest in trying to take this any further. I am content to have learned what I did on this on this journey. Of course IF someone reads this and you know more about this particular group of Moores, you know I would love to learn more. I just don't feel I have enough info to look further back with any certainty that I might be finding the right William Moore. So my MOORE research is over. I am happy with what I found. Case closed unless someone contacts me with additional info.
NOTE: See additional info below photo's.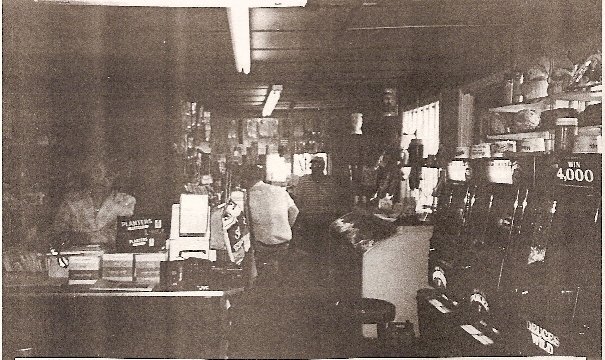 Small Store in front of Delbert's Mobile Home in Fallon Nevada
He use to come in and sit awhile talking to customers.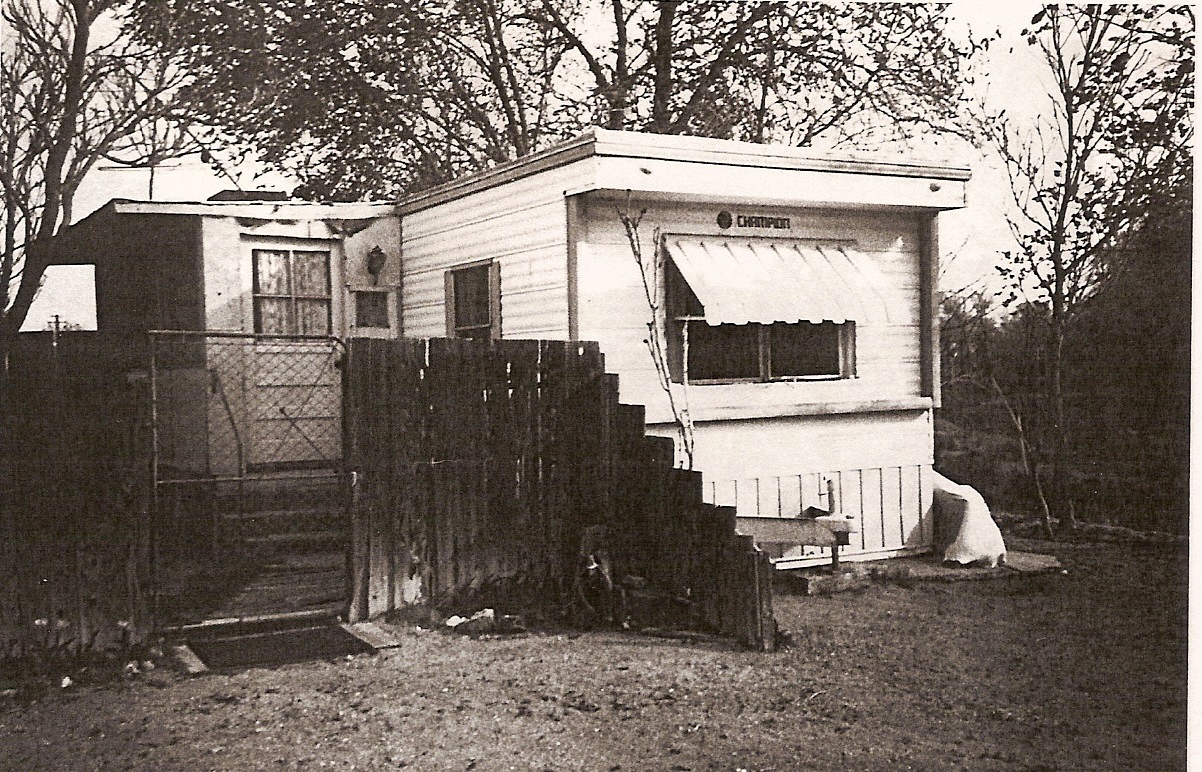 Delbert's Mobile Home in Fallon Nevada
He fell just outside the gate and layed for hours before someone found him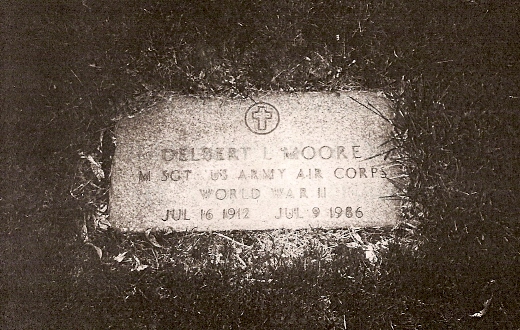 Grave of Sgt. Delbert 'Jack' Moore
in Churchill Public Cemetery in Fallon Nevada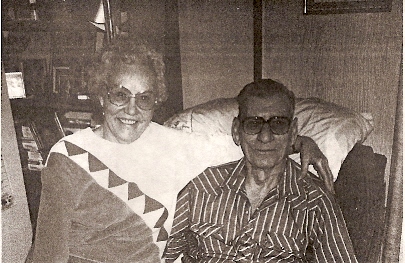 Dovie and Bud Aaron, good friends of Delbert Moore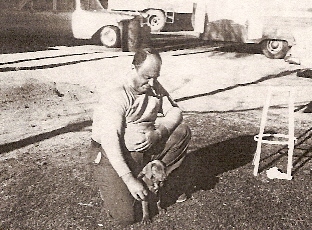 Delbert and his Puppy
1995
Sunday, January 15, 1995 I found a voice mail on our phone saying... This is 'Jack' (Marion) Foust and if you are related to Delbert Moore, I am your uncle. Call me at.......in Spokane Washington.
My mind was racing for about a half minute. This was Rachel's brother. I called him immediately. I asked him how he knew me or had found me. He said he had called his sister, Rachel, and she told him about my contacting her and my visit to Oklahoma in 1993.
I chatted for several minutes with he and his wife. I learned he also went by 'Jack'. He said he had gone thru his mother's old papers and pictures. They had already been looking thru them when I called. They have an old letter written by my mother back on January 20, 1939. They have now sent that to me along with a few pictures of my father and one of my grandmother, Clara.
They also knew my father had remarried after my mom and he were divorced. They think there are 3 sons and maybe a daughter from his marriage to this lady.
Since that phone conversation, uncle Jack (Marion) and his wife, Beulah, have sent the names of the 3 boys. I wonder if they have a clue to the fact that their father was married before and they have a half brother and sister, ME!
Another thing I have just learned from uncle Jack and Beulah is My father was in the Army twice. He says he and his mother, Clara, were living in Fresno California and that is where my father came when my mother and he split. Delbert then went to Southern California.
So, my story continues as I search to learn about my fathers life after he and my mother divorced. Also the search for my half brothers and sister. I have no idea how many there might be! I wonder if he had any other wives? I know he lived with other women.
Delbert married 2nd Luana about 1941 in Southern California. Uncle Jack and Beulah said he had the following children: Bobbie Lee Moore , Craig Moore, and Jacky Moore all born in the '40's..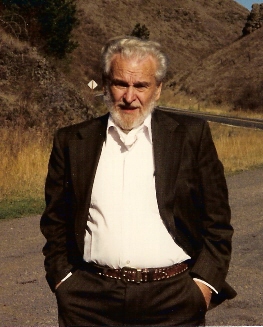 'Jack' Marian Cooper Foust
(my half uncle)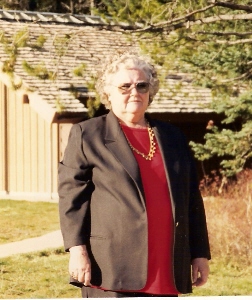 Beulah Foust