June 2006 Shirley Meetings

London, Kent, Sussex, Dorset, Warwick, Stafford and Lancashire Counties
By Betty Shirley
I arrived in England late morning Thursday May 25th and Hugh Shirley was at the airport to meet me. We went direct to Twickenham to visit a church where Selina, 2nd wife of the 1st Earl Ferrers, was buried in 1762. Unfortunately, the church was closed and partially fenced as a crew was moving large slabs of concrete around in the church yard. While I was trying to get one of them to come over and talk to me, Hugh was looking for Selina's headstone. I heard him say he had found a Tryon from North Carolina. I said, Governor Tryon from North Carolina is buried here? Sure enough, Hugh had found his resting place.
I had no idea where he was buried. In fact, I had never thought about it. It would make sense as Selina is his grandmother. We didn't find her stone and could not make contact with anyone to ask questions. Actually, the headstones were moved around and all placed side by side like a fence around the outer area of the church yard, a practice we found is being used in many church cemeteries.
We drove through Sunninghill in Berks. so I could see how far it was and take a look around. We had lunch there before driving to Hugh and Lucy's where I stayed for the next couple of nights.
Friday: Today we drove to Croydon and to Godstone, a couple of places I was most interested to see. We didn't find anything in particular in Croydon. It is a busy town and we drove on to Godstone. I liked this place. Much more quaint and a lovely place to visit. We walked down a path to St. Nicholas church which took about 10 minutes and took us past a water pond that was so picturesque. It was rainy this day and windy. Again, the church was locked and no info really obtained. Mostly I just wanted to see the area anyway. Why? Because these two locations are connected to the mother of James Shirley the goldsmith who was the treasurer of the company that financed the Mayflower and was involved with the business of the day at Plymouth Colony. I must admit I am somewhat suspect that this family may have some connection to the early Shirleys of Northumberland Co. Virginia. I have no proof, just a strong feeling he could be. That is just my personal thinking, and it remains that.... just a thought! Do not latch on to this as some kind of research find. It is not! The reason I have kept this thought in the back of my mind is... Isaac Allerton was the go between with Plymouth Colony and James Shirley in London. Allerton went back and forth to London on business a few times. Eventually he was asked to leave Plymouth and moved to the Connecticut area. His son, Allerton Jr. went to the Northern Neck of Virginia and if you read that article you will see some connections and why I have been suspect. I know no more than this. So, it is far from a fact. It is an area I have found interesting and that lead me to want to know more about this family of Shirleys in England. So... I wanted to visit the area and see if I could learn anything. I did not as the weather was not that great at the time and I wasn't well myself.
Saturday: Today we drove over to Chris Shirleys and visited briefly before going to the hall for the Shirley meeting. There were about 20 people at this gathering and we had a great time meeting and greeting new Shirleys and seeing Shirleys we have met before. I presented the DNA request and one has agreed to do it and another also showed interest. After the meeting, Hugh drove me to Sue's in the Maidstone area and I stayed with her for the next couple of days.
Sunday: Today was the meeting at Sue's home and ten attended. I was delighted to meet everyone and to have had some Shirley material info given to me by those attending. One of the highlights of this day was two families who each arrived a few minutes from each other and both after we had started the meeting some 20 minutes earlier. It was a strange twist. Each were from the Ireland Shirleys. One is descended from the Carlow Shirleys and the other from the Kilkenny Shirleys and they did not know one another. I explained the DNA testing and expressed how much I desired to get DNA from each of them. One was asking questions as to why it would be beneficial etc. Soon they were talking to each other and I overheard them ask, I wonder if our Shirleys are related. I said, this is exactly what I have been trying to explain. If you both do the DNA test, we will once and for all know if the two groups are related. It is my understanding they will do the test. I will be sure to follow up on this one.
Monday: Today, Sue drove me around the area before going on to Carol's house in Uckfield. We stopped at Sutton on Valence and visited the church and talked with a local about the Shirleys. He took us across the street to his house where he had just copied an old school math book that had belonged to a William Shirley in 1768. We were able to copy some info for this group of Shirleys and will post that info eventually in the members area for that location, Sutton Valence. We traveled to Uckfield and to Carol's house where I would stay a couple of nights. When we arrived, her cousin (whom she had never met) had already arrived from Yorkshire area and they were deep into family conversation. Weather still rainy and windy. I am still not well. I suffered from a cold taken a week before the trip.
Tuesday: Today Janet Pennington, who has helped me with tours to Wiston and Isle of Wight, joined Carol and I at Carol's house for breakfast at 8am. and then we were off to visit West Grinstead and a few other places before our meeting in the afternoon.
About ten people attended that meeting. The highlight was when a fellow came in about 30 minutes after we had started the meeting. He walked to one table, stood there for a second and took a quick glance, shook his head kind of half smiling looking at me, went to the next table and did the same thing and then to the third table and did it again. I was concerned he was about to leave as it seemed no info was on the tables he was interested in. He walked over and sat down on the back row. When we came to him to introduce himself and tell us where his Shirleys came from, he said, Jamaica! Well as most of you know, we just received the book for the Jamaican Shirleys and I had a copy with me to present later in Lancashire. Everyone said to him in one voice... has she got a story to tell you! We all laughed as I had told about the book, etc. I told him I would bring him up to speed during the break. It was great to meet those who came to this meeting. We did present the DNA story and we have a person who has already signed on for the testing.
Wednesday: Today Roger Shirley came to get me to drive me to the Hampshire area and to the location his Shirleys are from. Roger came to England to live about a year or so ago from Australia and had not yet journeyed to Ringwood to see the area his ancestors came from. I enjoyed meeting Roger and spending the day driving around and eventually his driving me to my next stop in the Dorset area. Brian and Janet had dinner prepared and invited Roger to stay but he was in a hurry to get back to the London area as he had to work the next morning. The weather is now good and rain appears to be gone. It is not in the forecast.
Thursday: Today Brian and Janet took me to various areas in Dorset. We visited Stinsford, Dorchester, Bagbere and Sturminster Newton. Stinsford is the home of Thomas Hardy, a famous English author. Dorchester is the home of Julian Fellowes who is an actor producer and cousin of Major John Shirley of Ettington. He was unable to join us at Ettington because of a previous commitment. Bagbere is an old Shirley house and the Coat of Arms is on the front of the building over the porch and a date stone of 1590. More will be added about info found for these areas at a latter date.
Friday: Today we were up early as I had to catch a train at Sherbourne to Oxford with a change of trains at Basingstoke. Brian and Janet helped me onto the train with my luggage. I was very concerned how I was going to get 3 pieces of luggage off the train and onto the next train. It was almost overwhelming to me. But there appeared a young man about 30 something and I asked if he could slide one piece of luggage off the train for me. He not only did he do that, but stayed with me carrying that piece of luggage to platform #3 for the train to Oxford. I don't think I would have made it without his help. He was at the right place at the right time.
Peter Shirley was waiting for me in the train station when I arrived and took over the luggage situation. Once we settled into his car, we were off for the next several hours traveling all over Oxfordshire and bordering counties. The places we visited were, Cuddesdon, Long Crendon, Ludershall, Brill, Oakley, Deddington, Cropedy, Great Rollright, Chipping Norton, to name a few. Peter dropped me off at Ettington about 5:30pm and after I checked into Ettington Hotel, I was off to dinner at Philip Shirleys house (son of Major John Shirley) and to meet his family. He has three sons and one daughter. About 9:30pm he brought me back to the hotel. AS I passed the reception desk I asked if it would be alright to go into the Long Gallery and sit up for the meeting the next day and it was and I did. I was exhausted, but continued to organize things in my luggage, papers etc and wash my hair in preparation for the next day. It was very late when I finally crashed into bed.
Saturday: Today I made final preparations for the meeting, went downstairs for breakfast, then outside to find the tree Major John Shirley had planted in 1986 as part of the celebration. It took a few minutes to decide which one it was. There were other trees nearby and at last I walked far enough back to find the correct one with the plaque Major John had placed under the tree. I walked the grounds and took more pictures, visited the old chapel and took more pictures although I am sure I have photographed all of the plaques inside, but wanted to be sure since this is my last visit to Ettington. Now it was pack all my things and check out of the room, and get ready for the meeting. The weather continued to be beautiful and the early arrivals were there just in time to be part of the news coverage by the local newspaper. (I don't have a copy of the article yet). We all went upstairs to the Long Gallery and I counted about 45 of us for the meeting. About an hour and a half into the meeting, the door burst open and George Shirley (1559-1622) and his wife Frances dressed in period clothing came into the room to see what we were doing in their home. They thought we looked a little strange and wondered about some who they couldn't decide whether male or female. The cameras were flashing and this unnerved them as they were not sure if the light was going to hurt them.
They were quite stunned to learn I was from the new world. It was all in great fun! We went right into our coffee break. George and Frances mixed with the group. A special cake was baked by the chef for the 920th anniversary. After the break we heard from Dame Stephanie Shirley who told us about the Shirley Foundation in England set up by her for those who are Autistic. She lost a son with this condition. I should say Stephanie prefers to be called Steve. Here is her website: http://www.steveshirley.com The next speaker was Mike Kenny, a local historian, and he talked to us about the connection with Robin Hood. Everyone seemed to enjoy his presentation. It was quite entertaining and I heard a few laughs. I will tell you more about this in the near future. The day concluded with a tour of the premises by Philip Shirley.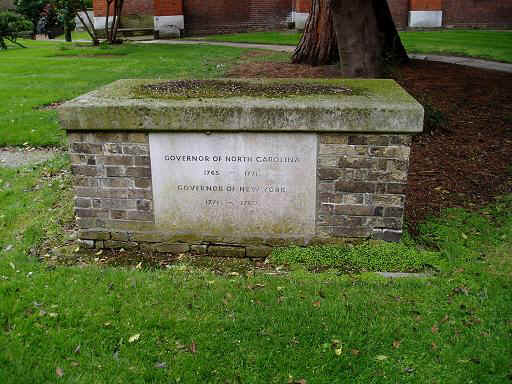 Governor Tryone's grave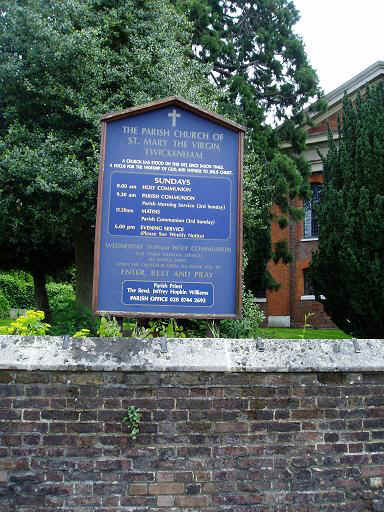 St. Mary The Virgin Parish Church in Twickenham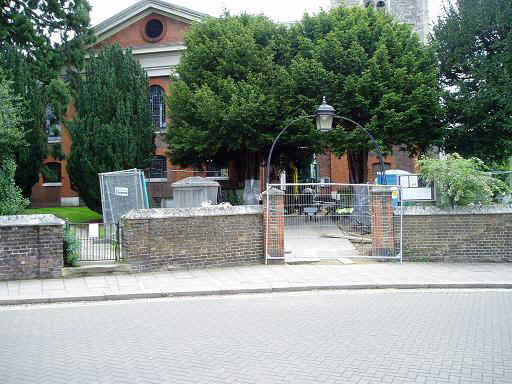 St. Mary The Virgin Parish Church in Twickenham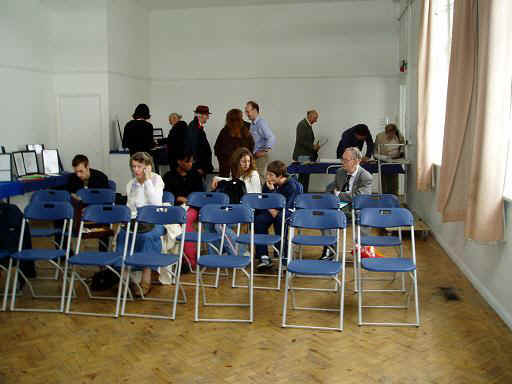 London England Meeting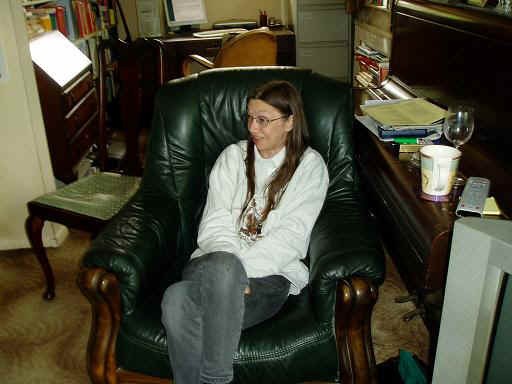 Sue Johnson, Host at Maidstone Meeting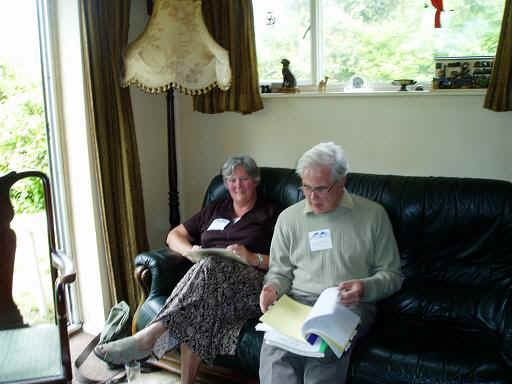 Shirley and Barry Foale at Maidstone Meeting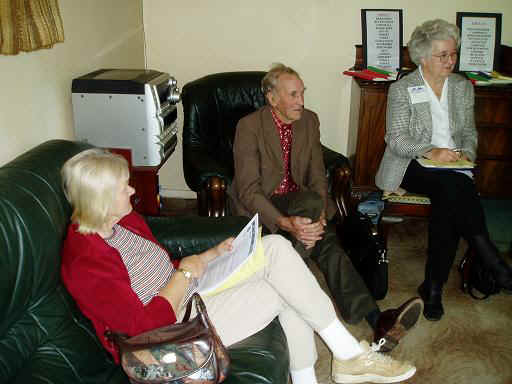 Paula and Annsley Shirley and Jo Vale at Maidstone Meeting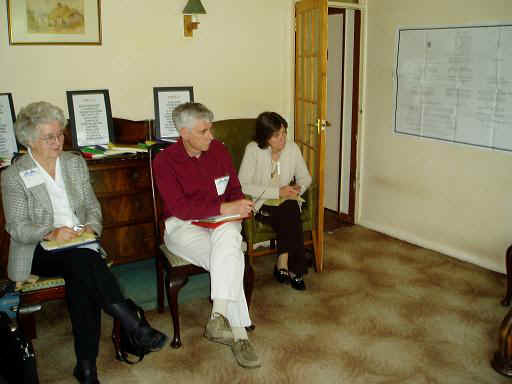 Jo Vale, David and Beth Shirley at Maidstone Meeting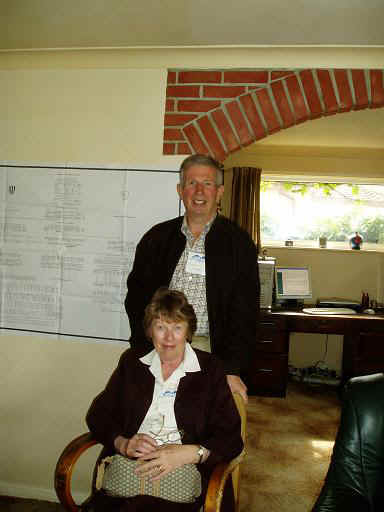 Mr. and Mrs. Martin Shirley at Maidstone Meeting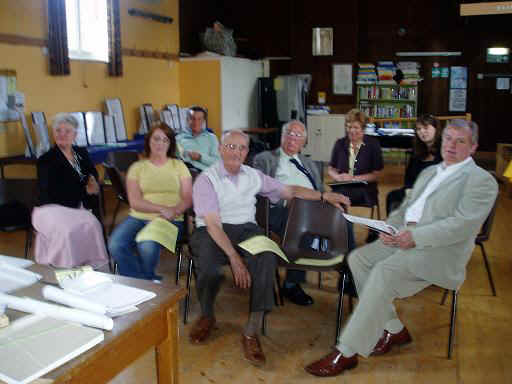 Uckfield Sussex Meeting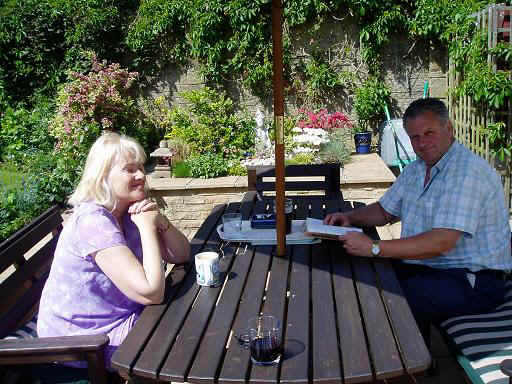 Janet and Brian Shirley in Dorset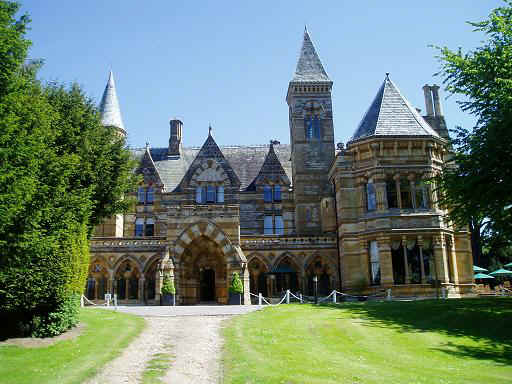 Ettington Park Hotel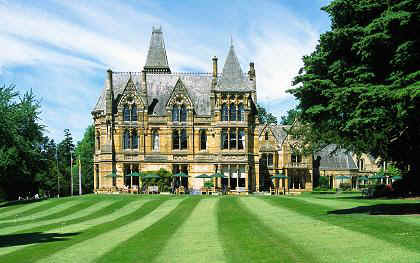 Ettington Park Hotel
(photo from Graham Shirley)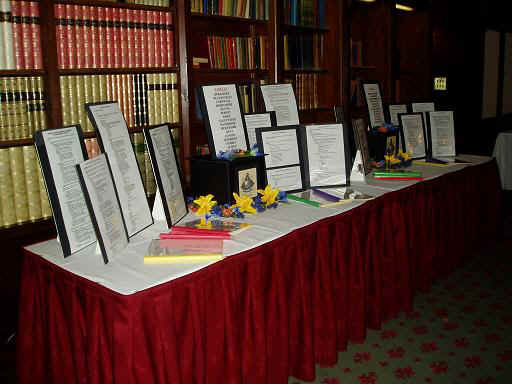 Shirley Display at Ettington Meeting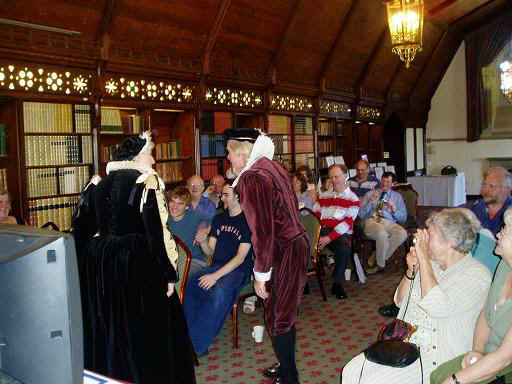 Frances and George Shirley impersonators (1500's) at Ettington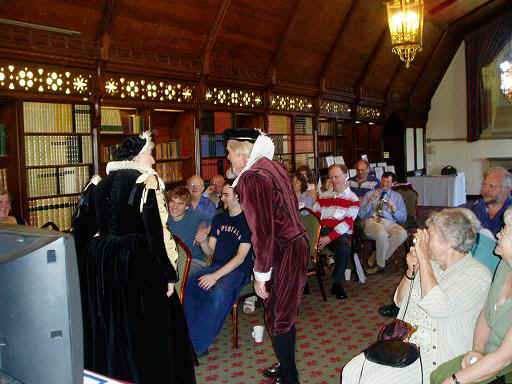 Frances and George Shirley from the 1500's at Ettington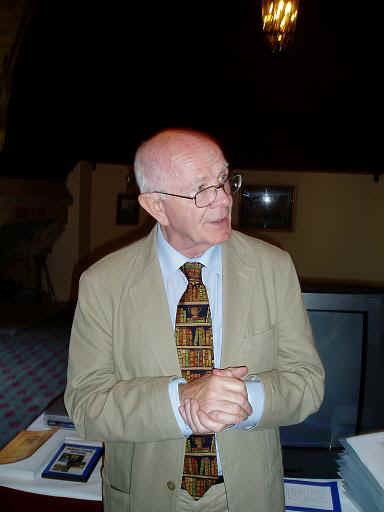 Mike Kenny, Historian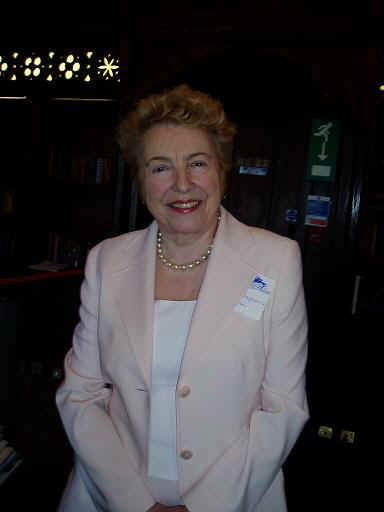 Stephanie Shirley of the Shirley Foundation
Page 2 for continued coverage of England Meeting