| | |
| --- | --- |
| | Harville Family |
James Walter Harvelle was the father of Hickman. James moved from MS to TX in the late 1850's. James was living in Titus County Texas in the 1860 census.
Millie appears on the 1860 census for Titus Co. Texas with daughter Louisa J. Pettigrew age 5 and son J.N. Pettigrew age 3. At this time Hickman Harvelle was living in Tishomingo, Mississippi with his first wife Mahala Johnson, and their first child Rose Anna. Hickman Harvelle moved to Arkansas after the war.
On the 1870 census Six Mile township, Franklin Co. AR., page 86, Millie is living with her 2nd husband, Hickman Harvell, but they are enumerated as "Harrel". Hickman's kids Rosina age 13, Rufus 10 and Hickman 7, all born in MS, from Hickman's 1st marriage to Mahala E. Johnson ... Hickman & Millie's kids James W. 4 and Nancy 1 both born in AR. and Millie's kids from her first marriage, Eliza 15 and John 13 both born in TX

Hickman Newton Harvelle born June 2, 1838 Mississippi, died Aug 6, 1872 Six Mile, Franklin Co. Arkansas married 1st Mahala Johnson abt. 1855 in Tishomingo, MS, m. 2nd Millie Ann Aydelott Pettigrew who was born Nov 11, 1835 Tennessee and died May 2, 1919 Washburn, Logan Co. Arkansas. Both are buried Harvelle Cemetery in Logan Co. AR. She married 1st Mr. Pettigrew and their children were: Eliza Jane, Mary and John Neel Pettigrew.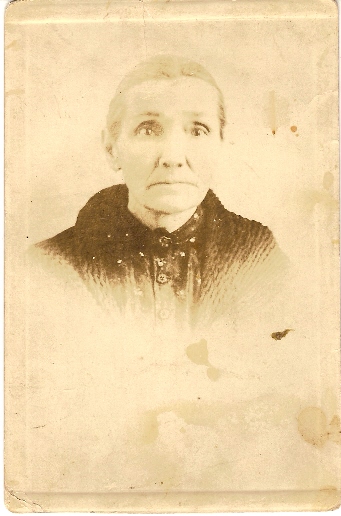 Millie Ann Aydelott Pettigrew Harvelle
DETAILED RESEARCH FOR HICKMAN HARVELLE
(Interesting... George Washington Barnard and an older son married sisters, Harriett and Sarah Aydelott) See this ancestry below....
Millie Ann's father was born in Tennessee and her mother was born in Alabama according to the 1880 census of Six Mile Twp, Logan Co. AR.
Children: by 1st marriage to Mahala Johnson

1. Rose Anna 'Rosina' Harvelle 1857 MS d. 1896 Six Mile. Logan Co. AR, buried in the Harvelle cemetery

2. Rufus Leander Harvelle Oct 4, 1860 MS d. Mar. 7, 1942 Six Mile, Logan Co. AR m. Prudence Ann Irving Aug 7, 1851

Children:

(1). Jasper Harvell

(2). Everett Lee Harvill m. Hattie Cole

(3). George Washington Harvell Mar 24, 1893 d. July 16, 1954 m. Arlene Maye Best April 29, 1917

(4). Cora Harvell m. Edmond Suggs

(5). Stella Harvelle

3. Hickman Harvelle 1863 MS

Children by 2nd marriage to Millie Pettigrew, widow

4. James W. Harvelle 1867 Logan Co. AR d. 1901 Six Mile, Logan Co. AR (note: Six Mile was in Franklin Co earlier), married 1st Lenora Suggs Dec 25, 1890 Logan Co. AR, married 2nd Loretta Potter

Children:

(1). Stella Harvelle 1896 Logan Co. AR (mother is Loretta) buried Harvell Cemetery in Logan Co. AR

5. Nancy Harvelle 1869 AR d. 1910 Six Mile, Logan Co. AR m. James M. Haley Oct 15, 1884 Chismville, Logan Co. Arkansas (parents of Millie Kate, Guy's mother). James Haley was born 1865 TN d. abt 1890-99 in Six Mile Twp, Logan co. AR

Children:

(1). Gertrude Haley m. a Mr. Bynum. He worked for the railroad company locating lost box cars.

(Gertie Haley lived with Millie Ann Harville for years and with Eliza Jane Pettigrew Lee, her half aunt for awhile).

Gertrude Haley

(2). Charles Emery Haley 1887 Logan Co. died 1915 (cancer of the leg), m. Virginia ' Krickett' Ellis Jan 2, 1909.

(3). Millie Johnson 'Kate' Haley Dec 21, 1889 Arkansas, died June 8, 1959 Gilroy, Santa Clara Co. California in an automobile accident, married Owen Parmer Shirley Dec 16, 1908. (my husband's parents)

(Harriett Aydelott Barnard raised Millie Kate).