| | |
| --- | --- |
| | Bartholomew surname |
Henry Bartholomew migrated from Holland to America in the early 1700's and settled in Philadelphia Pennsylvania where he died in 1743. He was a blacksmith. Early records indicate he had brothers Benjamin, David, Jacob and John living in Pennsylvania. [My 6th Great Grandfather
]
His son was Peter Bartholomew who was also a blacksmith. He lived in Bethel, Cocolico PA and in Lancaster County Pennsylvania. [My 5th Great Grandfather
]
Peter's son was Daniel Bartholomew who lived in Cocolico PA in 1785. Later he moved to one mile south of Strasburgh, Lancaster County Pennsylvania where he owned or rented what was known as the "Musselman's Mill". He was a millwright. He was a Lutheran. [My 4th Great Grandfather]
Children:
1. David Bartholomew Mar 22, 1786 Efforty, Lancaster Co. PA d. April 7, 1846 m. Catherine Keizer Nov 12, 1809. She was born in Churchtown, PA Jan 23, 1784, d. Oct 5, 1849. He was a millwright. [My 3rd Great Grandparents
]
Children:
(1). Mathew Bartholomew Sept 21, 1810 m. Hester A. Herr Dec 28, 1837. He was a millwright and they lived in Strasburg, Pennsylvania
(Info on Mathew from David Bartholomew and photo's from William Bartholomew)
Children:

A. Amanda S. Bartholomew July 30, 1839 m. Robert E. Bunch

B. John Bartholomew Oct 17, 1840 died young

C. Mary C. Bartholomew July 13, 1842 m. 1st Jonathan Holt, m. 2nd William Fichthorn

D. Benjamin F. Bartholomew June 27, 1845 m. Jeanette Wolfe Sawyer Sept 15, 1869

Children:

(a). George D. Bartholomew Nov 30, 1870

(b). Mary A. Bartholomew May 28, 1874

E. David Herr Bartholomew Jan 4, 1848 d. May 22, 1928 m. Elizabeth Eckman June 26, 18

72. She was the daughter of Henry Eckman b. April 23, 1827 and Anna his wife born Jan 28, 1825. They lived in Strasburg, PA.

David had a partner in the lumber business who in later years stole from the partnership and ruined him.

More info for David Herr Bartholomew

David Herr and Elizabeth Eckman Bartholomew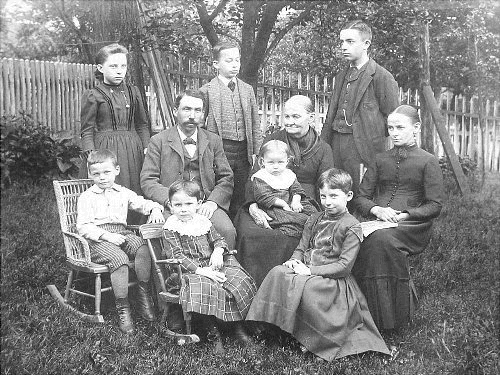 David Herr Bartholomew Family

Elizabeth's Eckman's mother, Anna Hoke, in center holding child

Note: Matthew's wife Hester Ann Herr and Elizabeth Eckman were third cousins, twice removed? Their common ancestor is Christian Herr, son of Reverend Hans Herr.

SEE 1912 REUNION PHOTO BELOW

Children:

(a). Anna E. Bartholomew b. April 20, 1873 d. 8 years old

(b). David Baughman Bartholomew b. September 9, 1874 d. Jan 20, 1958 PA m. Alice Morton Raub June 24, 1896. She was born Mar 19, 1876 d. Sept 29, 1942 PA.

David started in the lumber-carpentry business but switched to the PA railroad because of the loss of the business of his father, David Herr Bartholomew.

David Baughman Bartholomew

Alice Morton Raub Bartholomew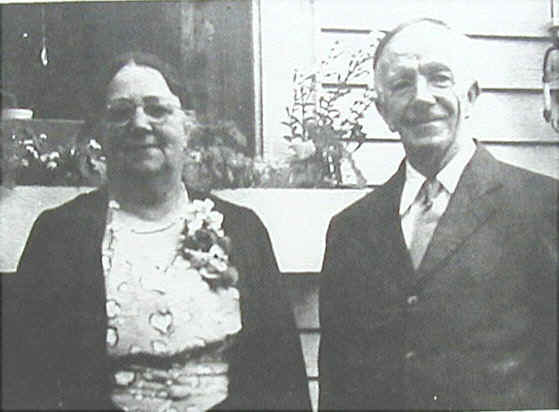 Alice and David Baughman Bartholomew
Children:

1. Robert Percival Bartholomew July 7, 1899 d. Oct 12, 1957 Fayetteville, Arkansas m. Mildred Elizabeth Kline May 19, 1922. She was the daughter of Joseph B. Kline Aug 18, 1900 PA d. Mar 14, 1967 Fayetteville, AR.

Robert was a college professor of agriculture at the Arkansas State University in Fayetteville, Washington Co, AR. They lived in Panama for a time while he was teaching and raising the family.

(c). Henry M. Bartholomew b. June 13, 1876 m. Hannah Hunter. Henry was an architect in Lancaster, PA

(d). Mary A. Bartholomew b. Nov 3, 1877

(e). Amy C. Bartholomew

(f). Guy C. Bartholomew
(2). George E. Bartholomew Nov 23, 1814 New Lancaster PA, d. Jan 3, 1881 Rockport, Kansas, buried Bow Creek Cemetery, Stockton Kansas, m. Fannie Bowman Sept 4, 1843 in PA. She was born April 22, 1824 Strasburg PA d. Feb 26, 1907. Buried Louisville, Kansas cemetery. [My 2nd Great Grandparents] SEE BELOW FOR FAMILY INFO.
(3). David Baughman Bartholomew Nov 22, 1817 m. Mary Ann Powers Sept 15, 1842. He had a rare inventive ability and among the valuable improvements in use are his "patent feed" for saw mills and siding sawing and hand sawing machines. He was a lumber dealer in Lancaster PA where he owned and operated two mills. He had not children.
(4). Mary Ann Bartholomew Aug 6, 1821 m. Charles Edwards Feb 28, 1850. He was a merchant in Lancaster PA.
(5). John Bartholomew Oct 8, 1825 d. July 6, 1826
2. Sara Bartholomew Oct 10, 1791 m. Robert Ferguson
3. Katherine Bartholomew July 28, 1794 d. Aug 12, 1802
4. Polly Bartholomew Oct 22, 1796 m. __Hess, moved to Erie, PA about 1825.
5. Gulianne Bartholomew Dec 1, 1799 m. __Waddy, resided in Strasburgh, PA
6. Katriene Bartholomew Oct 11, 1802 d. young
7. Mathew Bartholomew Feb 15, 1803 d. Young
8. George Bartholomew Dec 6, 1805 m. 1st __Turner, m. 2nd __Fitzpatrick resided in Erie, PA
___________________________________________________________________________
George E. Bartholomew Nov 23, 1814 New Lancaster PA, d. Jan 3, 1881 Rockport, Kansas, buried Bow Creek Cemetery, Stockton Kansas, m. Fannie Bowman Sept 1843 in PA. She was born April 22, 1824 Strasburg PA d. Feb 26, 1907. Buried Louisville, Kansas cemetery. [My Great- Great- Grandparents
] SEE BELOW FOR MORE INFO ABOUT FANNIE BOWMAN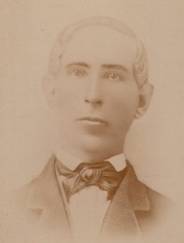 George E. Bartholomew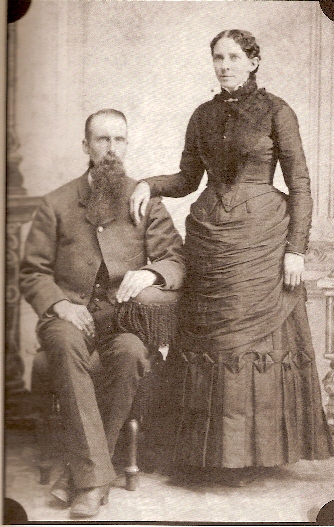 George E. and Fanny Bowman Bartholomew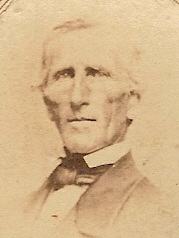 George E. Bartholomew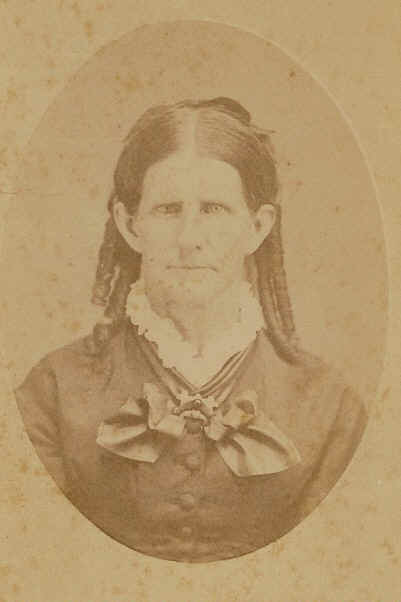 Fanny Bowman Bartholomew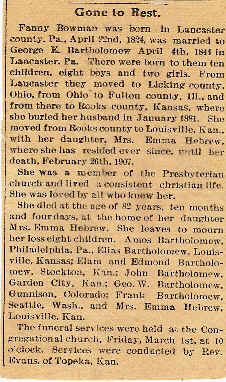 Children:
A. Amos Bartholomew June 1, 1844 Strasburgh PA d. 1916 Philadelphia PA
Amos fought in the Civil War. According to family story, he left home because he didn't want to milk the cows.
NO children: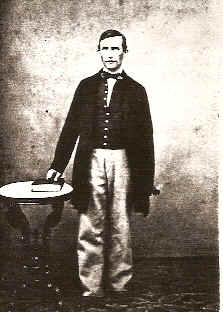 Amos Bartholomew
B. David Bartholomew Aug 7, 1846 Strasburgh PA d. Sept 24, 1864 Atlanta, GA
David died of diphtheria while serving in General Sherman's "March to the Sea". He was 18 years old. He is buried in the National Cemetery in Marietta, GA in section E #6400.
Elam, his brother, visited the grave Sept 29, 1920 and wrote of his visit in his diary. "Took a half mile walk to the National Cemetery and met Superintendent Pierce and had a half century longing gratified by being permitted to see and stand by the grave of my long dead brother, David. He died at East Point, GA, now a suburb of Atlanta. His grave is 25 feet S.W. of a moderately large laurel oak tree whose branches extend over the grave. There are 10,132 soldiers here....... Gathered fallen leaves from brother's grave and placed a rose bush spray on the grave by the headstone."
C. Elias Bartholomew Feb 17, 1848 Strasburgh PA d. June 20, 1943 Louisville, Kansas m. Elizabeth 'Bessie' Belinda Baine August 28, 1881. She was born in 1856 died April 30, 1927.
Elias worked as a clerk in a hardware store, as a miller and was a tinsmith with his own shop. The shop burned down. He had a green thumb when it came to gardening. He was also good at keeping records in his journal.
Elias, Bessie and Ethleen Bartholomew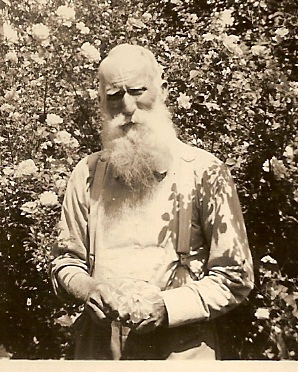 Elias Bartholomew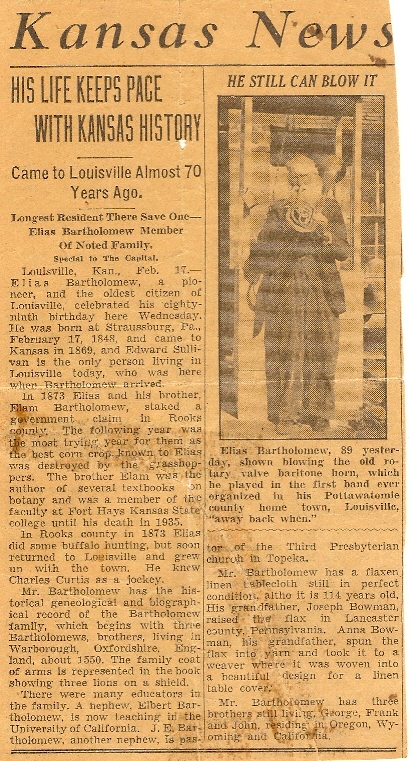 children:
(a). Ethleen Ann Bartholomew Dec 7, 1884 d. Nov 29, 1935 Louisville, KS
. She taught music and was very active in church work. She never married.
(b). Archie Bain Bartholomew Nov 25, 1890 d. April 19, 1891 Louisville, KS
(c). Theron Elias Bartholomew Feb 12, 1892 d. Feb 6, 1969 m. Lillian Leukenga June 30, 1929. She was born Dec 21, 1907 d. July 30, 1967 and is buried in DeSoto, KS
Theron worked as a store clerk, clerk of the draft board, warehouseman for Hercules Power Company in Sunflower, and for the Federal Housing Administration. He was active in the Boy Scouts and helped organize Cub Scouts, Boy Scout troops in McFarland, De Soto and surrounding communities. He organized a De Molay group of boys in De Soto.
Theron was a Sergeant in the Army Medics during WWI and was stationed in Georgia and Kentucky. He wrote poetry, some of which was very good.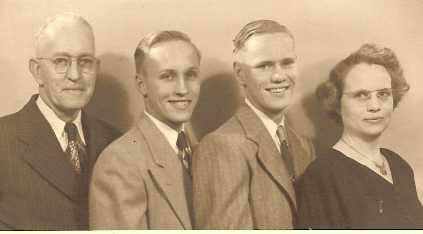 Theron, Brian, Robert and Lillian Bartholomew
children:
1. Brian Lee Bartholomew
2. Robert Keith Bartholomew
D. Ann Bartholomew Elizabeth July 27, 1850 Strasburgh PA d. age 7 months (1851) Strasburgh PA
E. Elam Bartholomew June 9, 1852 Strasburgh PA d. Nov 18, 1834 Hays, Kansas m. Rachel Isabel Montgomery June 14, 1876 who was born Feb 22, 1855 and died Mar 6, 1941 FOR MORE INFO ON THIS FAMILY
F. John Bartholomew Dec 11, 1854 Alexandria, Ohio d. Jun 21, 1941 Fresno, California m. Mary Elizabeth Hayden Aug 21, 1877 Lewiston, Onieda Co. Illinois. She was born ____ Onieda Co. IL d. Jan 21, 1918 Howard, Kansas. My Great GrandparentsFOR MORE INFO ON THIS FAMILY
G. George W. Bartholomew Feb 20, 1857 Granville Ohio, d. Mar 12, 1946 Prescott, Arizona
m. ____
George was in real estate. He had about a million dollars worth of property. His wife wanted him to sell but he put off selling until suddenly, overnight, he went broke. He became interested in mining. His wife left him and took Bessie with her. George came to see his daughter after she was married. The story is told she didn't know George was her father as she was never told.
George was mentioned in his mother's obituary and he was living in Gunnison, Colorado at that time.
Child:

(a). Bessie Bartholomew
H. Emma Bartholomew July 20, 1859 Granville Ohio, d. April 21, 1934 Louisville, Kansas
m. William J. Hebrew July 14, 1887. He was born Sept 28, 1856 and died in 1942.
Children:

(a). Jasper M. Hebrew Jan 28, 1889 Bow Creek, Kansas m. Clara Wyoning

Children:

1. Rose Emma Hebrew April 7, 1915

No children

2. Junior Hebrew

(b). Alice Hebrew June 5, 1891 m. 1st Joseph Stauffer, m. 2nd Frank Lantis

Children:

1. Quinton Stauffer April 29, 1917 No Children

2. Wayne Hebrew Stauffer Nov 20, 1917 d. Feb 2, 1921 pneumonia

3. Gail Arge Stauffer Mar 17, 1920 m. Marie Peacock

Children:

(1). Cynthia Jo Stauffer

4. Aldie Bliss May May 29, 1919 m. Mildred Patterson

Children:

(1). Carolyn Sue Stauffer m. Ronald Thomas

(2). Gail Marie Stauffer

(c). Ethel Ravenia Hebrew April 11, 1893 m. Albert Richard Stewart Sept 14, 1913. Lived Hutchinson, Kansas

Children:

1. William George Steward m. Earlene Marie Van Vorhis

2. Emma Leverne Stewart July 17, 1915 d. May 23, 1975 m. George E. Leonard.

Child:

(1). Mary Stewart Leonard

(d). Edith Hebrew June 3, 1895 Louisville, Kansas m. 1st Gordan Freeman, m. 2nd William Reser. They lived in Florida

Children:

1. Gilbert Lloyd Freeman Sept 14, 1915 Minneapolis, MN

2. Herbert Neil Reser April 16, 1918 Minneapolis, MN

3. Theodore Reser Sept 1, 1920 Minneapolis, MN
I. Edmund Bartholomew Sept 30, 1861 Granville Ohio d. June 28, 1950 Beloit, buried Bow Creek Cemetery, Stockton Kansas
m. Myrtle Imo Southard Feb 12, 1889
Children:

(a). Floyd Everett Bartholomew Jan 5, 1890 Stockton, Rooks Co. Kansas d. Nov 4, 1964 Alton, Kansas m. Gertrude Edith Osborne Dec 23, 1914

children:

1. Kenneth Bartholomew Oct 13, 1916 Stockton, Kansas m. Wilma Artilee Breckenridge Mar 8, 1947 They lived in Alton, KS

Children:

(1). Ruth Ann Bartholomew m. Troy Lee Zackary

(2). Patsey Louise Bartholomew m. Gale Redden

(3). Ray Everett Bartholomew

(4). John Warren Bartholomew

2. Gordon Bartholomew Mar 2, 1921 North Stockton, Kansas m. Marjorie Mae Livingston. They lived in Riverdale, Georgia.

Children:

(1). Gloria Lee Bartholomew m. Stephen Douglas Nelson.

Gloria was a delegate to Japan in 1965 from the International Farm Youth Exchange

(2). Carolyn Gaye Bartholomew m. Douglas Keith Stonehocker

Caroline was a Good Will Ambassador to Australia in 1969. She was sponsored by the Osborne Rotary Club in Kansas.

(3). Eric Lynn Bartholomew m. Kathleen Marie Dexter

Eric was Vice President of Hunter and Lunberg General Contractors in Manhattan, Kansas

(b). Mabel Iva Bartholomew Feb 14, 1892 d. Sept 7, 1892 Bow Creek, Kansas

(c). Marion Forrest Bartholomew Dec 16, 1894 d. Oct 28, 1872 Stockton, Kansas m. Sarah Blaine Lewis Mar 21, 1954. They were living in Stockton, Kansas

(d). Mildred Modell Bartholomew Sept 12, 1898 m. Percy Carl Wright June 13, 1925.

No children
J. Franklin Bartholomew Aug 9, 1866 Farmington Illinois d. May 13, 1960 Seattle, Washington

m. Clara _____.
Child:

(a). John Bartholomew

Uncle Frank Bartholomew

In front of my grandparents home in Sunnyvale CA
BELOW SEE PHOTO'S I TOOK AT THE 1993 BARTHOLOMEW REUNION IN KANSAS
BOWMAN
Joseph Bowman July 12, 1777 Lampeter, Lancaster, Co. PA m. Anna Bowman Sept 29, 1801. She was born May 28, 1781 New Holland, Lancaster Co. PA
She was the daughter of John Bowman who was born 1755 Earl, Lancaster Co. PA d. Nov 11, 1813 New Holland, Lancaster Co. PA m. Eve Brenneman Mar 1782 Lancaster Co. PA. Eve was born 1757 Conestoga, Lancaster Co. PA d. Dec 1824 Lancaster Co. PA.
Joseph Bowman was the son of Joseph Bowman and Feronica Buckwalter who was born Jan 7, 1741 d. April 1826 Lancaster Co. PA
Children: born Strasburg, PA

1. Catherine Bowman April 29, 1803, Friday evening d. Mar 29, 1893 m. Henry Esbenshade Mar 3, 1825

2. Daniel Bowman Sept 9, 1804, Sunday evening d. Dec 12, 1870 York Co. PA m. Mary Smith May 11, 1828

3. Elias Bowman Dec 15, 1805, Sunday 1 AM d. 1868 m. Anna Kreider

4. Henry Bowman April 14, 1807, Tuesday 9 AM d. Oct 25, 1888 W Lampeter, Lancaster Co. PA m. Mary Hess

5. Maria Bowman Dec 16, 1808, Thursday 11 PM

6. Joseph Bowman April 20, 1810 between 11-12 PM d. Feb 7, 1897 Forest, Ohio

7. Anne Bowman Oct 7, 1811, Monday 9 AM d. 1856 m. William Sharp

8. Elizabeth Bowman Feb 4, 1813, Friday 1 AM m. Jacob Bair

9. (daughter) born dead Dec 7, 1814

10. John Bowman Feb 9, 1818, 11:45 PM

11. Lydia Bowman Sept 12, 1820 mid-day d. Texas m. Penman

12. Feronica Bowman April 22, 1824, 1-2 PM, m. George Bartholomew (see above)

NOTE: The Bowman family was Dutch. The Bartholomew's and the Bowman's were friends years before their children married.
___________________________________________________________________________________
________________________________________________________________________________

MONTGOMERY

William Montgomery Nov 30, 1794 Dublin, Ireland d. Feb 28, 1876 m. Rachel Montgomery (her maiden name) Mar 1820. She was born May 22, 1794 d. Sept 16, 1870. They are probably buried in Farmington, Illinois.

William born in Dublin Ireland came to Philadelphia in 1818. His wife, Rachel, also came from Dublin Ireland. Her maiden name was Montgomery but they were unrelated. Rachel's father was a weaver of linen, cotton and woolen fabrics in his early years. He may have worked for William M. Knouse who was a fabric manufacturer in Philadelphia, PA.

Children:

1.William Montgomery, Jr.

2. James Montgomery

3. Thomas Montgomery Nov 26, 1828 d. Nov 11, 1901 m. Elizabeth Knouse Dec 6, 1849. She was born Sept 30, 1828 d. Mar 4, 1906. Both are buried in Farmington, Illinois in the Oakridge Cemetery, lot # 351. Elizabeth's tombstone is marked incorrectly as Dec 30. No one seemed lucrative enough to correct it says the person who provided this info.

Thomas Montgomery

Elizabeth Knouse Montgomery

Elizabeth's parents were William M. Knouse April 13, 1790 d. May 8, 1873 who married Isabella ___ Dec 14, 1817. She was born Dec 28, 1799 d. Jan 18, 1855. They were the parents of George, Hannah, Isabelle and Elizabeth Knouse.

Children:

(1). S.K Montgomery Jan 10, 1851 d. Jan 24, 1852

(2). William Montgomery May 18, 1852 d. July 5, 1853

(3). T. Montgomery June 16, 1853 d. April 20, 1854

(4). Rachel Isabel Montgomery Feb 22, 1855 d. Mar 6, 1941 Hayes, Kansas

(5). Elizabeth Montgomery Sept 17, 1856 d. Mar 12, 1943 Jacksonville, Illinois

(6). Robert John Black Montgomery June 3, 1858 d. Feb 5, 1936 Pickering, MO

(7). William C. Montgomery Feb 10, 1861 d. Nov 22, 1896 Iowa

(8). Cecilia Montgomery Dec 6, 1862 d. 1953 Middle Grove, IL

(9). Thomas C. Montgomery Oct 5, 1865 d. April 12, 1928 Cordell, Texas

(10). George K. Montgomery April 26, 1869 (twin)

(11). James K. Montgomery April 26. 1869 (twin)

____________________________________________________________________________________

HAYDEN

Samuel Hayden m. 1st Liza Stone, divorced. He married again and had 5 children by 2nd marriage. Nothing known for this marriage.

Liza Stone Hayden married 2nd Isaac Hall. For info and photo's on the Hall family click here.

Samuel was a good stonemason and bricklayer. He built several stone and brick bridges in Neodesha Kansas. His mother's maiden name was Hauss (a German name). Liza's brother's moved in with her and Samuel. Sometime later he told Liza to tell them to leave. She refused so Samuel enlisted in the Union Army. After his discharge she would have nothing to do with him so they divorced. Mary Elizabeth went to live with the Tuttle family for several years after her parents divorce. They owned 80 acres of land and when they died they were giving half to Mary Elizabeth Hayden and the other half to their daughter, Lori Tuttle. Lori got the whole 80 acres. Mary Elizabeth wouldn't fight for her half.

Children:

1. Albert Hayden m. Lydia Moranville

Children:

(1). Ernest Hayden

(2). Daisey Hayden

(3). Ola Hayden

(4). Sherman Hayden

(5). Bessie Hayden

(Alfred Bartholomew, my grandfather, told me an incident that happened when he was about 3 years old. He saw a chair full of pillows and decided to climb up and sit in it. His mother jerked him down explaining little Bessie is there. He didn't see her because of all the pillows).

2. Florence 'Flora' Hayden m. Charlie Wilmott

Children:

(1). Grace Hayden m. ___Anderson

(2). Carried Hayden m. ___Murphy

(3). Ralph Hayden

(4). Earl Hayden died young

3. Mary Elizabeth Hayden m. John Bartholomew FOR MORE INFO on John and Mary Elizabeth see their page.
_______________________________________________________________________________________
1993 BARTHOLOMEW REUNION
I attended the 1993 Bartholomew Reunion in Kansas. It was my first and only reunion I have attended. I'd say there was about 100 people in attendance. When I looked around the room, you could spot the older Bartholomew's. They just had that Bartholomew look. The younger ones have their own features and it is not as easy to spot them.
The day after the reunion Wilma and Kenneth Bartholomew took me around to visit several places including the Bow Creek Cemetery. I had been corresponding with them for several years.
I was able to tour Kansas State to see where Uncle Elam had his lab. I had heard about him since I was a young child. I read articles about him and corresponded with Margaret De Young many times over the years. It has been a desire of mine to visit Bow Creek and see where the Bartholomew lived and died and to see Uncle Elam's lab. At last my dream came true.
Below I will post some pictures from that event and my tour around the area. I am sorry I didn't write on my pictures who each one was. Now I can't be sure. If you can help me with names, please email me. Thanks! Betty Shirley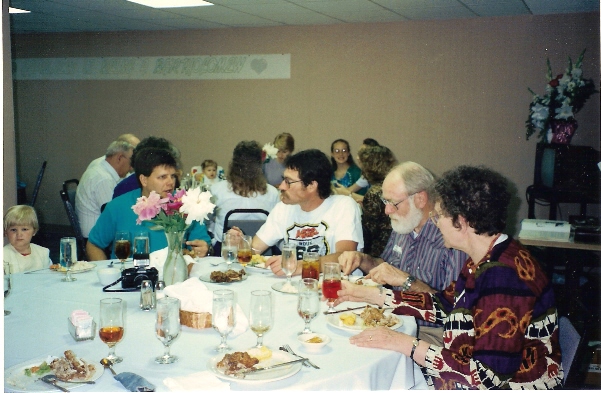 1993 Bartholomew Reunion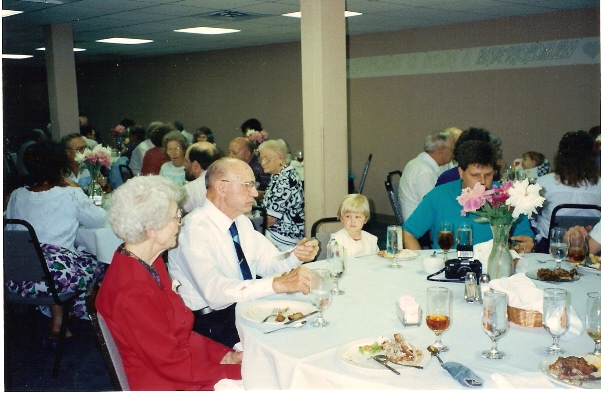 1993 Bartholomew Reunion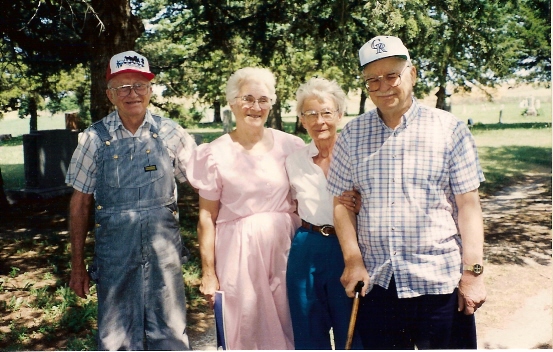 L-R: Kenneth and Wilma Bartholomew and I have forgotten the names of the other couple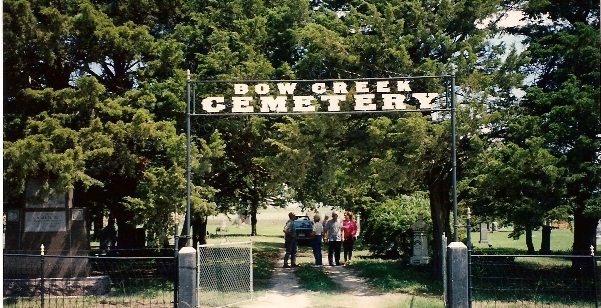 Bow Creek Cemetery, Rooks Co. Kansas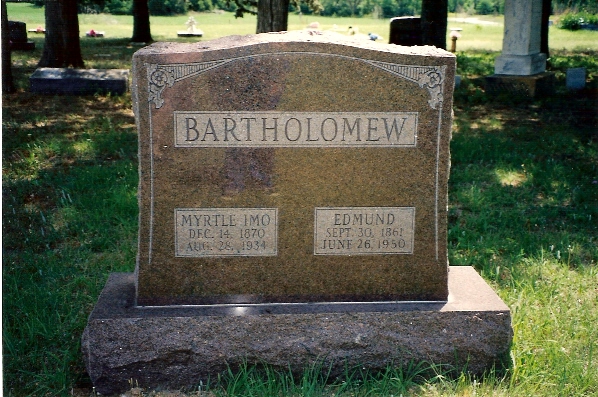 After the Reunion I went to the Center for Historical Research where Uncle Elam's diaries were kept. The staff brought out a few at a time. Since my time was very limited here, I only saw a few as we had to be on the road for the next stop. More about this at the end of the page on this link... Elam Bartholomew