| | |
| --- | --- |
| | Yeilding Family |
Richard Yeilding April 26, 1768 Rutherford Co. North Carolina, d. Feb 27, 1864 Blount Co. Alabama, m. 1st Millie Mills Nov 5, 1788 Rutherford Co. NC. She was born abt 1768 and died abt 1811 NC. He married 2nd Nancy Russell Mar 12, 1812 in Rutherfordton, Rutherford Co. NC d. before 1860.
Children:
1. Francis Yeilding Dec 21, 1792 Rutherford Co. NC m. Elizabeth Betsey Earles May 3, 1821 Blount Co. AL. She was born abt 1805 SC, d. Nov 28, 1888 at the home of her daughter, Permelia Huffstutler.
Children: born in Blount Co. Alabama

(a). Nancy Taylor Yeilding abt 1822 d. 1899 Jackson Parrish, Louisiana m. Walker Brown

(b). William Berry Yeilding July 8, 1824 d. Mar 7, 1864 Blount Co. AL m. Lurenda Hadassa Copeland

(c). Manerva M. Yeilding abt 1827 m. Craven Sherrill Copeland

(d). Permelia Elmira Yeilding Mar 7, 1829 d. Mar 26, 1913 near Maypearl, Ellis Co. TX m. Hugh Francis Huffstutler PHOTO AND STORIES BELOW

(e). Martha Yeilding April 26, 1833 m. Zion B. Cornelius

(f). Richard Jackson Yeilding abt 1834 m. Flora Ann Cargo

(g). Martin Van Buren Yeilding abt 1838 m. Letty Elizabeth Cornelius

(h). Perminta Ann Alabama Yeilding abt 1842 m. 1st William N. Cook. He was killed in the Civil War, m. 2nd George Washington Williams (brother of Letha's husband).

(i). Letha Lurinda Yeilding Feb 20, 1844 Blount Co. Alabama. She died Aug 20, 1929 Oklahoma City, OK and is buried Fairlong Cemetery at 27th and Shartel in Oklahoma City, m. 1st James Monroe Williams, killed in the Civil War Dec 17, 1863 m. 2nd Jacob A. Lowry, m 3rd Silas Shirley, divorced, m. 4th __? Smith. PHOTO'S AND STORIES BELOW
2. John Yeilding Feb 14, 1797 Rutherford Co. NC d. abt 1850 Blount Co. AL m. Nancy Billingsley
3. Letitia Yeilding abt 1800 NC
4. Elizabeth Yeilding 1802 Rutherford Co. NC m. 1st Robert C. Freeman July 18, 1821 Blount Co. AL m. 2nd Andrew Allred Aug 10, 1827 Blount Co. AL
5. Joseph Yeilding Aug 17, 1804 Rutherford Co. NC d. abt 1883 m. Mary McCutcheon
6. Taylor Mills Yeilding Feb 2, 1809 Rutherford Co. NC d. Feb 27, 1889 Blount Co. AL m. Susannah Permelia Miller.
7. Dorcas Yeilding abt 1810
8. Mary Yeilding abt 1821
9. Susanna Yeilding abt 1824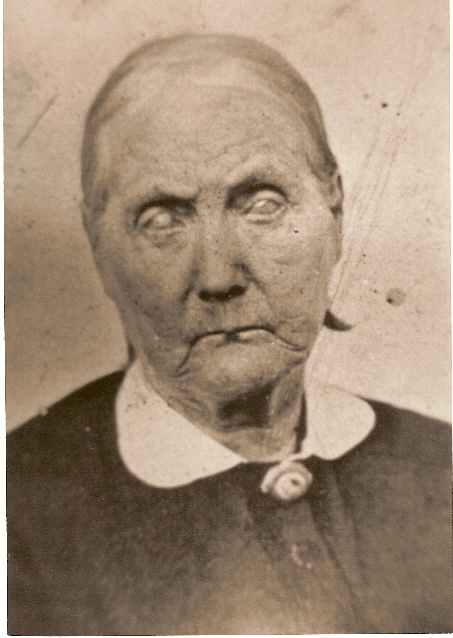 Elizabeth Earle Yeilding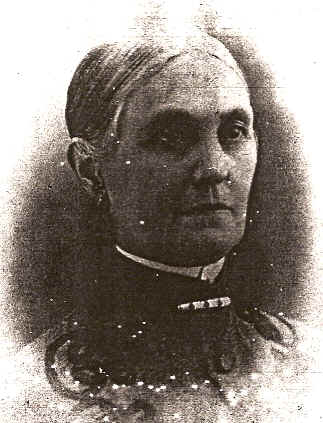 Permelia Yeilding Huffstutler
Permelia was a very proud and dignified lady. She always had to have a clean, starched white apron to wear. She told many stories about the Civil War days. She repeated many times that the family of Francis Yielding were quite well off and had many servants. Permelia spoke many times of going to balls and parties dancing until late into the night. When she arrived home, she simply stepped our of her clothes assisted by servants, etc. She remarked that they rarely had to turn a hand because they had servants to do all that.

While her husband, Hugh Francis Huffstutler, was away at the war, she told of a large iron grey horse which she had in a stall in the barn. Fearing that the Yankees would try to steal him, she added some extra 'pegs' to the door so it would make the effort more difficult. Sure enough, during the night she heard a bunch of Yankee soldiers trying to get the horse out of the stall. Either they gave up or were distracted by other events for the left without the horse.

Someone in the community had spread the word that Permelia's husband, Hugh, was a Yankee sympathizer and has been giving information to the Yankees. One evening before he left to fight, the Ku Klux Klan visited Hugh and took him down to a creek near his house and kept him for several hours questioning him. Of course he was not a Yankee sympathizer and finally convinced the Ku Klux Klan members. However, the person providing the incorrect information was identified and that person was later tarred and feathered.

Following the death of Hugh, Permelia chose to make her home with her oldest living son, William Clinton, She sold the family property in 1903 and moved to Ellis County Texas where the majority of the family grew up and remained.

Permelia spoke many times of needing to write Letha as well as some of her other sisters. Permelia was married in 1850 so Letha would have been only six at that time.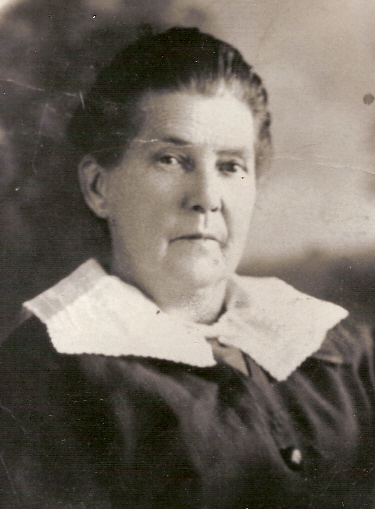 Letha Yeilding
Letha's Letters between her and family members
Letha Yeilding m. 1st James Monroe Williams who was killed in the Civil War on Dec 17, 1863.

Child:

1. Marion Francis Williams m. 1st Martha Shirley Aug 21, 1882. She died April 7, 1916. He m. 2nd Ocie Shirley May 21, 1917 (niece of Martha) in Boonville, AR in a Baptist minister's home. They divorced.

Marion Williams

Marion and Ocie lived in Tulsa, OK and were in the grocery business. Letha was living with them and had to move to warmer climate the doctor said. So Marion swapped their grocery business for a house in Francitas, Texas about 60 miles from Houston. The only work available was manual labor and Marion hurt his back. Their son, Marion, was born 5 weeks after they moved there. Ocie had 2 children, a husband and a mother in law to care for.

Letha didn't like Ocie because Ocie was a Shirley. Letha had been married to Ocie's grandfather, Silas Shirley, and they had divorced and Silas kept their two children, Elmer and Owen Parmer Shirley, to raise.

Letha got better and went back to Tulsa, Oklahoma.

Marion Williams and Ocie were divorced. She was left with 6 children to raise. Ocie m. 2nd Noah Bass Aug 3, 1948.

Children by Martha Shirley:

(1). Silas Herbert Williams March 1, 1884 on Doug Mountain, near Paris, Logan Co. Arkansas, died Feb 27, 1956 n. Carrie Hamilton Fair Aug 11, 1907

Herbert and Carrie Williams

(2). Chancy Ross Williams b. Feb 23, 1887 d. Oct 1, 1887 buried at Paint Rock Cemetery near Paris, Arkansas

(3). Ernest Williams Jan 13, 1892 d. Jan 22, 1892 buried at Paint Rock Cemetery

Children by Ocie Shirley

(4). Letha Williams March 1, 1918 d. Oct 11, 1939 of ruptured appendix after giving birth to her child a few hours earlier. She m. Forest Leo Mitchell

(5). Marion Shirley Williams Dec 3, 1919 Edna, Texas m. Opal Mae Kenney Mar 22, 1942. They lived in Elk City, OK

(6). Freda Williams Dec 29, 1921 m. 1st Hansel Pete Elliott Jan 18, 1940 Oakwood, OK He was a minister and pastor for 17 years. He died May 10, 1971. She m. 2nd John Elliott, brother of Hansel.

(7). Wanda Williams April 14, 1924 Magazine, AR m. Loyd Guy Latimer Dec 25, 1941

(8). Betty Jane Williams Jan 5, 1928 Elk City, OK m. 1st Gene Martin Hall in 1948. He died in 1966 and she m. 2nd Clyde Vermillion

Top row L-R: Wanda, Marion and Freda

seated: Betty, Ocie and Billy Williams

Letha married 2nd Jacob A. Lowry

child:

2. Ella Lowry m. __? Burcham

children:

(1). Minnie Burcham m. ___ Dager

Children:

A. Jeneva Dager

Jeneva Dager

B. Charles Dager

Charles Dager

(2). Nora Burcham

Minnie Burcham, Owen Parmer Shirley, Nora Burcham

Owen Parmer Shirley's half Nieces

Minnie Burcham

Nora Burcham

Nora Burcham and ?

Ella, Minnie and Dimple

written on photo

Letha m. 3rd Silas Shirley, Oct 16,1881 in Paint Rock, Logan Co AR and divorced October 4, 1884.

Elmer was under 2 years of age and Owen Parmer was seven months old at the time of their divorce. Silas agreed to let Letha keep the boys provided she lived nearby. Gradually she started moving further and further away. Silas, who always wore a beard, shaved it off and went to Letha's and took Elmer and Owen Parmer. No one recognized him, not even the kids. Silas raised the boys.

Children:

3. Elmer Arthur Shirley Jan 15, 1883 Paint Rock, Logan Co. AR d. Sept 9, 1964 AR

4. Owen Parmer Shirley Mar 2, 1884 Paint Rock, Logan Co. AR d. Feb 19, 1956 Tranquillity, Fresno Co. California

Posted July 2, 2008
More info coming!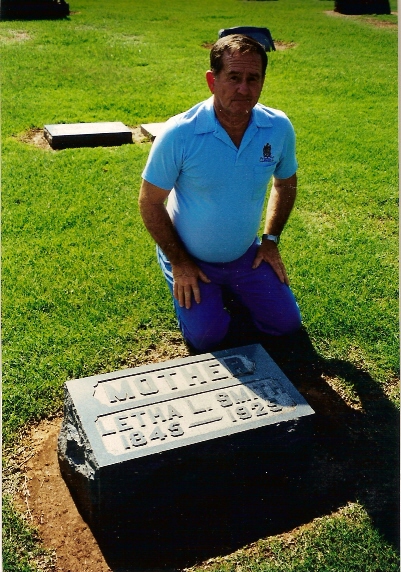 Guy Shirley at Letha's (His grandmother) grave in OK
Letha Lowry Shirley m. 4th __? Smith

Child:

5. Myrtle Smith m. Guy Parkhurst

==================================================================================================

From Max Stiles... Feb 16, 2009

1900 US Census, Yell County, Arkansas, we find this:

Burcham, William, born August 1863 in Arkansas. Says he is age 36 and has been married for 36 years.

Ellen M. is listed as his wife, born Dec. 1868, age 31, been married for 36 years, has 3 children and 3 living.

Minnie, listed as daughter, born Sept. 1889, age 10 and single, born in Arkansas

Nora M., listed as daughter, born June 1992, age 7, single, born in Arkansas

Boane (?), listed as son, born May 2895, age 5, single and born in Arkansas.

Apparently William Ross Burcham died after this census as in the 1910 Census in Muskogee, Porter Township, Oklahoma Ellen has remarried Lon S. Sewell. Here is the listing

Sewell, Lon S., Head, age 27, his first marriage, married for 6 years, born in Texas

Sewell, Ellen, wife, age 41, her second marriage, married 6 years, 4 children and 4 living.

Burcham, Nora, step-daughter, age 17, Single, born in Arkansas

Burcham, Boane, step-son, age 14, Single,born in Oklahoma

Sewell, Dimple, daughter, age 4, single, born in Oklahoma

Mills, Jack F, son-in-law, age 25, first marriage, married 5 months, born in Kansas

Mills, Minnie, step-daughter, age 20, first marriage, married 5 months, born in Arkansas

Also, it appears that Lon Sewell and Jack F. Mills are connected to the railroad. Note the difference in age between Ella and Lon Burcham - that is if I correctly read it. Apparently William Burcham died before 1904 as that is about when Ella remarried Lon Sewell. And, we see that Minnie has married Jack F. Mills and they are living with the family.