| | |
| --- | --- |
| | Silas Shirley Family |
Silas Shirley Mar 19, 1836 Morgan Co. OH, died Feb 29, 1924 Logan Co. AR. buried Paint Rock Cemetery, Logan Co. AR, m. 1st Dimarus 'Abigail' Driggs April 2, 1856 Big Run, Athens Co. OH. She was born Nov 23, 1836 Big Run, Athens Co. Ohio, died April 14, 1881 and is buried Paint Rock Cemetery, Logan Co. AR. Silas m. 2nd Letha Yielding Lowry Oct 16, 1881 Logan Co. AR. She was a widow. They had two children and divorced. She was born about 1845. She died 1929. She remarried to a Smith. Silas m. 3rd Arbelle E. Copeland Jan 1, 1885. She was born Aug 12, 1846 AL and died Jan 20, 1940 Logan Co. AR at the home of her daughter, Millie Lee and is buried Paint Rock. She was a member of the Free Will Baptist Church.
Silas enlisted for a term of 3 years or duration of the Civil War. He was a private in Captain Daniel M. Bates Company A 18th Regiment of the Ohio Infantry Volunteers Feb 16, 1864 at Marietta, Ohio.
Records of his pension papers and copies of the roll calls during the war show the following information: He was listed as a farmer at the time of enlistment, his post office was Big Run, Athens Co. Ohio, his description lists color of eyes as blue, light hair and complexion, height 5 ft 7in. He spent many months in Chattanooga, Tennessee. On Oct 9, 1865 he was discharged at Augusta, Georgia. The war was over.
Oct 6th, 1868 Silas and his wife, Abigail, with 5 children left Ohio for Arkansas. They journey took three months. They traveled by train and boat down the Ohio River and the Mississippi River and up the Arkansas River to Roseville, AR. Silas' brother, John, and Abigail's brother, Truman Driggs were already living in Driggstown near Paris, Arkansas.
John Shirley, Silas' brother, sold Truman Driggs 160 acres in Driggs. He set aside a section for a school.
In the Fall of 1871 Silas fell from a tree while gathering nuts near his home in near Paris, Arkansas. He dislocated his left wrist. This information was found in a form filled out possibly for a claim. It was filed with his pension papers.
Silas purchased 40 acres at Paint Rock near Paris, Arkansas July 19, 1879 for $125. He cleared the land and built a two story house and lived there until he died. He grew cotton and owned a cotton gin. He planted many kinds of fruit trees, had a large garden, raised hogs, chickens, had a cow and a horse.
Silas preserved his vegetables by digging a large circular hole in the ground. Straw was spread over the bottom of the hole and the vegetables placed on the straw, then covered over with more straw and dirt. They had plenty to eat all winter. The smoke house was filled with meat.
Four more children were born to Abigail and Silas near Paris, Arkansas, three sons and a daughter. The seventh child, George Quinn, died in his youth. Abigail died April 14, 1881.
Silas married Letha Yielding Lowry Oct 16, 1881. They were the parents of two sons, Elmer and Owen Parmer. She was also step mother to eight children.
One day Silas and the boys were working in the field near the house. John Wesley, oldest son of Silas and Abigail, heard his little sister crying and crying. He knew something must be wrong so he ran to the house. His sister was sitting on the side of her bed and he could see she'd been beaten. He yelled "Jesus crept, Moses wept and under the bed the devil slept". Letha ran from the house. John Wesley went back to the field and said nothing. When evening came, they went into the house. There was no supper nor was Letha there. Silas never said a word and didn't ask any questions.
Letha and Silas divorced October 4, 1884. Elmer was under 2 years of age and Owen Parmer was seven months old. Silas agreed to let Letha keep them provided she lived nearby. Gradually she started moving further and further away. Silas, who always wore a beard, shaved it off and went to Letha's and took Elmer and Owen Parmer. No one recognized him, not even the kids. Silas raised the boys.
Silas married Abelle Copeland January 1, 1885 and they were the parents of two daughters, Myrtle and Millie. Arbelle was a very sweet person and a great mother and grandmother to Silas' family.
The grandchildren tell how they looked forward to going to Grandpa Silas' house as he always gave them a piece of candy. He kept a large box by his fireplace. In it he stored peppermint sticks. He always had red delicious apples in barrels in the basement of the old house. He was very fond of children.
Silas and Arbelle would sit by the fire and smoke pipes and have a piece of candy before going to bed every night.
Logan County Arkansas was formed from parts of Franklin, Johnson, Scott and Yell counties and this was approved March 22, 1871. At that time however, Logan County was named Sarber County. Silas was was elected County Treasurer Oct 13, 1874. An act of the General Assembly changed the name of Sarber to Logan County December 15, 1875. Silas served as County Treasurer until 1878. He hid the county money under the house through a trap door. There no safes in the county offices.
Silas' favorite word was 'by cracky'. He had a deep voice and always wore a beard. He was strong and could lieft a 500 pound bale of cotton. He had long arms and could reach his knees standing straight up. He became blind in his old age.
Silas was in the hospital in Paris, Arkansas for about five days before his death Feb 29, 1924. He lived 87 years, 10 months, and 10 days. Cause of death was listed on death certificate as 'strangulated inguinal hernia'.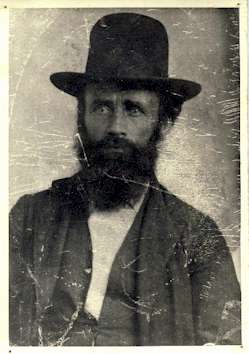 Silas Shirley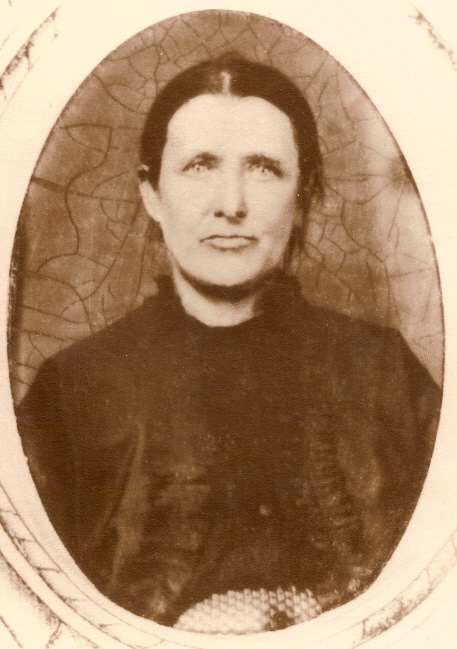 Abigail Driggs Shirley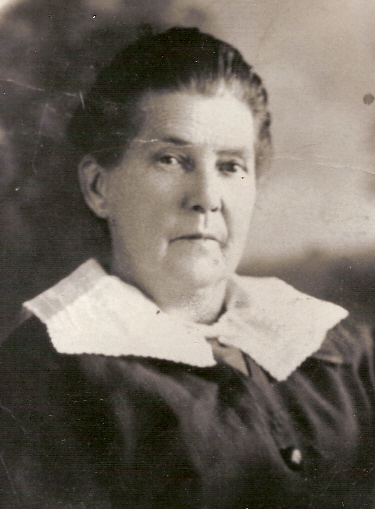 Letha Lowry Shirley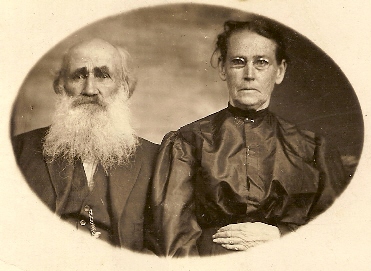 Silas and Arbelle Copeland Shirley

Children of Silas and Abigail Driggs :

(a). John Wesley April 25, 1857 Big Run, Athens Co. OH d. June 12, 1936 buried Elizabeth Hall Cemetery, Logan Co. AR, m. Cansada Caroline "Cansady" Lee Jan 4, 1883 Logan Co. AR. She was born Mar 14, 1865 Johnson Co. AR died July 2, 1938 buried Elizabeth Hall Cemetery, Logan Co. AR. She was the daughter of Britton Lee and his wife, Martha J. "Patsey Collier.

John Wesley and Cansady Lee Shirley and family

Children:

1. Martha Shirley b. September 1886 m. Burrell Sory Nov 5, 1902 Logan Co. AR who was b. Apr 6, 1880 d. 1963. He was the son of John Thomas and Nancy (Lasater) Sory,

2. Marion Lee Shirley b. Jan 5, 1886 Logan Co. AR d. Feb 17, 1955 buried Mt. View Cemetery, Fresno, CA m. Elizabeth Louvilla Blair Nov 1, 1908, Logan Co., AR who was b. Sept 16, 1891 at Shoal Creek, AR d.

April 8,

1988 buried Mt. View Cemetery, Fresno, CA. She was the daughter of Charles A. "Charley" and Sarah Candace "Candacy" (Stewart) Blair.

3. Hilda Claretta 'Clara' Shirley b. Jan 25, 1889 Logan Co. AR d. Aug 12, 1968 Tranquillity, Fresno Co. CA m. Henry A. Earls Dec 18, 1910 New Blaine Logan Co. AR who was b. Jan 14, 1886 Paris, AR d. Sep 15, 1967 Tranquillity, Fresno Co. CA

4. Archibald V. Shirley b. Feb 11, 1891 Logan Co. AR d. Aug 20, 1893

5. Henry Odell Shirley b. Mar 10, 1894 Logan Co. AR d. Nov 12, 1966, Alameda Co. CA. m. Notra Smith Aug 19, 1914 Logan Co., AR. who was b. Aug 29, 1892 d. May 23, 1953 Alameda Co., CA. They are buried in Elizabeth Hall Cemetery, New Blaine, Logan, AR.

6. Idell Shirley b. May 22, 1895 Logan Co. AR d. Aug 31, 1970 Logan Co. AR buried Elizabeth Hall Cemetery, Logan Co. AR with the name SHIRLEY on her tombstone. She m. 1st. Albert Raymond Lowery m. Dec 18, 1910 (divorced). He was b. Jan 1890, d. August 3, 1940, and they had four children. She m. 2nd Henry 'Ruck' Horn, Jr. (divorced). He was b. Nov 29, 1882 d. Jan 6, 1967 New Blaine, Logan Co. AR

7. Ottis Shirley b. abt. 1897 Logan Co. AR d. abt 1899 age 2 years

8. Paul Montgomery "Mont" Shirley b. Nov 11, 1898 Logan Co., AR d. Apr 21, 1971 m. Loycie M. Owen Nov 6, 1920 who was b. November 26, 1899 d. Dec 14, 1986 Fresno, CA. She was the daughter of Thomas Matthew "Matt" and Easter Anthum (Wiggins) Owen. Both Mont and Loycie are buried in Harkey Valley Cemetery south of New Blaine, Logan, AR. The cemetery is barely across the county line in Yell County

9. Ezra E. Shirley

Note: The 1900 AR, Logan County, Short Mountain Twp. census, sheet 20a, #373-375, says he is a twin named "Mont A." and was born in May of 1900. By 1910 he is "Mont", age 12, and in 1920 he is "Paul M.", age 22. His twin, Ezra E., does not appear after the 1910 census. Mont's WWI Draft Registration Card says he was born in 1897. No one mentioned a twin or his name, Ezra, to me when talking to family members!

10. Otha Arvilla 'Villa' Shirley b. May 1, 1903 Logan Co. AR d. Dec 14, 1986 Fresno, CA m. Huey Carl Owen Oct 18, 1918 who died Okinawa, Japan

11. Silas Adelbert Shirley b. abt 1904 Logan Co., AR d. abt 1906 age 2 years

NOTE: 1900 AR, Logan County, Short Mountain Twp., E. D. 61, sheet 20a #373-375

Shirley, Wesley Head May 1855 45 M-20yrs OH-OH-OH Farmer

Kansas E. Wife Jan 1864 36 M-20yrs 7/7 AR-TN-TN

Martha M. Dau Sep 1886 13 AR-OH-AR At school

Marion A. Son May 1889 11 AR-OH-AR At school

Clara M. Dau Mar 1893 7 AR-OH-AR

Odell V. Son Feb 1895 5 AR-OH-AR

Edell A. Dau Oct 1897 2 AR-OH-AR

Mont A. Son May 1900 0/12 AR-OH-AR

Ezra E. Son May 1900 0/12 AR-OH-AR

NOTE: 1910 AR, Logan County, Shoal Creek Twp., sheet 12a #200-203

Shirley, Wesley Head 53 M1-27yrs OH-OH-OH

Cansada Wife 44 M1-27yrs 10/7 AR-MS-AR

Clarra Dau 21 AR-OH-AR

Odel Son 17 AR-OH-AR

Idel Dau 15 AR-OH-AR

Mont Son 12 AR-OH-AR

Arvilla Dau 6 AR-OH-AR

NOTE: 1920 AR, Logan County, Shoal Creek Twp., sheet 18a #315-316

Shirley, Wesley Head 62 OH-OH-OH Farmer

C. Caroline Wife 54 AR-NC-OH None

Paul M. Son 22 AR-OH-AR Farm laborer

Orvilla Dau 16 AR-OH-AR Farm laborer

NOTE: 1930 AR, Logan County, Shoal Creek Twp., sheet 2a #24-26

Shirley, Wesley J. Head 72 M M#1@26 OH-OH-OH Owns-$800 None

Cansada C. Wife 65 M M#1@17 AR-NC-NC None

(b). Alfaretta Adela Jan 17, 1859 Big Run, Athens Co. OH d. July 10, 1900 (had TB), m. Robert M. Riley Jan 22, 1880. He was born December 17, 1859, and he died June 8, 1923. Both he and Retta (the name on her tombstone) are buried in Caulksville Cemetery, Caulksville, Logan, AR. Robert was the son of James and Amanda A. Riley.

Alpharetta and Bob Riley Family

(c). Mary Martha April 12, 1861 Big Run, Athens Co. OH d. April 7, 1916 in Little Rock, Pulaski, AR. and is buried in Paint Rock Cemetery, m. Francis Marion Williams Aug 21, 1882

Paris Express, Thursday, April 13, 1916

Mrs. Martha Williams of Little Rock, died at their home last Friday. Deceased was the eldest daughter of Mrs. Silas Shirley of this county, and the remains were brought here for interment in Paint Rock cemetery, near the scenes of her childhood days. The funeral Sunday was largely attended by relatives and friends of the family.

Paris Express, Thursday, April 27, 1916

In Memory of Mrs. Martha Williams

April 7th 1916 the Angel of Death visited the home of Marion Williams, 2900 State St., Little Rock, and took from it the mother of that home.

She was the daughter of Silas Shirley and was raised at Pint Rock near Paris. She was born at Athena, Ohio, and moved here Oct. 1868. In August 1882, she married Marion Williams. To this happy union were born three sons, two dying in infancy. The other one (Herbert) has ever made his home with his parents and the three little grandchildren will miss her love and kindness as much or more than her husband, son, adopted daughter-in-law.

She was a Freewill Baptist and had lived a Christian life from early youth. Funeral services were held at Paint Rock church Sunday at 1 p.m. Rev. Andrew Best assisted by Rev. Silas Lovett conducted the service. Interment in Paint Rock Cemetery.

A blood vessel bursting upon her brain (Cerebral Hemorrhage) was the cause of her death. All that skilled Physicians and nurses and loving hands could do was done but all of no avail. She fought the hand of the Grim Monster of Death with a heroism almost unheard of but it was a case beyond the power of mortal hands. Her suffering was beyond the power of language to describe.

We cannot see God's wisdom in taking a Christian life, a life that was so near and dear to us, from us. Perhaps it was to draw us nearer to him.

All we can do is to bow resigned unto the Father's will and prepare to meet her beyond the clouds of earthly cares.

The many beautiful floral offerings, the many consoling talks given by friends lightens the burden of grief but the greater consolation is that she was prepared to go.

Long after all that was mortal of her returns to the mother earth from whence it came, may her noble life still be fresh in our memories and lead us to a better life.

Elmer A. Shirley

Martha Shirley, son Herbert, and Francis Marion Williams

(d). Walter Walles Mar 25, 1863 Big Run, Athens Co. OH d. Dec 25, 1945 (pneumonia) Driggs, Logan Co. AR, m. Jimmie Florence Lucas Jan 6, 1889

Walter and Jimmie Florence Lucas Shirley

(e). Elijah Henry May 14, 1867 Big Run, Athens Co. OH d. Aug 2, 1934 (cancer) Breckham Co. OK and buried Fairlawn Cemetery, m. 1st. Itera Luman Jan 17, 1892 (Typhoid), m. 2nd Ava Harriet Smith Nov 16, 1902 Logan Co. AR who was born Feb 14, 1880 and died Mar 15, 1973 Paris AR, daughter of William B. and Levina Smith.

Elijah Henry Shirley

(f). Nelson Kelvy Feb 5, 1870 AR d. Dec 8, 1929 buried in Caulksville Cemetery, m. 1st. Allie Baldridge Oct 14, 1894 (divorced). She was b. 1875, d. 1964 and is buried in Caulksville Cemetery, m. 2nd Nola Brooks Sept 9, 1923. She was born April 2, 1899 and was living in Boonville, AR in 1977.

Allie Baldridge and Nelson Kelvy Shirley Family

(g). George Quin July 11, 1872 AR d. Nov 3, 1873 buried in Paint Rock Cemetery (Family gave me 1873 date of death but tombstone says 1879).

(h). Leanna Maria Oct 11, 1874 AR d. Aug 31 or Sept 1, 1947, m. Louis Daniel Keck April 9, 1899 who was born Oct 8, 1881 d. Feb 29, 1956 Little Rock, Pulaski Co, AR. His parents were Christopher Charles Keck and Sarah Lucinda Smith.

The Paris Express newspaper for Nov 5, 1945 says Leanna Keck and her daughter spent last week with her sister, Millie Lee of Ratcliff, AR.

Leanna Shirley Keck

(i). Silas Britton Mar 19, 1877 AR d. Nov 13, 1949 Driggs, Logan Co. AR, m. Amanda Caroline Biggs Dec 24, 1905. She was born Oct 1, 1876 Logan Co. AR d. Aug 27, 1967 and buried Little Rock, Pulaski Co. AR. Her parents were Alfred K. Biggs and Sarah Catherine Lee.

Silas Britton and Amanda Carolyn Biggs Shirley and Family

Children of Silas and Letha Lowry, 2nd wife

(j). Elmer Arthur Jan 15, 1883 AR d. Sept 9, 1964 m. Florence Grace Pile June 21, 1927. She was born about 1884 AR

He was in Havana when his step mother, Arbella, died according to her death notice in The Paris Express.

A couple of letters written by Elmer.

Elmer Shirley

Elmer and Florence Shirley

(k). Owen Parmer Mar 2, 1884 AR d. Feb 15, 1956 Tranquillity, CA m. Millie Johnson Haley Dec 16, 1908 Logan Co. AR, died in a car accident June 8, 1959 Gilroy, CA. She was the daughter of James M. Haley and Nancy Harville of Logan Co. AR.

Owen Parmer Shirley and Millie 'Kate' Johnson Haley

Children of Silas and Arbelle Copeland, 3rd wife

(l). Ody Myrtle Jan. 20, 1888 AR d. July 7, 1950 m. Byron Hall Mar 14, 1909 Logan Co. AR

Myrtle Shirley and Bryan Hall

Paris Express, Thursday, April 27, 1916

Byron Hall and wife and his father W. F. Hall of Garfield, Ks., arrived in Paris last Thursday. Mrs. Hall is the daughter of our esteemed citizen Silas Shirley, and accompanied her father to the old homestead that day. Mr. W. F. Hall owns a large farm in Kansas, and for many years has been prospecting for mineral in the hills a few miles south of Paris. His return to this country at this time indicates that he has not lost faith in the undeveloped resources of this country.

1920 KS, Pawnee County, Pleasant Ridge Twp., E. D. 138, sheet 8a

#55-56

Hall, Byron I. Head 44 M MO-IL-OH Farmer-Wheat farm

Myrtle Wife 32 M AR-OH-AR None

Irene Dau 8 S KS-MO-AR None
(m). Millie Ethel Mar 26, 1891 AR d. May 3, 1971 m. James Wesley Lee Oct 10, 1920 who served in WWI as a Private in Co. G of the 161 Infantry. They are buried at Garden of Memories.

In her later years she lived with her son Vernon Lee. A tumor was discovered on her lung about the size of a a quarter. 3 1/2 years later it had grown to the size of a grapefruit. She underwent surgery but died. She is buried in the Garden of Memories in Charleston, Franklin Co. AR. beside her husband.

Her son, Vernon Lee, died May 3, 1985 cancer.

Silas, Millie his daughter and Arbelle, and his wife

Standing L-R: Vernon Lee (son) and his wife, LaVerne

Sitting L-R: James Wesley Lee and his wife, Millie Ethel Shirley

Grandpa Silas Shirley and his family

ARKANSAS SHIRLEY FAMILY REUNION

(Owen Parmer in the middle of photo)

Singing School at School House in front of Paint Rock Cemetery, Driggs, Logan Co. AR

L-R: Owen Parmer Shirley standing to the right and behind last girl in front row